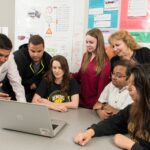 UMBC and IBM Research have announced an exciting new collaboration to create the Accelerated Cognitive Cybersecurity Lab (ACCL), opening at UMBC in fall 2016. Housed within the College of Engineering and Information Technology, the ACCL will advance scientific frontiers in cybersecurity and machine learning. The new lab is supported by a multi-year commitment from IBM.
"UMBC faculty and students in the College of Engineering and Information Technology are excited to expand our work on global scientific and cybersecurity challenges in collaboration with world class partners like IBM," says Julie Ross, dean of the UMBC's College of Engineering and Information Technology.
Anupam Joshi, director of UMBC's Center for Cybersecurity and chair of computer science and electrical engineering, will lead the ACCL. Building on prior research, faculty and students working in the ACCL will apply cognitive computing to complex challenges in the rapidly expanding field of cybersecurity. They will collaborate with IBM scientists and leverage IBM's advanced computing systems to add speed and scale to the cybersecurity solutions they develop.
UMBC is also one of eight universities working to train IBM's Watson computer system, internationally famous for its capacity to answer questions delivered in natural language, for application in the cybersecurity sphere. This work seeks to increase the capacity of cybersecurity professionals to quickly detect and respond to emerging threats. The other universities involved with training Watson include California State Polytechnic University, Pomona; Pennsylvania State University; Massachusetts Institute of Technology; New York University; the University of New Brunswick; the University of Ottawa, and the University of Waterloo.
Beyond moving forward a research mission with great public impact, the ACCL collaboration will also help IBM establish itself as an employer of choice for UMBC graduate and undergraduate students.
Joshi shares, "This collaboration will allow our students and faculty to work with IBM to advance the state-of-the-art in cognitive computing and cybersecurity."
Update: UMBC is one of six institutions working with IBM as part of the Cognitive Horizons Network.
Media coverage:
The Washington Post: IBM is training Watson to hunt hackers
Fortune: IBM Watson brings AI wonders to cybersecurity
Baltimore Business Journal: UMBC partners with IBM Research for cybersecurity lab
The Daily Record: UMBC to help IBM's Watson fight cybercrime
Tech Times: IBM Research And UMBC Team Up To Create Cognitive Computing Cybersecurity Lab
International Business Times: IBM Watson supercomputer teams up with top universities to fight cybercriminals
Christian Science Monitor: Can IBM's Watson fight cybercrime?

Image: Anupam Joshi and Yelena Yesha working with several UMBC students, top; Ph.D. student Lisa Mathews, Dean Julie Ross, and IBM's Jeb Linton (l-r) view a Watson interface, second photo. Photos by Mitro Hood/Feature Photo Service.