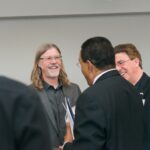 "We hope you will leave inspired and with new views about what is possible," said Karl V. Steiner, vice president for research, as he welcomed the audience of  "Seeing Science: Photography, Science, and Visual Culture." UMBC's Office of the Vice President for Research hosted the forum on April 8, 2015, as an opportunity to examine imaging and visualization methods that support new scientific insights across diverse areas of research.
Sheldon Brown, John D. and Catherine T. MacArthur Foundation Endowed Chair in Digital Media and Learning at the University of California, San Diego (UCSD) and director of the Arthur C. Clarke Center for Human Imagination, delivered the opening keynote. He challenged attendees to understand how seeing translates into meaning.
"Imagination is the key to every new area of knowledge," Brown explained. He added that art is "a collaboration between our senses, memories, and imagination," more about asking new questions and offering new perspectives than about giving answers.
The first panel, moderated by Marvin Heiferman, senior visiting research scholar at UMBC's Center for Art Design and Visual Culture (CADVC), explored how researchers utilize imaging to deduce and convey knowledge about Earth and outer space.
Max Mutchler, head of the research and instrument analysis branch at Space Telescope Science Institute at Johns Hopkins University, talked about his work on the Hubble Space Telescope. Over time, he explained, the quality of photos taken by the telescope improved, but "the best stuff we did, no one predicted."
Christopher Shuman, associate research scientist of geography and environmental systems and faculty at UMBC's Joint Center for Earth Systems Technology (JCET), offered insight into how imaging helps scientists track environmental changes. Imaging allows Shuman to reveal the losses and reformations of Antarctic ice from 1986 through the present, helping scientists and non-science audiences alike better visualize and understand environmental change as it is taking place.
Joseph Tatarewicz, associate professor of history and director of the Human Context of Science and Technology (HCST) certificate program, took attendees back in time more than 400 years and talked about the first synthetic imaging tool used by Galileo in 1610. Although many images feel immediate and organic, he explained, there is no such thing as an unmediated image.
The second panel, moderated by Steiner, featured faculty working at a smaller scale.
Kirk Czymmek, director of North American applications and labs at Carl Zeiss Microscopy, LLC, described how 3D tools can help people visualize inner space by making cells and other small entities appear lifelike.
Michelle Starz-Gaiano, associate professor of biological sciences, discussed using images in computer modeling to show cellular change. She studies fruit flies to understand how developing cells know where to navigate and what function they will serve. In her lab, she marks cells with dye to track their movement and see exactly how cell migration takes place.
Stephen Bradley, associate professor of visual arts, discussed how art and science overlap in many ways. Bradley has studied past imaging technology used in science.  
Tom Cronin, professor of biological sciences, gave the audience a sense of what the world looks like through the eyes of animals. "Eyes are the link between things we see and what is happening between cells," he explained.
By studying mantis shrimp, Cronin wants to understand why and how animals see the world in ways different from humans. Whether on a species level or on an individual level, Cronin noted, "All eyes see the world differently."
Image: Sheldon Brown speaks with President Freeman Hrabowski during the "Seeing Science" forum. Photo by Marlayna Demond '11 for UMBC.