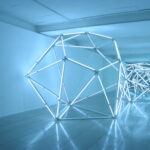 Baltimore's history as the first U.S. city to be illuminated by gas lamps has inspired Light City Baltimore, a major new public festival celebrating innovation and creativity across technology and the arts.
Light City Baltimore will take place in the Inner Harbor, March 28-April 3, with 1.5 miles of glowing public artworks, free music, a free UMBC hospitality space, and a six-day ticketed innovation conference, Light City U. Named one of the top "intriguing things to see and do in the U.S. in 2016" by CNN, Light City Baltimore features artists, scientists, activists, and thinkers from around the globe, including several UMBC faculty, staff, students, and alumni.
Look for these exciting free exhibits and events highlighting members of the UMBC community:
"1,001 Lux," a video installation by Symmes Gardner, director of the Center for Art, Design and Visual Culture
"Diamonds Light Baltimore" light sculptures by Mina Cheon '02 MFA, imaging and digital arts, and Gabriel Kroiz, with artist meet-and-greet April 2, 8:30-10:30 p.m., between Eastern Ave. and East Falls Ave. (watch video)
 
"Project Aquaculture," a large-scale projected animation on the roof of the Columbus Center by visual arts faculty Kelley Bell '06, MFA, and Corrie Parks that comments on the health of the Chesapeake Bay ecosystem (watch video)
 
Red Sammy band performance with Adam Trice '04, English, on the Concert Stage at Harbor East
HydroPrismEchoChamber: Fluid Movement's Ode to McKeldin Fountain including performers B. Simone Thompson, '92, social work and psychology; Leah Marcus '03 M.A., TESOL; Katie Leser '04, theatre; and Delana Gregg '04, M.A., instructional systems development, an academic advisor in the Honors College
Performance by Colette Searls, theatre, combining animation, live theatre and puppetry on the Light Up the Night! stage

 
"Baltimore is shedding light on itself through media, social action, and art," says Searls. "The festival emphasizes Baltimore as a generator of great art and a destination for lovers of great art."
"Artistically, innovatively, I'm just so excited to have the opportunity to do this," Cheon shares.
Light City visitors can stop by the UMBC Black and Gold Lounge in the Columbus Center, March 28-April 2, 6-9 p.m., for a complimentary beverage and free glow-in-the-dark UMBC gear (while supplies last). UMBC will host special alumni receptions for the visual and performing arts (March 28), IT and engineering (March 30), and the Honors College (March 31).
Black and Gold Lounge visitors will get a sneak peek of UMBC's new Retriever Stories site, where members of the UMBC community can share their UMBC photos and experiences heading into the university's 50th anniversary. The Black and Gold Lounge will also offer "buy one get one" coupons for Ekiben Buns, available during Light City at the Ekiben food truck, operated by UMBC alumni entrepreneurs Nikhil Yesupriya '13, biological sciences, Steve Chu '12, economics,and Ephrem Abebe '13, information systems (site #2 on the official Light City map). For dessert, stop by the Harbor Flying Fruit smoothie kiosk operated by UMBC's Choice Jobs Program.
UMBC is also a founding sponsor of Light City U, which includes conferences on social innovation (March 28-29), health innovation (March 30-31), sustainability innovation (March 30-31), and creative innovation (April 1-2), as well as the free Bright Lights Youth Festival.
Talithia Williams, associate professor of mathematics at Harvey Mudd College and current American Council of Education fellow based at UMBC, will present "Connecting African American Girls and Their Parents to STEM" on day one of the social innovation conference, on March 28, 11 a.m. Her talk will be followed by two conversations featuring UMBC alumni. Invested Impact founder Rodney Foxworth '07, anthropology, will speak on "Collaboration and Unexpected Outcomes" at 11:25 a.m. Center for Urban Families CEO Joe Jones '06, social work, will join Baltimore Police Commissioner Kevin Davis at 1:05 for a conversation on "safety and civility."
President Freeman Hrabowski will deliver keynote remarks for day two of the social innovation conference, on March 29, 9 a.m. His talk "Holding Fast to Dreams" will focus on creating a learning environment and community that supports success for all students.
Professor Chris Swan, geography and environmental systems, will present on the Maryland Green Prisons Initiative during the sustainability innovation conference on March 30, 4:15 p.m. Professor Yoni Zohar, chair of marine biotechnology, will participate in the health innovation conference panel "Our Planet, Our Health, & Taking Care of Tomorrow: Sustainability in Healthy Food Choices," moderated by National Aquarium's TJ Tate on March 31, 10:20 a.m.
The creative innovation conference on April 2 will include the panel "Incubator as Influencer" at 2:05 p.m., moderated by Greg Cangialosi '96, English, who is CEO of Mission Tix, co-founder of Betamore, and namesake of the Cangialosi Business Innovation Competition through UMBC's Alex. Brown Center for Entrepreneurship. Current UMBC student and emerging entrepreneur Markus Proctor '16, interdisciplinary studies, who is founder and CEO of EduPal, will speak on the following panel, "Youth and Diversity in Entrepreneurship," beginning at 2:35.
UMBC community members can enjoy a substantial discount on tickets to the four Light City U innovation conferences. Use the code "UMBCED2016" by March 27 to purchase individual conference tickets at $99, more than 50% off the regular price.
For additional information on Light City and Light City U, visit UMBC's Light City page and the official Light City website. Remember to share your photos on social media with #UMBC and #UMBC50. You can find UMBC on Twitter @UMBC and Instagram @UMBClife.
Images: (1) "Diamonds: Will You Marry Me?" light installation in Seoul, Korea, 2007; copyright by Mina Cheon and Gabriel Kroiz. (2) "Diamonds R 4Ever" light installation at Sungkok Art Museum, 2012, in Seoul, Korea; copyright by Mina Cheon and Gabriel Kroiz. (3) "Project Aquaculture," courtesy of Kelley Bell and Corrie Parks. (5) "Kendra's Bay," courtesy of Colette Searls and Lynn Tomlinson