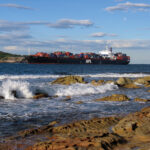 Timothy Nohe, director of the Center for Innovation, Research and Creativity in the Arts (CIRCA) and visual arts professor, will introduce American audiences to the deeply woven human narrative of Botany Bay in his exhibition Sounding Botany Bay opening February 12 in the Albin O. Kuhn Library Gallery.
The exhibition, which runs through March 31, is the culmination of ten years of research beginning in 2006 while Nohe was an Australian-American Fulbright Commission Senior Scholar fellow. Nohe returned for intensive research residencies in subsequent years, during which time change inexorably swept the bay.
Nohe will also present a lecture about his work in the exhibition, part of the Humanities Forum series from UMBC's Dresher Center for the Humanities, on Tuesday, February 16 at 4:00 p.m. Nohe shares:
For many thousands of years the land adjacent to Kamay was an important source of food, place of trade, and site of spiritual importance to a number of Aboriginal clans. Botany Bay/Kamay is one of Australia's most significant cultural and natural sites. This location was a significant point of both physical and cultural conflict: HMS Endeavour, the first ship carrying British explorers and colonists, landed on the southern shores of Kamay — renamed, at this time, Botany Bay — in 1770.

Today, Botany Bay is an unusual clash of pristine national park land home to a diverse but delicate marine ecosystem, and heavily industrialized areas including Sydney's main cargo seaport and the desalinization plant, oil refinery, sewer treatment facility, and miles of industrial pipelines that line the shores.
By walking through bush and dunes, suburban streets and industrial estates, Nohe was able to directly observe the Bay with contemplative discipline. The artist was ready to document discoveries with digital audio recorders and cameras, and comprehensive database searches in state and national libraries and the online market eBay.
Over time he became aware of seasonal and long-term rhythms accented by notes of discordant change. A world of inaudible sound was sampled via a radio frequency scanner, allowing Nohe to intercept air traffic at Sydney Airport; hydrophones captured otherwise inaudible underwater sounds in mangroves, docks and tide pools.
His extended time and methods of observation revealed truths about a complex place told with documentary mural prints, sound compositions, video, archival documents, and ephemeral materials. In many ways this story mirrors our American experience of human stewardship, the colonization and the decimation of indigenous peoples, industrialization, national narratives, globalization and climate change.
"In the years that I worked on this project, I witnessed and recorded change that astounded me," Nohe says. "One must contrast the epoch of Aboriginal stewardship of the Bay, with the radical reshaping of the environment after the founding of Modern Australia."
Timothy Nohe is an artist and educator engaging traditional and electronic media in daily life and public places. His artwork has focused on sustainability and place, intermedia works, and sound scores for dance and video. He received a 2006 Fulbright Senior Scholar Award from the Australian–American Fulbright Commission and an Australian–American Fulbright Commission Fulbright Alumni Initiative Grant in 2011.
Nohe has forged strong ties to Australia, serving on the editorial board of the peer-reviewed journal Unlikely, as an adjunct professor at La Trobe University, Faculty of Humanities and Social Sciences, and as an artist-in-residence at the Centre for Creative Arts at La Trobe University.
Four Maryland State Arts Council awards have supported his work in the areas of music composition, non-classical; media; new genre; and installation/sculpture. Nohe has also been recognized with a Creative Baltimore Award and in 2015 the Warnock Foundation supported his interdisciplinary work in urban forests with a Social Innovator award.
Complete performance information and tickets are available through the UMBC Arts & Culture Calendar.
Timothy Nohe will be on WYPR's Humanities Connection live at 4:44 p.m. on February 11, 2016. An archive of the broadcast will be available at Humanities Connection.
Image: Botany Bay, Australia. Photo by Timothy Nohe.