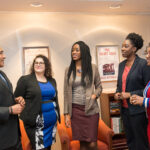 Nationwide, just 4 percent of full-time professors are black and 3 percent are Hispanic. What will it take to move the dial on the representation of diverse faculty at U.S. colleges and universities? American Public Media's Marketplace, a leading radio program on business and the economy, tackles this question in two new stories highlighting UMBC's work to train, recruit, hire and retain diverse faculty.
"Building a more diverse faculty" shines a spotlight on UMBC postdoctoral fellow Keisha Allen, education, and her experience transitioning from graduate student to faculty member. Allen is receiving mentorship from Mavis Sanders, professor of education, and Claudia Galindo, associate professor of language, literacy, and culture.
The story follows Sanders as she supports Allen in building the confidence to present her research to colleagues without notes, relying on her knowledge as an expert in culturally responsive pedagogy and adolescent literacy.
"You have to sort of own that identity, that now you are the expert," Sanders explained. "It just takes practice."
Allen is part of the newest cohort of the Postdoctoral Fellows for Faculty Diversity program, which is designed to support scholars who are emerging as cutting-edge researchers and educators in their fields and who are committed to supporting diversity in the academy.
2015-2017 Cohort of Postdoctoral Fellows for Faculty Diversity
Tyson King-Meadows, professor of political science, chair of Africana studies, and co-chair of the Executive Committee for the Recruitment, Retention, and Advancement of Underrepresented Minority Faculty, explains the major goals of the postdoctoral fellows program in the Marketplace story.
"The purpose of the program is to get them prepared for the professoriate and for them to understand all the nuances of being a faculty member of color or a particular gender," King-Meadows says.
Edward Glover '16 mathematics, a Meyerhoff Scholar and president of the Black Student Union, has worked closely with UMBC administration and faculty in addressing faculty diversity. He described in the radio story how he'd like to see UMBC faculty increasingly reflect the student body's diversity.
The second segment, "A university confronts bias in faculty hiring," shifts the focus to UMBC's initiatives to address bias in the faculty hiring process, an all too common problem in higher education, across academic fields. King-Meadows describes the need for STRIDE, UMBC's Strategies and Tactics for Recruiting to Improve Diversity and Excellence committee. This groups is developing tools to make recruitment processes more open and fair, to ensure the university hires the best candidate for each position rather than the candidate most similar to those managing the hiring process.
Susan McDonough, associate professor of history, highlights the importance of white faculty advocating for diversity in hiring and pointing out bias during the process.
"The burden has to be more on the majority culture to do it more than we do it," she says. "I've seen it in my classrooms that, when students of color point out bias, there's often a willingness to dismiss it that would not have been there if it had been a majority person who had shared that thought."
Christopher Murphy, professor and chair of psychology, goes on to describe the work being done at UMBC to educate professors about unconscious biases that can unfairly eliminate qualified candidates during faculty searches.
Marketplace reporter Amy Scott notes that UMBC is well-known as one of the most diverse research universities in the country.
"Many people know us because we've had considerable success in educating students of all races in science and engineering," President Freeman Hrabowski told Scott. "Our graduation and retention rates for African Americans and other students of color are as high as they are for any other group."
Provost Philip Rous takes from this success inspiration to tackle the next important challenge: increasing the diversity of UMBC's faculty. Although UMBC is ahead of the national average, Provost Rous says, "I would be the first to say that we're not where we want to be, and this is probably the highest strategic priority I have as provost."
"Talented minority faculty are not unicorns," says King-Meadows. "It just depends on where you're looking."
Listen to the complete two-part series below:
Building a more diverse faculty
A university confronts bias in faculty hiring
Read more about faculty diversity initiatives at UMBC.
Image: Mejdulene Shomali, gender and women's studies; Nkiru Nnawulezi, psychology; and Keisha Allen, education, meet with President Hrabowski. All images by Marlayna Demond '11 for UMBC.