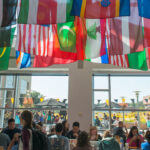 A new feature story in University Business magazine chronicles UMBC's rise as a major national research university and a destination for top students from around the world.
Published on the eve of UMBC's 50th anniversary, the article digs into the history of the institution, founded in 1966 with a diverse faculty and student body and as an academic powerhouse with high standards from the start.
Today, President Freeman Hrabowski shares, "We have a special place in American higher education" as an institution that encourages students to go beyond their comfort zones and build relationships with people different from themselves. "We believe in this fundamental purpose of higher education," he says.
In an extensive interview with journalist Matt Zalaznick, Pres. Hrabowski describes UMBC's distinctive emphasis on "inclusive excellence," where diversity and high academic standards go hand-in-hand.  The university's core concerns, says Pres. Hrabowski, are "what we've taught [students] and the quality of the education: Are they good thinkers, do they have values that we want to see in educated American citizens?"
To describe how the university approaches this goal, the article dives into UMBC's focus on civic engagement, the bwtech@UMBC research and technology park, and how academic innovation happens. Through redesigning classrooms to promote more engaged, collaborative learning, says Pres. Hrabowski, "People see that no student can sit back and be passive—every student has a role."
"[UMBC] used to be a great option for education within Baltimore, now it's a great option for a superior education and career-launching point for youth throughout the world," says Tom Sadowski '89, political science, president and CEO of the Economic Alliance of Greater Baltimore. "It's grown by an order of magnitude."
This growth is evident across the university, the article notes, as Zalaznick winds his way from UMBC's national reputation as a STEM leader through strengths in the arts, humanities, and social sciences. He pauses with Hrabowski to hear a moving student recital in the new Performing Arts & Humanities Building. The president shares, "We need arts and humanities to put our lives in perspective, to express what we're thinking and feeling."
Read the full article in University Business.
Image: Flags in the UMBC Commons. Photo by Marlayna Demond '11 for UMBC.