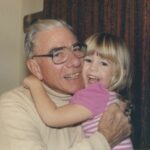 Editor's Note: UMBC has a long and storied history, and it all began in 1966 with Albin O. Kuhn, UMBC's first chancellor. So we sat down with Albin's granddaughter, Julie Kuhn Sanchez '10, to learn more about this founding father.

Most of you know that UMBC's library is called the Albin O. Kuhn library, but fewer of you probably know that it was named after UMBC's first chancellor, Albin Owings Kuhn, who mapped out the present Hilltop Circle by riding around in circles on a tractor. If you want to know more about how UMBC came to be what it is today, just ask Julie Kuhn Sanchez '10, Media & Communication Studies and Visual Arts, Albin's granddaughter. She lives to tell the legacy her beloved grandfather left behind.
We had the chance to sit down with Julie and hear about Albin's novel-like life. She told a story from the '60s when a student came into Albin's office and addresses a man he thinks is the chancellor. This man, however, tells the student he is mistaken and points outside to another man on a lawnmower. Albin was the only chancellor to mow his own lawn, Julie shares with a smile. Stories like these make a person memorable – and Albin had many of them.
Remembered for more than just his memorable stories, Albin was admired by many for his work ethic, gentle demeanor, and humble spirit. He has had a lasting impact on all who knew him and even those who did not. Julie says her grandfather had a rule that he stuck to: Always hire someone who is better than you. People often find themselves intimidated by those who are better at certain tasks; but not Albin. He made sure to hire those more adept than him in different areas so as to build a strong, diverse team. Albin knew that if he was unable to solve a problem, there was someone on his team who could.
Julie as a young girl with grandfather, Albin
Always connected to and surrounded by good people, Albin's influence has carried into UMBC today. He made sure that his staff members were good, down-to-earth, and hard-working people. And UMBC is still filled with these sorts of people.
Julie commented that she admires the values Albin instilled in UMBC. "It's like a family," says Julie. "It always has been." She shares a story of when UMBC was opening for the first-ever freshmen class. Always looking to get his hands dirty, no job was too small for Albin. The bathrooms still needed to be cleaned before the new students came and so Albin, his wife, teachers, and other staff scrubbed the bathrooms until they were pristine.  The family-like mentality of UMBC is part of what makes this campus special.
With an education from and several years spent working as Admissions Counselor at UMBC, Julie has experienced the family-like mentality that is a part of this university. Though she no longer studies or works at UMBC, she still feels a connection. After her grandfather passed away, she enjoyed walking around campus and seeing her grandfather's handiwork. She would see the library all lit up at night and immediately think, Grandpa. Reminiscent of those times, she remembers his presence always being there. There's a sense of pride attached to being the granddaughter of someone so great, she explains.
Toward the end of Albin's life, he went completely blind. Even without vision, Albin lived a full and joyous life, always thinking of others and ways he could help. He would ask his granddaughter often, "Julie, are you happy?" She would reply, "Yes, Grandpa, I am," and he would always say,  "Good. It's good to be happy."
–By Jessie Orsburn '14