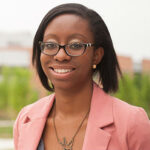 UMBC is always full of hard-working people who aspire to do great things, and the class of 2014 is no exception. Today, we wanted to share with you what some of our recent graduates are planning to do with their Retriever education.
After winning the Maryland Sea Grant to
study the health of the Chesapeake Bay,
Mitchell Donovan, M.S. geography and environmental systems, was also able to present his work at the Scientific and Technical Advisory Committee's Chesapeake Bay workshop. Donovan's research has been used to justify amending future models of sediment and contaminant sources. He now plans to fulfill his Fulbright Research Grant at the University of Turku, Finland, and earn his Ph.D. in watershed sciences at the Utah State University.
Chinwendu Amazu, biochemistry and molecular biology, came in to UMBC as a Meyerhoff Scholar, a MARC U*Star Trainee, and a Howard Hughes Medical Institute Scholar. With her hard work she joined the Phi Beta Kappa Society and the Golden Key International Honor Society. Amazue also  won the Faculty Award for Excellence in Biochemistry, Robert and Jane Meyerhoff Award, among others. Along with tutoring her peers in general and organic chemistry, Amazu has worked with research scientists at the Johns Hopkins Malaria Research Institute, the University of Maryland School of Medicine, and the Washington University School of Medicine in St. Louis. She plans to continue working towards an M.D./Ph.D. at the Washington University School of Medicine.
Cho Fung Chim, psychology, used his
talents while at UMBC to work as a research
assistant at Robin Barry's Couple and Family Research Lab and in Charissa Cheah's Culture, Child, and Adolescent Development Lab. For his honors thesis, Chim managed all of the work, from beginning to end. He wrote the research question, completed the literature review, and analyzed the collected data. Graduating with a 4.0, he now plans to continue his work with family counseling, especially those who have immigrated to the U.S., and
pursue an M.A. in counseling psychology at
Johns Hopkins University.
After facing a life-threatening illness, non-traditional student Amy Connor, biochemistry and molecular biology, stepped back from her work as an artist and found a passion for science. Her goal now is to "inspire young students to think critically and creatively about science." Connor plans to obtain a master's degree in education from UMBC and teach chemistry.