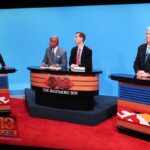 Here at UMBC, we take pride in what our alums accomplish after graduation. Take a moment to see which Retrievers have been on the move and making news!
photo via delaware.newszap.co
Melody Booker-Wilkens '86, political science, was recently named Economic Development director for Sussex County, Delaware. In this role, she will work with private partners to help current employers and seek to bring new job creators to Southern Delaware. Chosen from more than 20 applicants, Wilkens has more than 25 years of experience working in the private and public sector. Read more about her new role.
photo via educationdive.com
UMBC's Chief Information officer, Jack Suess '81, mathematics, '95 M.S., operations analysis, recently participated in panel at the Educause 2014 conference. He and other CIOs weighed the pros and cons of social media in a professional work environment and, particularly, its role within an information technology department. See what Suess and the other panelists had to say.
photo via news.medicine.iu.edu
Jerome Adams (M4) '97, biochemistry and molecular biology, was recently appointed as Commissioner for the Indiana State Department of Health. Adams has been working in the medical field for several years now with experience teaching and is involved in various professional organizations as well as having done research under Nobel Prize winner Dr. Tom Cech. "His public service and academic achievements make Dr. Jerome Adams the ideal candidate to serve in this role," said Indiana Governor Mike Pence of the appointment. Read more.
photo via orangesouthwest.org
Every two years the Vermont Historical Society awards the Cate Fellowship to support research for Vermont history. This year the award was given to Susan Nevins '86, modern languages and linguistics, and '91 M.A., instructional development systems. This award will help support her research on the Lyndes family, a black Revolutionary War veteran who made a life in Central Vermont. Full article.