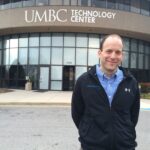 Over the next few weeks we'll be introducing you to this year's Alumni Award winners. The UMBC Alumni Association proudly honors distinguished alumni and faculty for their accomplishments and dedication to UMBC. Today we're talking with Michael Adelstein '96, biochemistry and molecular biology, about his career as CEO of Potomac Photonics, Inc. 
Name: Michael Adelstein '96, biochemistry and molecular biology
Job Title: CEO, Potomac Photonics, Inc.
Award Category: Natural and Mathematical Sciences
Q: Why did you choose to attend UMBC, and how do you continue to be involved with the university?
I chose to attend UMBC because I felt it provided the perfect balance of academics, size, and social environment when compared to the other schools that I considered. I had a sense that UMBC was poised for great accomplishments, and the arrival of Dr. Hrabowski was instrumental at solidifying the school as a top tier university. The culture of UMBC is a very dynamic mix of academic excellence, cultural diversity, hard work, and opportunity that truly prepares its students for success.
I continue to be closely aligned with UMBC and its values. Recently, I moved our company to bwtech@UMBC Research and Technology Park to further enhance our partnerships with the faculty and students.
Special thanks to Dr. Tony Farquhar of the Mechanical Engineering Department; Susie Lynch from the UMBC Office of Institutional Advancement; and Ellen Hemmerly, Executive Director of bwtech@UMBC Research and Technology Park and Walt Schultz Director of Facilities and Leasing of bwtech@UMBC Technology and Development Park who have been invaluable in solidifying Potomac's partnership with UMBC.
Q: Is there a particular class or professor at UMBC who really inspired you?
My coursework at UMBC inspired me to pursue opportunities in science and technology, and set the foundation for my future educational endeavors and career. Most notably, I really enjoyed my chemistry and biology classes, such as Analytical Chemistry and Immunology. Two of my former professors, Dr. William LaCourse and Dr. Suzanne Ostrand-Rosenberg, employed innovative teaching techniques that were engaging and encouraged student participation and debate.  
Q: Please tell us a little about the trajectory of your career and what you are working on now.
During my time at UMBC I spent several summers interning at the National Institutes of Health. I also served six years in the Maryland National Guard as a squad leader for a mortar platoon. In 1997, I joined Potomac Photonics as a sales administrator, and became immediately intrigued and inspired by the micro manufacturing technology emerging for applications in industries such as medical, biotech, electronics, and others. I focused my efforts in developing and implementing a strategy to grow a contract manufacturing unit. This eventually became the primary focus of Potomac and in 2011 I was promoted to President and CEO of the company. One year later, I led a buyout of the company, and in 2013 relocated to bwtech@UMBC Technology and Research Park.
Q: What has been the greatest success in your career? The greatest challenge?
I am very proud of the company that Potomac has become. Currently, we are involved in projects to fabricate devices to treat cancer, diagnose concussions, develop new pharmaceutical drugs, and many others. We also started an Education Manufacturing Initiative which is a program focused on creating a robust partnership with universities in order to develop new products and manufacturing technologies. Our culture is one of continuous learning and opportunity and is modeled very closely after UMBC and its core values.
The greatest challenges moving forward are related to ensuring that Potomac stays true its mission and continues to develop novel micro manufacturing technologies that ensure our partners will be able to build parts with features that are getting smaller in size and more complex in design. Workforce training and education is of particular importance, and we are committed to supporting our employees and institutions committed to this area.
Q: What are your proudest personal achievements?
My proudest personal achievements revolve around my family. I cherish every moment that we spend together and the experiences that we share. My wife is my partner in every way, and her support and courage, even while battling several health issues, has been inspirational. Our children, Jacob, Josh, and Anna, are the light of our lives. We feel blessed to share all of this with our parents who frequently spend time and vacation with us. Finally, I am proud of all my coworkers and employees whose hard work and devotion have been instrumental in making Potomac a success.