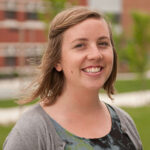 For many, working at NASA while in school is a dream. Damon Bradley, Ph.D. electrical engineering, worked as the lead computer engineer in the Instrument Electronics Development Branch at the NASA Goddard Space Flight Center.
He also founded the National Society of Black Engineers (Greenbelt Space Chapter) and the Digital Signal Processing Technology Group at the NASA Goddard Space Flight Center. Now, with a Ph.D. in electrical engineering, he will continue his work as Lead Computer Engineer at the NASA Goddard Space Flight Center.
As an undergrad, Sebastian Snowberger, chemical engineering, earned two Undergraduate Research Dissemination Awards to talk about his findings at the American Institute of Chemical Engineers and received an Undergraduate Research Award. A member of the honors college, Snowberger plans to pursue a Ph.D. in chemical engineering from the University of Notre Dame.
Before graduating with Ph.D. in statistics, Justin Jacobs earned the highest honor given to the intelligence community in the early stages of their career, the Presidential Early Career Award in Science and Engineering (PECASE).
In addition to working for the Department of Defense as a research mathematician and the U.S. Census Bureau as a mathematical statistician, Jacobs received numerous awards recognizing his efforts. He now plans to continue his work as a research mathematician at the Department of Defense and would like to begin teaching.
Charlotte Keniston, M.F.A. imaging
and digital arts, already has plenty of
experience in her field. A recipient of the Rockvilla F.E.A.S.T. Artist award and a visual arts instructor for the UMBC SUCCESS Program, she has hosted workshops with over 300 participants "to explore how personal food stories relate to the food system and social change." Keniston is a finalist for the Fulbright National Geographic Digital Storytelling Fellowship. If selected, she plans to spend the next year in Mexico City working with people with disabilities and using digital art tools to tell their story.