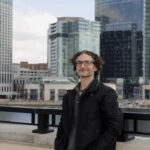 We are proud of our alums and their constant achievements. Recently, four of UMBC's alumni, in particular, have made it in the news and we thought you should know! 
Photo by Barbara Haddock Taylor, via the Baltimore Sun.
Greg Cangialosi '96, English, was recently profiled in the Baltimore Sun's Take 10 column. The article celebrates Cangialosi's success on the tech scene, from the 2011 sale of his company, Blue Sky Factory, to his current roles as co-founder of Betamore and CEO of MissionTix. Cangialosi had this to say about his recent success:
"In 1996, right after college [at UMBC] I was a music promoter for about two to three years. I promoted concerts and nightclubs – everything from the 8×10, Lithuanian Hall, Recher Theatre, UMBC – all that kind of stuff. It was a brutal, cutthroat business. I got burned out on it. But that's where I [gained] my marketing chops. That's where I learned how to hustle."
The Sun also talked with Cangialosi about his 10 favorite things, which include his watches, a collection of awesome caps, and tickets to great concerts. Find out the rest of Cangialosi's favorite things.
Photo by Melissa Gerr, via the Baltimore Jewish Times
Steven Gimbel '91, philosophy, was recently featured in the Baltimore Jewish Times about his new book, Einstein's Jewish Science. Gimbel will present his ideas from the book and lead a discussion as part of the Odyssey Program noncredit liberal arts offerings at Johns Hopkins University on March 13 at the Homewood campus.
Gimbel had this to say of about the book:
"The big questions now are at the intersections of things, and that's what Jews have always done. This book began talking with someone in religious studies, but I've collaborated with people in physics, in the chemistry department, in health sciences, economics, in our education department. Being Jewish lets you look for insight wherever it is, knowing there are other routes to it."
Read the full article from the Baltimore Jewish Times.
Melanie Harrison '11 Ph.D., Marine Estuarine Environ Science, recently appeared on KQED, an NPR-affiliate station in Northern California, where she discussed her upbringing and how it led to her career as an environmental scientist. Here's a sneak peek at what she had to say:
"In those Alabama lakes, I learned to swim, bait a hook and catch catfish, bream and bass. I caught my first hook in the jaw, too, and saw my great grandmother clean and cook the fish she had caught for dinner that night. She was a great fisherwoman and gardener and my first teacher in life. She taught me the wonders of nature and the bounty it can produce, and that by doing, you can be whatever you want to be."
TEDx Talks recently published a talk by Andrew Sherman '83, political science, on the importance of harvesting intangible assets. Sherman is a Partner in the Washington, D.C., office of Jones Day and a recognized international authority on the legal and strategic aspects of business growth.
In this talk, he challenges us to find ways to better use the many assets that already exist in our communities and companies. You can watch the full TEDx Talk by Sherman below: