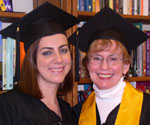 A Family Affair
When Sue Hahn, an administrative assistant in UMBC's Faculty Development Center, walks across the stage to receive her B.A. in American studies cum laude at the University's Winter Commencement, she'll be preceded by her daughter, Patricia ("Tricia"), who will receive the same degree.
"I always promised myself I would go to college one day," said Sue, who enrolled at UMBC in 1996. Tricia, who graduated from Catonsville's Mount De Sales Academy in 2002, came to UMBC in 2003 after a semester at the Community College of Baltimore County in Catonsville. But Sue and Tricia aren't the only Hahn family members to attend UMBC: Sue's husband, Jeff, and son Josh graduated in 1971 and 2002, respectively. Jeff was a member of the first incoming class at UMBC in the fall of 1966; he attended two years at UMBC with a concentration in pre-pharmacy, and graduated from the University of Maryland School of Pharmacy in 1971. Son Tim and two of Jeff's brothers also attended UMBC.
Both mother and daughter appreciated the challenges of the American studies program and the UMBC curriculum. "I liked the opportunity for critical thinking, to express my opinions through papers, group work and presentations," said Tricia, who also is receiving a certificate in Communications and Media Studies and hopes to begin a career in pharmaceutical sales after graduation.
Sue enjoyed her new role as a student after being a staff member since 1973 and even had the opportunity to take classes with Tricia and Josh. "I gained a real understanding and appreciation for what our students go through," she explained. "I loved every minute of it, and enjoyed being with the younger students. I've noticed how increasingly serious UMBC students have become, and they helped to motivate me. They were an inspiration for me to do my best."
Sue also hopes other UMBC employees will take advantage of their tuition remission benefit: "It's a wonderful way to challenge and better oneself, and I highly encourage anyone to be a UMBC student to gain new perspectives and insights about themselves, as well as gain a better understanding of our campus."
(12/18/06)
© 2006-07 University of Maryland, Baltimore County � 1000 Hilltop Circle, Baltimore, MD 21250 � 410-455-1000 �