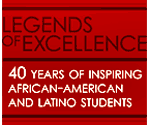 lumnus Ian Ralby Receives Gates Cambridge Scholarship
Alumni Scholarships Support Students Committed to the Advancement of Minorities
Several UMBC alumni have recognized that not all prospective college students or current UMBC students have the financial resources and community support to attend the University or continue their studies if he or she is an existing student. In an effort to support and inspire current and future UMBC students, these alumni have established two scholarships, the Second Generation Scholarship and the Esperanza Endowment Fund, to provide financial assistance to outstanding UMBC students committed to the advancement of minorities.
Second Generation Scholarship
A group of African American alumni started the Second Generation Scholarship in 1986 as a means to give back to the campus and become more involved in UMBC. The scholarship provides $1,000 to continuing students whose money for college often decreases the longer they stay in college. With the scholarship, students are able to remain at UMBC and eventually graduate. Although the scholarship amount varies each year, recipients have received awards ranging from $500 to $1,000. Among the requirements, scholarship candidates must be currently enrolled or have taken a course in Africana studies and demonstrate a commitment to improving the lives of minorities through community service, extracurricular activities or other community involvement.
Aamena Chadry, a senior bio-psychology and pre-medicine major, one of two 2006-2007 Second Generation Scholars and a two-time recipient said, "Being a full time student, it's hard at times trying to manage all the finances that an undergraduate education requires. The Second Generation Scholarship has decreased a burden to a great extent by paying for my books that my classes require every semester."
(For more information, contact Kim Robinson in the Office of Institutional Advancement at 410-455-3700 or the Office of Alumni Relations or call 410-455-2632.)
Esperanza Endowment Fund
The Esperanza Endowment Fund, established in February 2007 by five Latino members of the Black and Latino alumni committee, supports students of Latino ancestry and also promotes awareness of the rich Latino and Hispanic heritage of UMBC alumni and students. The committee hopes to endow this scholarship by raising $25,000 in the next five years, ensuring that it becomes a permanent resource for future generations.
"I think it's important that we are able to give back. People who support initiatives like this are providing tools to encourage students to finish school and promote future leaders," said committee member Joe Morales '00, who earned a biochemistry and molecular biology degree and is now a patent attorney.
The Committee will sponsor a brunch, Legends of Excellence: 40 Years of Inspiring African American and Latino Students, to acknowledge the extraordinary individual contributions of faculty and staff who have significantly impacted the lives of UMBC's African American and Latino students over the past 40 years. The event will be held on April 14 from 11-2 p.m. in the UMBC University Center Ballroom. Funds raised will support the newly created Esperanza Scholarship Fund and the Second Generation Scholarship.
Contributions to support the Esperanza Endowment Fund and the Second Generation Scholarship are also being accepted at http://retrievernet.umbc.edu/support (under "other designation," type Esperanza Fund or Second Generation Scholarship), or contact the Office of Alumni Relations at 410-455-2632 or alum@umbc.edu for more information. For details on Legends of Excellence, including the award recipients, visit http://retrievernet.umbc.edu/legendsofexcellence.
(3/16/07)
© 2006-07 University of Maryland, Baltimore County � 1000 Hilltop Circle, Baltimore, MD 21250 � 410-455-1000 �