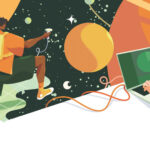 UMBC's Grand Challenge Scholars Program prepares students to collaborate across disciplines and address real-world issues.
Illustrations by Kimberly Salt
When Chelsea Okeh '22, M30, biological sciences, first came to UMBC, she was excited to put her passions to work in a way that might help her community. She already knew she wanted to address health disparities, so she put herself on a course to learn and do all she could.
When a friend in the Meyerhoff Scholars Program mentioned UMBC's Grand Challenge Scholars Program (GCSP)—which takes an interdisciplinary approach to solving big world problems — she knew she was in the right place. Surrounded by students with a wide range of interests, she could take her ideas to the next level.
"I've always had an unbridled ideology that it is possible to change the world," she says of her interest in the GCSP." "Little things I've done in the past like Girl Scouts and community service really paved the way for wanting to take part in something that has a greater purpose." Through the program, Okeh expanded her understanding of factors that impact health disparities and outcomes and she is primed to take what she's learned beyond UMBC.
Tackling societal challenges
Modeled after a national program, UMBC's GCSP was established in the College of Engineering and Information Technology (COEIT) in Fall 2016. Over the past six years, the program has expanded, drawing together students from various disciplines to address major challenges that the world is facing. Ranging from engineering better medicines and securing cyberspace, to providing access to clean water and advancing personalized learning, the challenges were identified by a group of leaders across academia, policy, and industry that the National Academy of Engineering convened in 2007.
Maria Sanchez, GCSP director since 2018 and a professor of the practice in COEIT, explains that an important part of the program is helping students develop skills that they can apply to their classes and take with them into careers or graduate school. Students are eligible to enter the program during their junior year and participate for two years, building their ideas over time.
Because big challenges require cross-disciplinary thinking, the GCSP brings students from diverse backgrounds together for meaningful conversations and to discuss topics that require multidisciplinary solutions and perspectives. Students in the program connect with organizations on and off campus to put their skills and knowledge to work. For example, a student interested in learning how to improve the quality of water for communities might work with the UMBC chapter of Engineers Without Borders to design a water filtration system in another country in need, or a student passionate about restoring and improving urban infrastructure might pursue a study abroad opportunity to learn about cities on other continents.
"We don't expect the students to come up with a solution to a grand challenge. It's more to develop a framework for basic skills and to apply them to their future careers," Sanchez explains.
The GCSP includes five program areas that help students develop a comprehensive perspective on topics. These elements—research, entrepreneurship, service, interdisciplinarity, and global perspectives—are incorporated into the seminars and the students' final projects. "Through these experiences, the students reflect on what the experience has meant to them and how they transform themselves or their views," she says.
The program pivoted during the early months of the COVID-19 pandemic to support students as they adjusted to virtual learning and other sudden changes. The students also processed national current events during classes, including the 2020 election, the pandemic, and racial injustice.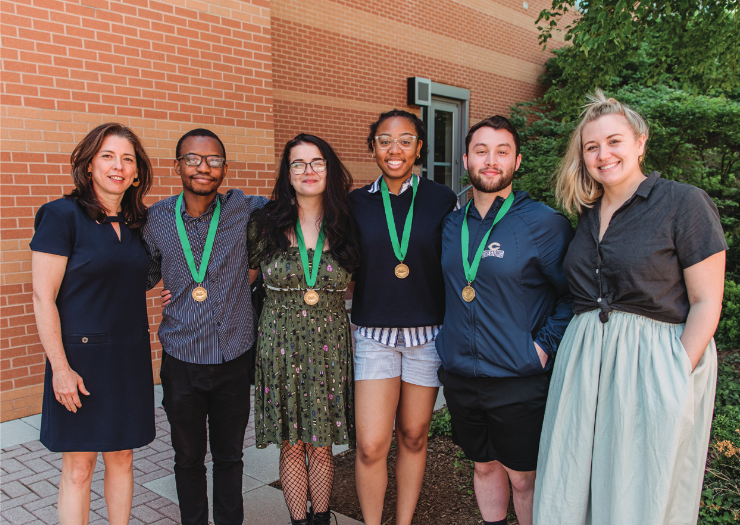 Maria Sanchez (left), director of the Grand Challenge Scholars Program, shares a moment with students Olorunjuwon Ajayi, Diane Stonestreet, Chelsea Okeh, David Paton, and peaceworker fellow Alexandra DeCraene. (Marlayna Demond '11/UMBC)
Developing models to replicate
The national Grand Challenges Scholars Program was founded by three engineering deans at institutions across the U. S. in 2009. In 2011, Arizona State University (ASU) launched their Grand Challenge Scholars Program, which is housed within the Ira A. Fulton Schools of Engineering. Today, ASU invites all incoming first-year students to participate in the program.
Amy Trowbridge, director of ASU's program and chair of the interim executive committee of the Grand Challenges Scholars Program Network, explains that the program allows students to create meaningful connections among their peers and mentors. Students joining the program all take a course that lays the foundation for the experiences they will complete to achieve the five GCSP competencies during their time in the GCSP.
"The Grand Challenge Scholars Program is important for students because of the skill set and mindset that it helps them gain through the program," Trowbridge says. "Members of industry have said that it's valuable as industry continues to change and evolve, and as technology gets more complex. It's the interdisciplinary, global perspective that students gain through the program, and the ability to see the big picture."
Meaningful mentorship
Olorunjuwon Ajayi '22, computer engineering, has a personal interest in sustainability, so the GCSP challenge of "making solar energy economical" resonated with him. Entering the program, he participated in the seminar classes that allowed him to discuss topics with his peers and be exposed to different perspectives. Soon, he had the tools he needed and a network of fellow students to tackle the challenge.
Through the program, Ajayi has been intentional about connecting the research that he conducts on campus alongside Curtis Menyuk, professor of computer science and electrical engineering, with the challenge that he focuses on in GCSP. The research focuses on lasers and optics and can be applied to solar energy issues. He is particularly interested in optimizing energy harvesting from solar panels. This summer, he will complete an internship with the National Renewable Energy Laboratory. After graduation, Ajayi plans to work in the renewable energy field.
Ajayi says that he has enjoyed the seminar classes because they delve into topics that he doesn't explore much in other classes. "The classes have been fun but they touch on things people don't really think about in their majors," he explains.
Sharing perspectives
To support the GCSP, Sanchez works with Alexandra DeCraene '22, public policy, a peaceworker fellow through the UMBC Shriver Center who serves as the program coordinator for GCSP. Peaceworker fellows are returned Peace Corps volunteers pursuing their graduate degrees at UMBC while participating in a two-year social change leadership program, which includes a part-time placement with an on-campus program or community partner addressing a range of social needs.
DeCraene explains that she enjoys bringing guest speakers into the classroom to share different perspectives and disciplines with the scholars. She says that one speaker that stands out is a Baltimore-based pastor who got creative about using resources that his churches already had to bring more local food to the community. He connected with local farms and used the church 's vans to transport fresh produce to farmers markets in Baltimore.
"Being exposed to different ways of thinking, different cultures, and different thought processes has been very valuable to me," DeCraene says. "The Grand Challenge Scholars Program gives undergraduate students a chance to discuss what is on their minds, share their ideas, and get feedback from their peers."
Striving for interdisciplinarity
For Okeh, the challenge to engineer better medicines aligned closely with her career goals. She is particularly interested in using her future degrees to address health disparities that are related to socioeconomics, geography, health literacy, and race. Okeh conducts research on the effects of hyperglycemia on neural tubes of zebrafish and works alongside Rachel Brewster, professor of biological sciences. This work can help doctors understand the prevalence of neural tube defects in babies born to pregnant people with diabetes.
"By individualizing and acknowledging the health disparities and the issues they've created, and keeping that in the forefront of our minds, we can ultimately engineer better medicines," explains Okeh, who will complete post-baccalaureate research at the University of Pennsylvania before pursuing her M.D./Ph.D.
"Engineering doesn't necessarily mean equations and reactions. It could be putting issues that we are already experiencing in our communities under the magnifying glass and seeing how entrenched they are in our medical and healthcare systems."
Building a solid foundation
In addition to guiding students to reflect on their experiences or perspectives throughout the course, Sanchez would like GCSP alumni to reflect on how the program has provided them with a solid foundation on which to start their careers. Heather Mortimer 18, interdisciplinary studies, decided to apply for the GCSP after she saw a flier about the program on campus. She was intrigued by the interdisciplinary focus on the program and that it had many parallels to her passions and goals.
Mortimer's self-designed major focused on science communications, museum education and education development, combining her interests in art, education, history, science, and writing, she explains. She participated in the second cohort of the program during her junior and senior years, after transferring to UMBC from art school. Her cohort had fewer than a dozen students, and most of the participants were STEM majors.
The challenge to "advance personalized learning" resonated with Mortimer because part of her major was about active versus passive learning. Her GCSP final project was a remix of things she was already working on for her interdisciplinary studies degree, she says. Looking back on her experience in the program, Mortimer says that she enjoyed the discussions that happened in the classroom as well as the required courses.
As a graphic designer and technical writer at NASA Goddard Space Flight Center, Mortimer says that her participation in GCSP allowed her to be exposed to people with different skills, perspectives, and interests.
"I am the resident creative on a team of mostly STEM professionals," Mortimer says of her role at NASA. Being a part of the program "gave me a better idea of how scientists see problems and what goes into their thought process. It's been helpful to integrate some of that same way of thinking into the way that I approach creative projects."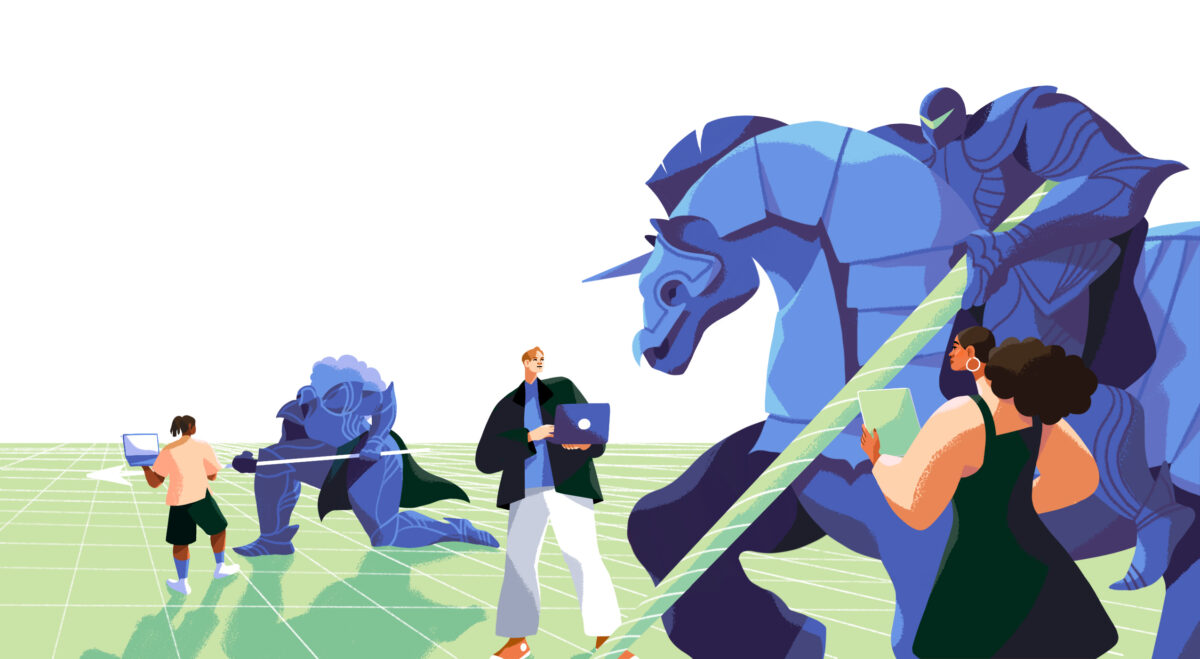 Challenge accepted
As GCSP continues to expand, Sanchez hopes to continue to incorporate elements of social responsibility—encouraging people and organizations to prioritize the best interests of society and the environment—into the experience.
"I'm very passionate about the idea of social responsibility and thinking about what students are going to be doing as professionals in their careers and what they're going to apply from their education," says Sanchez, who is collaborating with Helena Mentis, professor of information systems, on a Hrabowski Innovation Fund Grant to implement elements of social responsibility education into curricula across COEIT departments. Sanchez and Mentis are working with faculty and graduate students in a range of disciplines in UMBC's College of Arts, Humanities, and Social Sciences.
"Even though the National Academy of Engineering developed the Grand Challenge Scholars Program with engineers in mind, it's become clear to me that these topics are on students' minds regardless of discipline," says Sanchez.
Sanchez plans to continue to develop GCSP's curriculum and structure so that it may become applicable to other programs or courses at UMBC. Through the program, she hopes that students are able to make meaningful connections at UMBC and in the surrounding communities and contribute to society through their careers.
In the future, Sanchez would like to increase the range of majors that participate in the program and apply elements of the program to connect with more students. Through her experience leading the GCSP, she has found that students value the opportunity to discuss the topic of social responsibility, and it prepares them to collaborate across disciplines in their careers.
"The way that GCSP was designed is a great jumping-off point for future programs," says Sanchez. "The Grand Challenge Scholars Program has created a foundation and structure for students to think about various topics with social responsibility in mind."