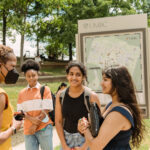 "This is a time when you begin to define what you love, what really matters to you, who you want to be in this world, and what difference you want to make in the lives of others."

Valerie Sheares Ashby

UMBC President
As UMBC President Valerie Sheares Ashby looked out at the crowd of eager first-year students during Tuesday's Convocation ceremony to open the academic year, she reinforced the importance of marking this formative chapter. And with well over 2,100 new first-year students, and record numbers of graduate and international students, this is a new chapter for UMBC's largest incoming class yet. 
"In an increasingly competitive college admissions landscape characterized by a declining pool of high school graduates and increasing costs of attendance, UMBC's ability to continue to attract a strong and talented first-year class speaks to, among many things, our reputation as an institution that offers an exceptional collegiate experience that is affordable," says Yvette Mozie-Ross '88, UMBC's vice provost for enrollment management and planning. This includes in-demand programs at both UMBC's main campus and the Universities at Shady Grove in Montgomery County.
In addition to a record number of new first-year students, UMBC enrolled over 3,300 graduate students for fall 2022, marking an impressive 500-plus increase over last year's fall enrollment. 
Welcoming the incoming class
Veronica Goonan, an incoming first-year student, knew once she visited campus that she had found her place. "I had an incredible opportunity to tour campus with the [mock trial] team in the fall of my senior year, and that's when I began to know that my place was here," she said. "I could feel the innovation and excellence that UMBC boasts."
Goonan addresses the audience during Fall Opening Meeting. (Marlayna Demond '11/UMBC)
One of the biggest goals in the first few weeks of the new academic year is to ensure students have opportunities to get to know the campus and begin learning about the possibilities available to them throughout their academic career. 
"In the Division of Student Affairs, we take the role of welcoming and holding space for our students seriously. Those first few days and weeks are about making sure that we are doing all we can to help them carve out their own path while they are here," says Jen Dress, associate director of campus life. 
Parent volunteers welcome families to UMBC with President Sheares Ashby (c). (Marlayna Demond '11/UMBC)
A robust Welcome Week full of fun and engaging events is an important part of this experience. When new students moved in last Saturday, they were treated to some of UMBC's favorite traditions. Once the boxes were unpacked, the beds were made, and the posters of (insert cool band here) were hung, students and their families made their way to Erickson Field. 
A Retriever family stops to pose with President Sheares Ashby (in gold). They include (l-r): Myra Sydnor, Camryn Sydnor, and Maryland State Senator Charles Sydnor. (Marlayna Demond '11/UMBC)
If new Retrievers didn't know the school colors before, they certainly did now. Swag tables, information tables, and goodie tables lined the field, all decked out in UMBC's signature black and gold. Even the animals in the petting zoo got the memo.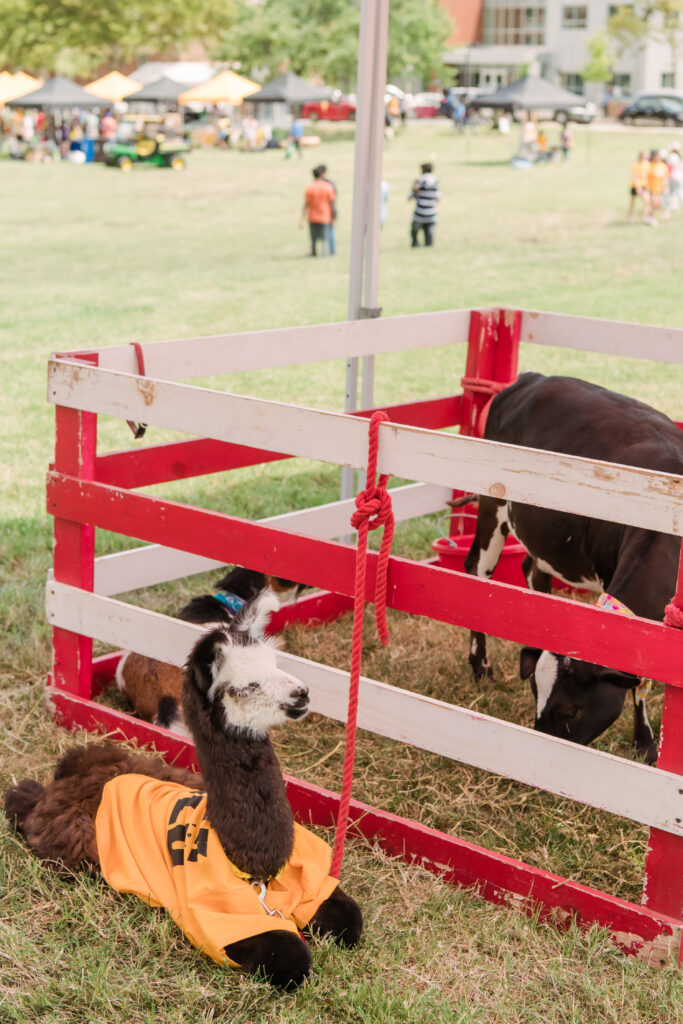 Just your normal campus petting zoo. (Marlayna Demond '11/UMBC)
Once families said their goodbyes and maybe a few students and parents teared up got something in their eye, celebrations continued with Playfair and the annual fireworks display. New Retrievers played "getting to know you" games to break the ice and capped off the night with a spectacular fireworks show. 
Fireworks lighting up the UMBC night sky. (Marlayna Demond '11/UMBC)
A place for everyone
Incoming transfer student Luther Daigle, mechanical engineering, summed up the feeling hearing about UMBC versus coming to UMBC by saying, "It wasn't until I toured the campus and I felt an overwhelming sense of belonging that I knew I wanted to continue my academic career at UMBC." And that feeling has carried through the start of his first semester.
Daigle addresses the crowd at Fall Opening Meeting. (Marlayna Demond '11/UMBC)
This sense of belonging extends to UMBC's rapidly growing population of international students. As of the end of August, over 2,200 international students were enrolled for the 2022 – 2023 academic year. 
"As UMBC's international reputation continues to grow, more students from around the world choose to join our campus community," says David Di Maria, associate vice provost for international education. "We are very pleased to welcome the largest number of international students in UMBC's history."
Jok Thon, an incoming graduate student studying entrepreneurship, innovation, and leadership, is the first student from South Sudan to enroll at UMBC and he was buoyed by the diversity represented in the community he'd be joining.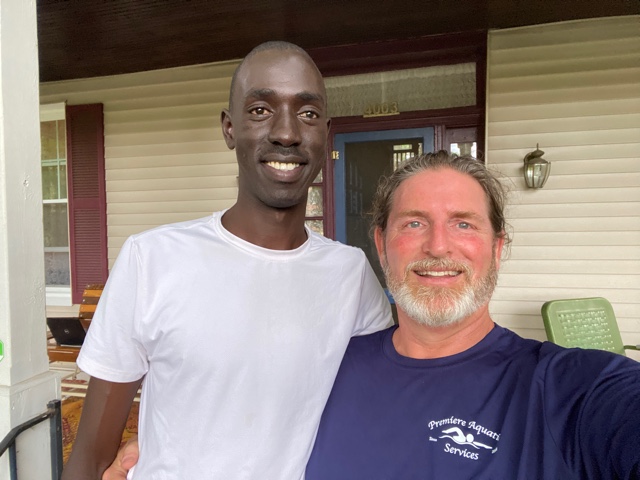 Thon and
Joby Taylor
, Ph.D. '05, LLC, director of the Shriver Peaceworker Fellows Program. (Image courtesy of Taylor)
Addressing his peers at the annual Fall Opening Meeting, Thon said, "We have an incredibly diverse and creative campus community. We have such an opportunity to learn from this global village…maybe we should even think of it as our responsibility as global citizens to learn from each other during our time at UMBC." 
During Convocation, 2022 Presidential Teaching Award recipient Tamra Mendelson echoed the importance of this saying, "Inclusive to me means that we not only value, we require a diversity of backgrounds to make the world a better place. It's the only way we will achieve a more accurately educated, environmentally conscious civil society."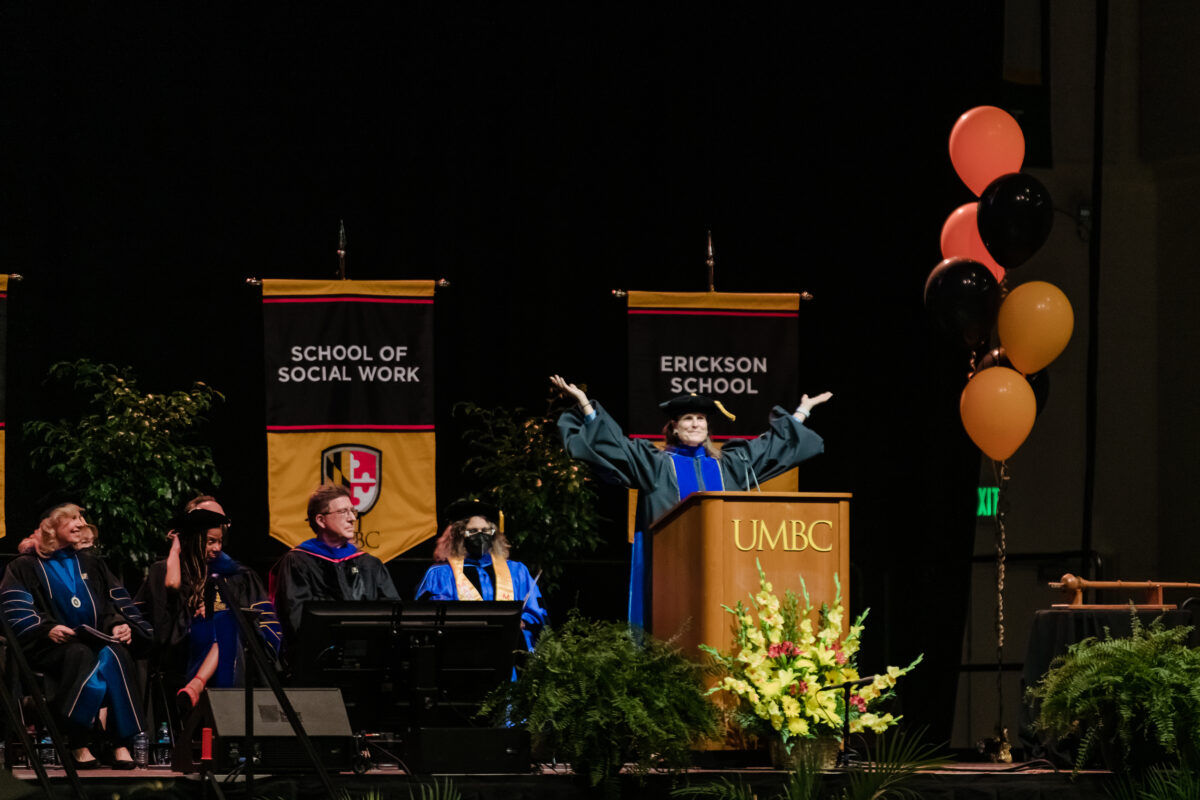 Mendelson expresses her excitement at opening another school year. (Marlayna Demond '11/UMBC)
Students at the center
While students may think faculty and staff are the backbone of their educational career, their educators and advisors would argue it's the opposite—students themselves are at the core of UMBC. 
"If there was an equation to describe UMBC, our students would be the essential term. We are committed to providing each of our outstanding students with a first-class education and the support needed to achieve success, whether that means meeting with the CNMS success coach, participating in programs at The Learning Collaboratory, or working one-on-one with a faculty mentor," said William R. LaCourse, dean of the College of Natural and Mathematical Sciences (CNMS). "Inclusive excellence is more than just words—it is our mission."
LaCourse himself knows the importance of connecting with students on a foundational level. In the spring, you can find him co-teaching CHEM 100: The Chemical World to non-chemistry majors.
President Sheares Ashby eagerly welcomes UMBC's new students. (Marlayna Demond '11/UMBC)
Keith J Bowman, dean of the College of Engineering and Information Technology (COEIT), points to the essential role that student leaders play in reaching out to and connecting with new students, and helping them feel welcome and connected.
"All summer I have been hearing from student org leaders from our college," says Bowman. "Their enthusiasm to engage with current and new members is very exciting."
Among the new students Dean Kimberly Moffitt welcomed to UMBC's College of Arts, Humanities, and Social Sciences (CAHSS) this year are several Shriver Peaceworker Fellows, who gathered on campus on August 1 to kick off their fellowship. These Returned Peace Corps Volunteers pursue graduate degrees in a range of fields (such as teaching and applied sociology) while also working with community partner organizations to address diverse social needs, and actively reflecting on their learning and engagement experiences.
This multifaceted approach exemplifies how work in the classroom, hands-on learning, community engagement, and service connect to form the unique UMBC student experience.