Meet UMBC Retriever Phil Shockley '04, political science and information systems, M.P.P. '09. As an undergraduate, he was Student Government Association president and took part in leadership roles on and off campus, as well as interesting internships, and as an alum and donor he continues to engage and give back to his alma mater. He's made a UMBC education even more accessible to others by endowing a scholarship in honor of his parents. Thanks for sharing your story, Phil!
Q: What's one thing you'd want people to know about you?
A: I was raised on a family farm and while I did not appreciate the advantage of that gift when I was growing up, I now fully embrace the lessons it taught and wish everyone could experience just one summer working on a farm. I believe their outlook would completely change.
Q: How did you wind up at UMBC?
A: I was unfamiliar with UMBC until my high school guidance counselor encouraged me to consider it. I looked into the university and found myself impressed with its many accomplishments. Since it was not too far from where I lived on the Lower Eastern Shore of Maryland, I signed up for admissions event for prospective students. I had planned to go further away to school. I vividly remember walking on campus for the first time and being welcomed by the Admissions folks. Lori Smith-Watson '85 will always stand out to me (I believe she was either from the Eastern Shore or had a connection to the place where I grew up). Later as I toured around campus, there was discussion about the many new buildings popping up including The Commons, which at that point, was not yet complete. That first encounter was a life changing experience, and I knew then UMBC was meant for me.
UMBC is special to me for countless reasons, but if I had to single out one area, I would say I felt like I was able to come into my own for the first time in my life. People genuinely respected what I had to offer and encouraged me to take on leadership roles all while demonstrating moral character and ethical conduct. There were many experiences that I had, including: working as a student for a department on campus and learning about the importance of alumni and corporate engagement; being elected a senator and then president of the Student Government Association; serving as an ambassador for the Office of Admissions, giving tours and introducing students to the campus; and serving as the student regent for the University System of Maryland my senior year. Nothing happens in a vacuum and the genuine support I felt at every turn cannot be understated.
Shockley poses with True Grit in November 2003 after being name student regent. Photo courtesy of Shockley.
Q: What did you love most about your programs of study?
A: My academic programs were varied and each fulfilled me in very different ways. The information systems management program tapped into my love of technology while solidifying the importance of a plan and process—key traits that would serve me well in both my career and my life. The political science program nurtured my interest in politics and government. It showed me how government can truly be a force for good.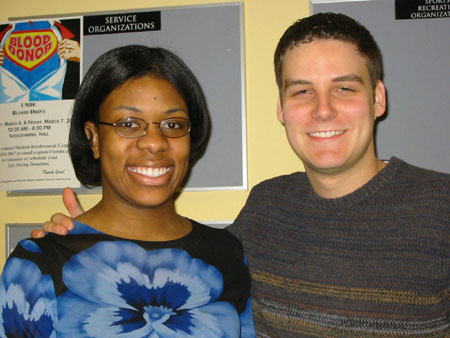 Shockley and fellow SGA officer Ada Orie in The Commons, 2003. Photo courtesy of Shockley.
Q: Were there any ways that UMBC particularly helped support you as a student?
A: I was incredibly fortunate that after enrolling at UMBC, I was offered the opportunity to compete against a small group of students for one of two full scholarships through a new gift to the school by the T. Rowe Price Foundation. I never imagined I'd get selected and with it came the opportunity for a summer internship. For a kid raised in rural Maryland on a farm, it was quite an experience. Growing up, I was most certainly not the popular kid. I had poofy hair, big glasses, and braces at a young age. Not to mention, I was laser-focused on my studies and was not blessed with any athletic ability. In high school, I ran each year for student government positions to no avail. UMBC was first place I truly felt like I was given the opportunity to try my leadership skills and mentored by others to grow and develop them.
This growth led to an introduction to John Erickson, founder of Erickson Retirement Communities (now Erickson Senior Living) by former UMBC President Dr. Freeman Hrabowski. Erickson was working on instituting information technology products throughout their healthcare business which was ahead of the time for the industry, and were looking for those majoring in these fields. I never though I'd work for a company whose focus was senior housing and healthcare, but John was charming and persuasive. Dr. Hrabowski spoke very highly of his commitment to UMBC through his many gifts to help build new residence halls on campus. This introduction turned into a career that gave me a deep sense of meaning knowing that I was able to help older adults continue to live a life of significance, as they aged, that was valued up until the very end. John was instrumental in providing support and guidance as I branched out within the company and relocated to several different locations around the country for new opportunities.
At left, Shockley with retired Vice Provost and Dean of Undergraduate Education Diane Lee. At right, Shockley with President Emeritus Freeman Hrabowski. Photos courtesy of Shockley.
Q: Why did you choose UMBC for your philanthropy? 
A: My sister and I were the first to go to college and I wanted others to be able to have that experience, too. We were very fortunate in that the financial cost was not an obstacle to either of us being able to pursue our dreams. I never considered not going to college—that was just the plan from an early age and it was clear that's what my family was going to make happen if it was what I wanted and I had the aptitude.
UMBC will always have a deeply special place in my heart.  From the moment I first stepped onto campus, I remember the incredible feelings of being welcomed to UMBC.  There was such excitement and energy and I wanted to be a part of it.  As a freshman, I worked in the Office of Institutional Advancement (OIA) for some of the same folks that partner with me today in giving back.  The varied experiences I had as a student worker in OIA opened my eyes to the importance of alumni engagement and giving.  As my time at UMBC progressed, I found myself very involved in both on and off campus leadership activities that I could never have imaged.  One of my proudest moments was being able to serve as the student regent on the University System of Maryland's (USM) Board of Regents, a Gubernatorial appointment.  Being able to make a difference on behalf of all the students that made up the USM was an honor. Through my gifts, I want to provide opportunities for students, particularly from the Lower Eastern Shore of Maryland, to be able to attend UMBC and explore the plethora of opportunities open to them.
I started and continue to support the Shockley Family Scholarship in honor of my parents, David and Sandra Shockley. I intend to start an additional scholarship for my maternal grandparents, Sam and Bertha Rothenstein, in the future.
Q: What's one thing you'd want folks to know about UMBC?
A: Anyone and everyone is welcome. No matter your background or where you were raised, UMBC will support, nurture, and help you share your gifts with the community as a whole. It is this diversity of individuals, experiences, and talents that make the university such a remarkable place.
* * * * *
UMBC's greatest strength is its people. When people meet Retrievers and hear about the passion they bring, the relationships they create, the ways they support each other, and the commitment they have to inclusive excellence, they truly get a sense of our community. That's what "Meet a Retriever" is all about.