Avi Newman, who is graduating from UMBC this spring, knows all too well about learning to navigate unexpected detours beyond his control. Managing the compounding effects of COVID-19, meant letting go of his original college plan and embracing much-needed time for self-care and reflection. It also meant asking for and accepting help from a network of faculty who were ready to listen, offer guidance and encouragement, and help him pursue his interests in new ways. 
Avi Newman. (Marlayna Demond '11/UMBC)
Newman originally envisioned himself walking a straight line from College Signing Day to Commencement. Instead, he found that a zig-zagging seven-year path took him where he needed to go, and that his success was a collaborative process. One of his greatest sources of support was Songon An, associate professor of chemistry and biochemistry. 
"Avi came to my lab with great potential to become a biochemist. However, the COVID pandemic changed everything about his course of life," says An. "I remember telling him that it's OK to pause his undergraduate life and take advantage of such time to try out many different things, beyond academics, that he may find himself enjoying and feel rewarding."
Newman began taking courses in a broader range of fields and is graduating with majors in biochemistry and molecular biology, biological sciences, and philosophy, plus minors. He has worked as a tutor, volunteered with a public health organization, and practices meditation to keep himself grounded. Accessing support gave Newman the confidence to rethink his assumptions about who he is now and who he wants to be.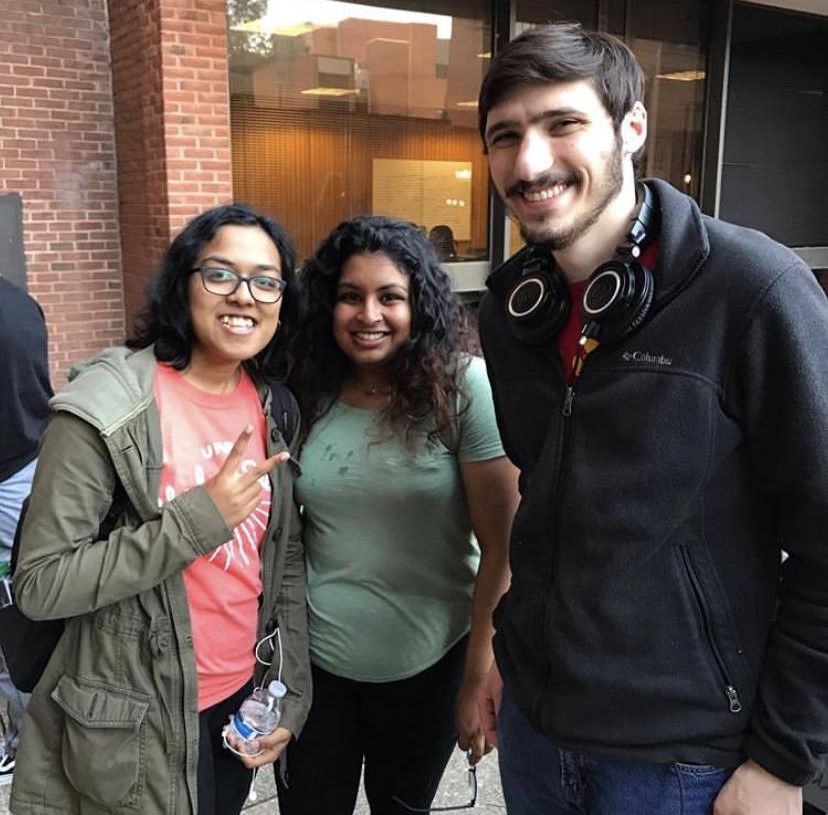 Avi (at right) with friends at the UMBC Chapter of the American Chemical Society Saccharide Social. (Image courtesy of Newman.)
"I think initially it was hard to come to terms with not graduating 'on time,' but after a while I realized that there's no rush to life and that it was better for me to take my time and learn as much as I could," says Newman. "I wanted to enjoy my time and take care of my mental, emotional, and physical health, which ultimately is much more important than rushing through things being excessively stressed." 
Maneuvering daily challenges
Like Newman, Jennifer Boateng will soon cross the stage to accept her degree seven years after she enrolled at UMBC. Throughout her journey, she has kept a clear goal in mind: finding the best way to use her creative talent to support people who, like her, live with sickle cell disease, and similar challenges. 
Boateng found a perfect match in global studies, with a focus on creating multimedia content for humanitarian groups with a global audience. Pursuing this dream has meant adeptly maneuvering the complexity of living with sickle cell disease. Boateng completed research, taught herself her Final Cut Pro, wrote papers and lab reports, and attended classes both in person and at the hospital, virtually, as she received necessary care.
Jennifer Boateng. (Marlayna Demond '11/UMBC)
Boateng credits her positive and successful college experience to the long-term support of her friends and family as well as kindness and flexibility from UMBC faculty, staff, and peers. Her mentor Brigid Starkey, principal lecturer of political science and director of global studies, notes that the program worked closely with Boateng, especially over the last year, to strategize on how to finish her degree. 
"We worked on course selection and navigating academic appeals processes, and her disability rights," says Starkey. 
With the moment she will turn her tassel in sight, Boateng and her mentors are looking toward what's ahead. "Lately, my mentorship has involved talking to her about the future and where she may want to focus her efforts in the job market," says Starkey. Boateng's mentor is leveraging the department's alumni network to connect her with career possibilities that will help her fulfill her vision.
Community support leads to success
Finding success through community support is familiar to many UMBC graduates. UMBC was the second university Victoria Joya Euceda attended, searching for a mentor who understood her story as a first-generation college student whose parents immigrated from Central America. At UMBC, she connected with  Yolanda Valencia, assistant professor of geography and environmental studies, and other supporters. Now, Joya Euceda '23, geography and environmental systems, is heading to a Ph.D. in geography at the University of Illinois at Urbana-Champaign.
Victoria Joya Euceda '23, geography and environmental studies. (Marlayna Demond '11/UMBC)
Beatriz Soriano Luna '23, social work, transferred from Montgomery College to UMBC at the Universities at Shady Grove, where she became an integral member of a close-knit community. Valuing the mentorship of M. Nicole Belfiore, clinical instructor of social work, Soriano Luna herself mentored more than two dozen students as a peer advisor. She'll next pursue a master's degree through the University of Maryland School of Social Work.
Beatriz Soriano Luna (right) with (left to right): Dominique Culley '23, social work; Angelo McClain, former chief executive officer of the National Association of Social Workers (NASW); and Betsy Vourlekis, professor emeritus of social work and chair of the NASW Social Work Pioneer Committee. (Image courtesy of Soriano Luna.)
This May, on College Signing Day (which celebrates students' college decisions), Joel DeWyer, director of campus life operations, welcomed UMBC's next incoming class in a video on Twitter, reminding them of the excitement that lies ahead and the support they can access along the way.
"College can be a nerve-wracking and anxious experience, right? So when you have a question, or when you are feeling uncertain, when you are feeling overwhelmed, do me one favor," said DeWyer. "Find someone around you in your community and ask for help."
He shared a message that Newman, Boateng, Joya Euceda, and Soriano Luna have worked to pass along to others: that support can be found everywhere at UMBC. "There's people all around you who care about your success and we are here to help you," said DeWyer. "So never, ever, be afraid to ask for help."