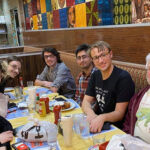 Performers of the music piece "Corporel," by the French-Slovenian composer Vinko Globokar, must use their own body as a percussion instrument. They beat, scratch, smack, and tap themselves. They chatter their teeth, snore, and cluck their tongue. The composition's "patterns of sound and gesture" are arresting, "keeping us transfixed even as we flinch," the L.A. Philharmonic website says in its description of the piece.
To Brandon Gouin '23, music performance, learning the work was a highlight of his time at UMBC. "This work is a discovery of self and musical potential that resonates deeply within me," he says. He performed the piece at his senior recital this year, when members of the music community at UMBC were celebrating the opportunity to once again gather in practice spaces and concert halls after the isolation of COVID-19.
Gouin credits his teachers and mentors, especially Tom Goldstein, associate professor of music,and Patrick Crossland, affiliate artist, with helping him reach that moment on stage—as well as with helping him find his path as an artist.
Gouin's experience is reflective of the experience of many members of the class of 2023. Although each individual has unique talents, passions, and goals, they are brought together by a feeling of gratitude to the UMBC community for helping them find their way. Faculty, staff and fellow students helped them open their minds to new possibilities, and mentored them on their journey to discovering a career path that fits.
Challenging preconceptions
When Gouin arrived at UMBC, he thought performance jobs for percussionists were mostly limited to professional orchestras—a highly competitive and difficult career path for any musician to pursue. However, as he dove into the local music scene, his eyes were opened to other possibilities.
"I began to see opportunities as a contemporary performer by attending the Livewire festival of New Music that UMBC holds every year and watching many performances of music I had never heard of before," he says. He also attended local experimental music shows at the Red Room in Baltimore and the Rhizome in D.C.
"Audiences at these shows are very engaged, and that is exciting to me as a performer," he says.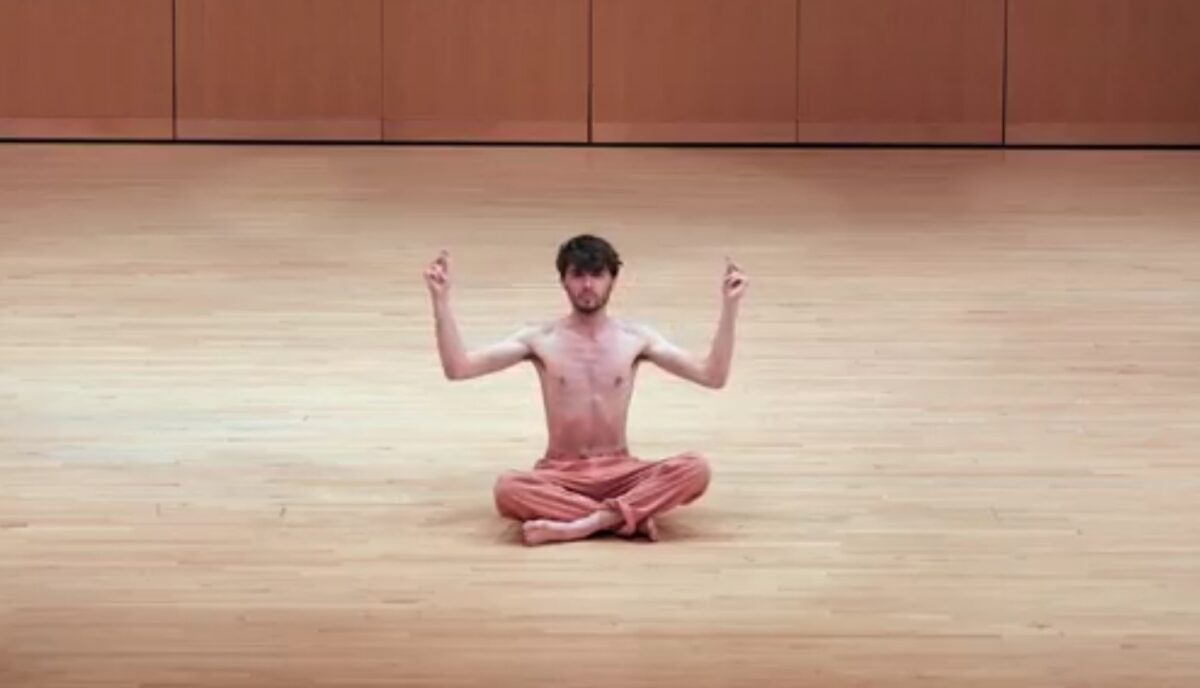 Brandon Gouin performing Vinko Globokar's 1985 work "Corporel." (Image courtesy of Brandon Gouin)
Mentors illuminate new possibilities
Gouin's professors introduced him to new styles of music and showed him the vibrancy of the contemporary music world. Tom Goldstein directs the UMBC Percussion Ensemble of which Gouin was a member. Goldstein says he often programs works by lesser-known composers, and sometimes pieces by UMBC faculty and student composers.
"I think if the students perform a piece composed by someone they know, they may start to think 'Hey, I could do something like that, too,'" he says.
Gouin appreciated the exposure to a variety of music and says he has adopted the inclusive mindset of his music professors as he pursues career opportunities after graduation. "My teachers aren't only in love with one or the other kind of music but commit themselves fully to working with all kinds of music," he reflects. "I think that kind of mindset is healthier and has more longevity for an artist's life."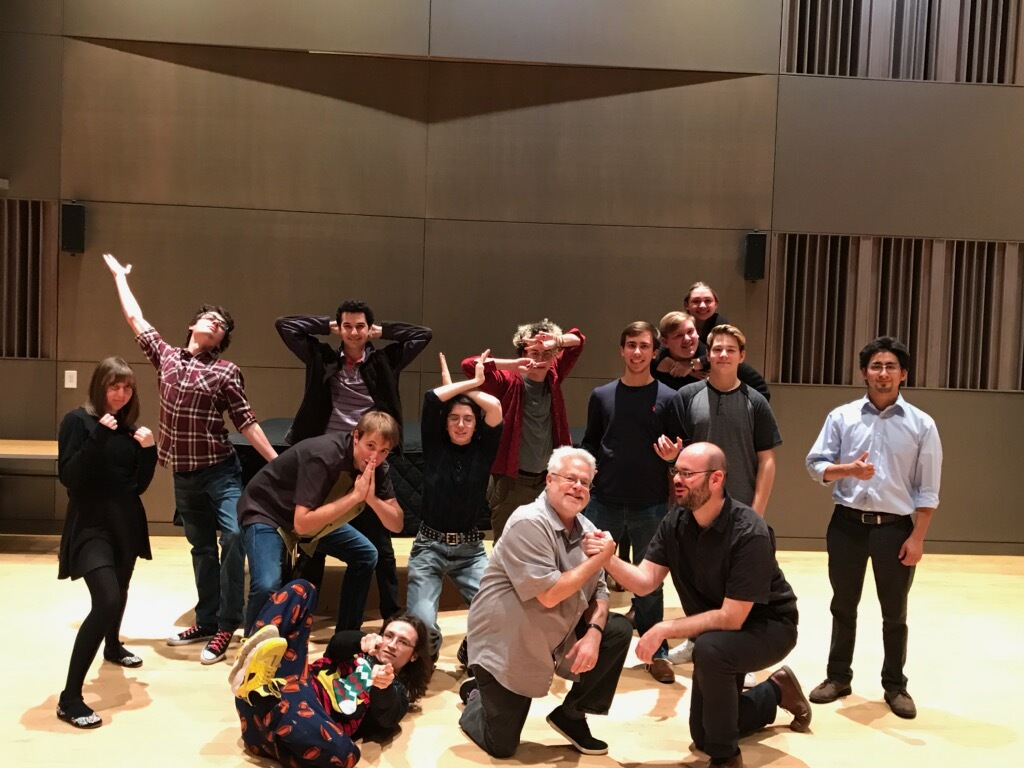 Members of the UMBC Percussion Ensemble and the Salisbury University Percussion Ensemble. Every year the two groups perform a joint concert. (Image courtesy of Brandon Gouin)
Other Class of 2023 graduates say they encountered similar opportunities for growth and expression at UMBC. Shaniah Reece '23, information systems, discovered a love of research and a way to connect her technical skills to her passion for social justice. Hala Algrain, M.P.S. '23, health information technology, reconnected with a love of teaching, and switched her career plans from industry to academia. Elijah Mugabe '23, chemistry, threw himself into lab work and a quest to investigate unanswered scientific questions. And Connor McPherson'23, history, found a way to connect his interest in the humanities with a career in the Navy.
Community builds confidence
In addition to finding their path at UMBC, these students also found communities that encouraged them to excel on their academic and personal journeys. They found student groups, faculty mentors, peer advisors, and scholars' programs that pushed them to succeed and provided the support they needed.
"Undoubtedly, the most enriching part of my time at UMBC has been the remarkable sense of community I have experienced here," Reece says "It has provided me with opportunities for personal growth, enabling me to evolve holistically. As I reflect upon my experiences, I feel confident and prepared to take on any obstacles that may lie ahead."
Reece (second from left, UMBC shirt) and other CWIT scholars and students at the Grace Hopper Conference in Florida 2022. (Courtesy of Shaniah Reece.)
Algrain agrees that the culture of UMBC and the level of support were the best parts of her experience at UMBC.
For Gouin, the chance to connect with mentors who were dedicated performers, as well as enthusiastic teachers, was life changing. He even joined a percussion quartet with fellow and former students that they named "Hi Tom," in honor of Tom Goldstein.
Goldstein shares that for him the honor goes in the opposite direction.
"I love working with the students—it's a fantastic part of my life," he says. "It's an honor and a privilege to get to know them."