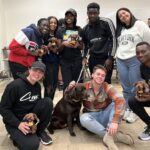 When the impacts of COVID-19 had the world on pause in March 2020, like many others, Ify Jacob '23, computer engineering, spent time sheltered at home thinking of what he would do once it was safe enough to return to life as he knew it. But he never really returned to the life he was used to. 
One of the first decisions that Jacob made while dealing with the early days of COVID distancing was to become more active on UMBC's campus when he returned. This choice changed the trajectory of his academic and professional journey. 
In summer 2021, Jacob applied to be a UMBC Welcome Week leader (known as a "Woolie") and a teaching assistant, both leading and serving fellow students by helping them build community and feel supported. "I wanted to get more involved, beyond getting an education," says Jacob. "I wanted to give something back to my campus community while also branching out of my comfort zone." And giving back became part of his education.
Jacob went on to serve as vice president of UMBC's Residential Student Association, where he helped students connect with each other after dealing with COVID. He assumed several leadership roles as a member of the Pi Kappa Phi fraternity and joined groups like Club Soccer, the Tau Beta Pi engineering fraternity, the Filipino American Student Association, and the Vietnamese Student Association. These experiences helped him gain more confidence in his leadership and communication skills. 
Ify Jacob (back row, left) with other members of UMBC's Club Soccer team. (Image courtesy of Ify Jacob)
"I'm grateful that I branched out because I met some amazing people and believe I left a positive impact on the UMBC community," he says.
Emerging as an engineer
Jacob comes from a family of computer scientists and engineers. His father is an electrical engineer and his sister Nsikan Jacob '18, computer engineering, was a UMBC Center for Women In Technology (CWIT) Scholar who is currently working on a master's in computer engineering and communications at Johns Hopkins University. His other sister, Aniebiet Jacob, attended UMBC as a computer science major and a Meyerhoff Scholar before transitioning into a full-time career in tech. 
"It's great to see women in STEM. The accomplishments of my sisters inspired me to work hard," says Jacob, "and their support has been important to me."
Jacob didn't always know he wanted to be a computer engineer. He initially had his sights set on pursuing a business degree, and recalls having a disinterest in coding, saying, "it seemed like I was learning another language and I was not a fan—and then the pandemic happened. That got me to focus on my coding skills because all I could do was school work."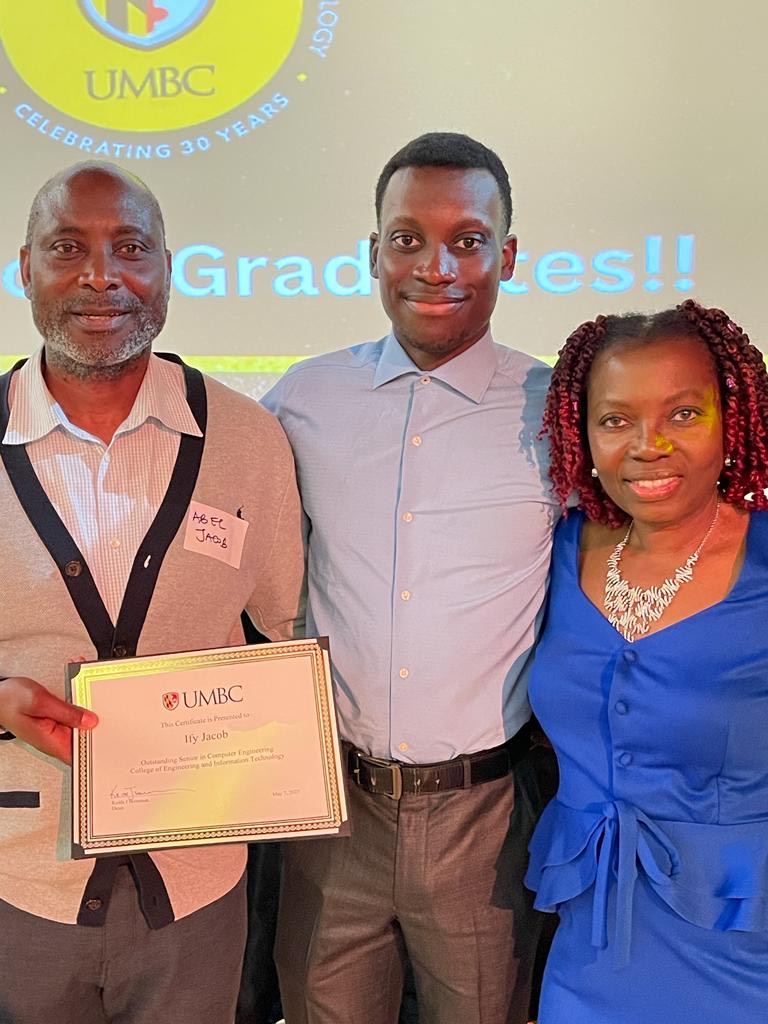 Ify Jacob (center) with his parents at the 2023 COEIT Celebration. (Image courtesy of Ify Jacob)
From left to right: Ify Jacob, Aniebiet Jacob, Nsikan Jacob, and their younger brother. (Image courtesy of Ify Jacob)
Jacob spent many hours learning coding languages such as Python and C++. Jeremy Dixon, senior lecturer in computer science and electrical engineering, was instrumental in helping Jacob develop his programming skills, which informed his interest in pursuing software engineering as a career.
"Professor Dixon's instructional videos were amazing," says Jacob. "His class got me into coding and made me say I can do this long term."
Learning as an intern and teacher
With this new career vision in mind, Jacob applied for an internship with Northrop Grumman as a systems engineer in summer 2022, coordinated with the support of UMBC's Career Center. Upon completing the internship, Jacob was then offered a full-time position with Northrop Grumman as a software engineer, which he will start after graduation. 
Wanting to connect others with STEM opportunities, and support them the way he felt supported, Jacob taught students ages 9-13 the basics of coding via an online course for a year. Then he had a chance to serve as a teaching fellow in introductory engineering courses, which he did for four consecutive semesters. 
Jacob's teaching experience helped him to strengthen his public speaking skills and made him more confident as a leader. Because of this, Jacob took a seminar course to obtain an associate undergraduate teaching certification through the Center for the Integration of Research, Teaching, and Learning, facilitated by lecturer Jamie Gurganus '20, mechanical engineering, director of the Center. 
"Dr. Gurganus gave me the opportunity to be a teaching fellow and has been a professor, mentor, and advisor to me since my freshman year. She's had a huge impact on my undergraduate experience, and I'm forever grateful for the opportunities she has given me," shares Jacob. 
Developing community builders
Jacob's experience of approaching leadership through the lens of service, with a focus on building community, is shared by many at UMBC, including in the Class of 2023. 
Humanities Scholar Clair Volkening '23, English, has used her voice as a writer, editor, and facilitator to help UMBC community members build connections with one another and to inspire social change. 
McNair Scholar and first-generation college student Joana Hernandez '23, chemical engineering, learned first-hand the power of research mentorship, and responded by helping fellow students navigate the academic research process. 
Joana Hernandez (left) with fellow UMBC McNair Scholars. (Image courtesy of Joana Hernandez)
Tim Edwards '23, music education and jazz studies, developed his passion for music education through a two-year internship with the Baltimore Symphony Orchestra's OrchKids program, while also performing and leading UMBC's chapter of the National Association for Music Education. 
Shriver Peaceworker Fellow Grant Clifton'23, M.A., Teaching English to Speakers of Other Languages (TESOL), has helped English language learners gain confidence and improve their conversational skills through the community he's built with them as a language instructor.
Grant Clifton (far right, in blue) with his students. (Image courtesy of Grant Clifton)
As graduates, these students will now move on to serve as community builders around the world, with plans taking them from the Baltimore-Washington corridor to Indonesia.