Kayla Tomas '23, information systems, maintained a challenging schedule during her undergraduate years. There were days she rose early, studied, and attended classes in the morning and afternoon, headed to volleyball practice in the late afternoon, paused a half hour for dinner, and then dashed off to lead a dance class in the evening. "It was the support of my friends, my family, and the mentors here at UMBC that made it easier," she says.
Despite the challenges of a hectic schedule, she wouldn't have it any other way, given what she gained from each opportunity. As a student athlete, Tomas says that one of her best undergraduate experiences was being on the Division I women's volleyball team that won the America East Title three years in a row.
"The friendships I made, the breakthroughs I experienced, and the challenges I faced, made me a stronger individual, and this couldn't have happened without an amazing group of girls I had the privilege in sharing the court with," Tomas says.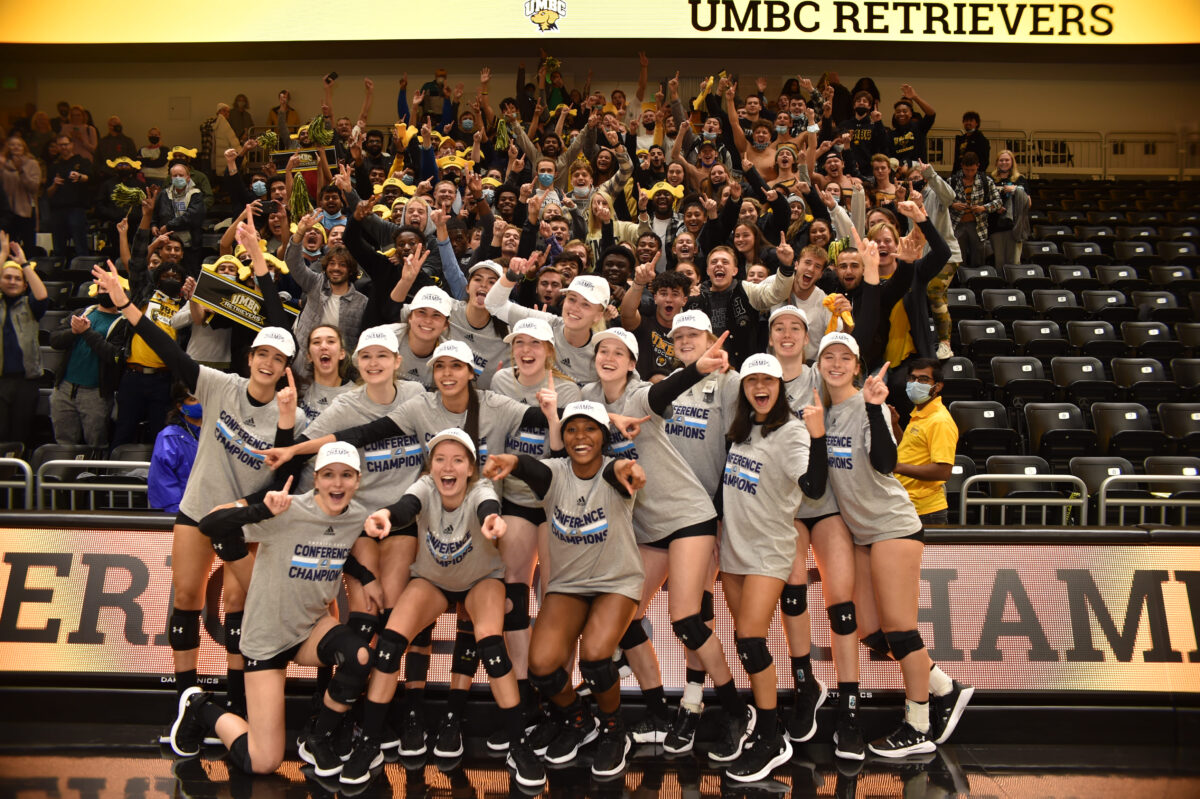 Kayla Tomas and her teammates celebrate a Division I women's volleyball championship. (Image courtesy of Kayla Tomas)
Valuing the whole person
Tomas was a member of the Center for Women in Information Technology (CWIT) Scholars Program, which anchored her not only financially but also psychologically.
"One person I really have to give credit and thanks to, and someone I will continue to maintain a connection with, is Erica D'Eramo, assistant director at CWIT," Tomas shares. "She has helped me a lot. We have one-on-one meetings, and if I have a question that I can't figure out, she always knows who to direct me to. But it doesn't even have to be about school—it can be about just how I'm doing emotionally, mentally, or physically."
Tomas has also received support from UMBC alumni through the Alumni Endowed Scholarship. "Receiving that award was such a proud moment, because I knew these scholarships are very competitive." she shares. "They saw a young woman's drive to make a difference, to support her community."
Creating a new student group
Beyond her academic work and competition on the volleyball court, dance has played a major role in Tomas's UMBC experience. She had enjoyed dancing from a young age, and while at UMBC began to attend dance classes and workshops in the Baltimore-Washington area. She noticed the lack of Latin dancing on campus and she knew of other students who shared the same passion, "and so I did something about it," she says.
Tomas started to offer evening Latin dance classes in the Public Policy Building. "That was a lot of fun, seeing my friends support me," she says, "and also support dance genres of different cultures."
Kayla Tomas (fourth from right) poses with future colleagues at KPMG, where she will work as a cybersecurity consultant after graduation. (Image courtesy of Kayla Tomas)
"So many students here at UMBC are self-motivated" to try new things, observes Tomas. "They're go-getters—that's their mentality. And I love it because it rubs off on me, and I'm sure on other people."
Emerging as a leader
The experiences of other graduating students mirror those of Tomas. When she began her undergraduate studies at UMBC in 2019, Sianna Serio '23, computer science, had only one thought in mind: to focus on her academic studies. But within a short period of time, she became involved with the Resident Students Association, began to work for Residential Life, and gave President Valerie Sheares Ashby her first tour of campus.
Sianna Serio (lower right corner, in black jacket) celebrates with Grit Guides for UMBC's Just for Juniors event. (Image courtesy of Sianna Serio)
In her four years on campus, Serio participated in the Society of Women Engineers, Sign of Life, First Generation Network and the UMBC Crafters club. She credits faculty, staff and students alike for keeping her going, saying, "When you're super focused on doing everything at once, sometimes you don't get a chance to reflect on how that's impacting you. My mentors did a really great job of providing support and checking in on me."
Coaches support a student researcher
Emily Ferketic '23, physics, enjoyed the remarkable distinction of having a paper published in a peer-reviewed journal under the mentorship of Sebastian Deffner, associate professor of physics. "He saw potential in me that I didn't see in myself," she shares.
Emily Ferketic on the volleyball court. (Image courtesy of Emily Ferketic)
Despite her rigorous academic schedule, she also excelled on the volleyball court, becoming captain of UMBC's Division 1 team. In 2021, she won the coveted America East Elite 18 award. Her coaches, too, have been especially engaged. "A few weeks ago, I was presenting my research at Undergraduate Research and Achievement Day. All of my coaches showed up, not only to support me, but also to learn about the work I've been doing when I'm not in the gym," she shares.
A diverse, supportive community
Students who complete double majors face especially challenging demands. Avni Patel '23, biological sciences and gender, women's and sexuality studies, achieved academic excellence in both fields of study and also became a community leader at UMBC, revitalizing the Hindu Students Council. "The best part of my UMBC experience was finding a diverse community of peers and mentors where I was appreciated and encouraged to reach my full potential," she says.
Avni Patel (fifth from right) with members of the Hindu Student Association at a fundraiser. (Image courtesy of Avni Patel)
One theme strongly resonates through the experiences of all these students: the UMBC community values the whole person. Whether a student is focusing on academic work, participating in student organizations, competing as an athlete, or engaging with any number of other activities, the university's culture of mentoring and support is there to help them succeed.