Eli Eisenberg came into the world of Retriever sports not as a recruited athlete or a walk-on but from a completely different angle—broadcasting. Capturing the energy of the fans, the maneuvers on the court or field, and the cheers and camaraderie of UMBC Athletics hooked Eisenberg early on.
Headshot of Eli Eisenberg by Marlayna Demond '11/UMBC.
When Eisenberg enrolled at UMBC in the 1980s, he used his interdisciplinary studies (INDS) major to develop a curriculum that primarily focused on broadcasting, American culture, and business and economics. To this day, he credits UMBC for his success and it's something he's been adamant about returning tenfold to the Retriever community.
"I knew at a young age that I wanted to be a television producer and director," says Eisenberg '86, INDS, who is now the CEO of VPC, an award-winning, full-service boutique production and broadcasting agency. VPC provided production services for UMBC Commencements as early as 1996 and was instrumental in the university's momentous 50th anniversary celebration in 2016.
Through VPC, Eisenberg has created a successful working model where real-world training and education intersect. In 2016, America East signed a deal with ESPN to have conference basketball games on ESPN+.
And in the past seven broadcast seasons, VPC has partnered with UMBC—training more than 100 Retriever interns along the way—to put UMBC Athletics on television. Alumni from the program have gone on to work for the Baltimore Ravens, Baltimore Orioles, Philadelphia Eagles, CBS Sports, and many other freelance video and sports productions.
"Although the university doesn't have a broadcasting major," says Eisenberg, "through our ESPN initiative, students are trained to televise sporting events and are placed on the path to broadcasting careers." 
In 2022 Eisenberg sought to address another perennial need among student-athletes—he and his wife Patricia M. Vitale made a gift to support students' mental health amid the pressures of navigating academic and athletic performances.
"We want to ensure that we always have a safety net and strong system in place for our athletes," says Brian Barrio, UMBC's director of Athletics. "Which is why Eli's endowment is so generous and so important."
The intersection of sports and mental health
While sports and journalism are at the heart of Eisenberg's endowment, the real root of his generosity is his desire to see mental health be nurtured and prioritized for students, particularly athletes.
When the pandemic hit, the sports world experienced a great shift in how games were played and consumed by the audience (or lack thereof), and that extended to college sports. VPC began to experience firsthand the challenges of athletes playing in front of empty seats; it not only changed the dynamic of how athletes performed, but it also affected physical—and mental—endurance. 
Top: Eisenberg chats with volleyball player Emily Genau '26 in the CEI Arena about her entrepreneurial goals. (Marlayna Demond '11/UMBC)
"It's difficult enough for students to balance their athletic career with their academic one both pre- and post-pandemic. It's very rigorous," says Eisenberg. "It's that much easier to become unmotivated when adding the challenge of playing in an empty arena or stadium after long bus trips."
To expand on the other ways he supports UMBC students, Eisenberg established the Retriever Athletic Wellness Endowment, dedicated to supporting UMBC's Division I athletes. The anticipated initiatives include nutrition, mental health programming, and sports medicine, among others.
Students reap the benefits
Austin Hood, a media and communication studies senior, who has interned with VPC since last semester, says the experience has provided him with mentors "who want to see me learn and step into different roles like hand-on camera work, replay, audio, director, technical director, utility, and much more."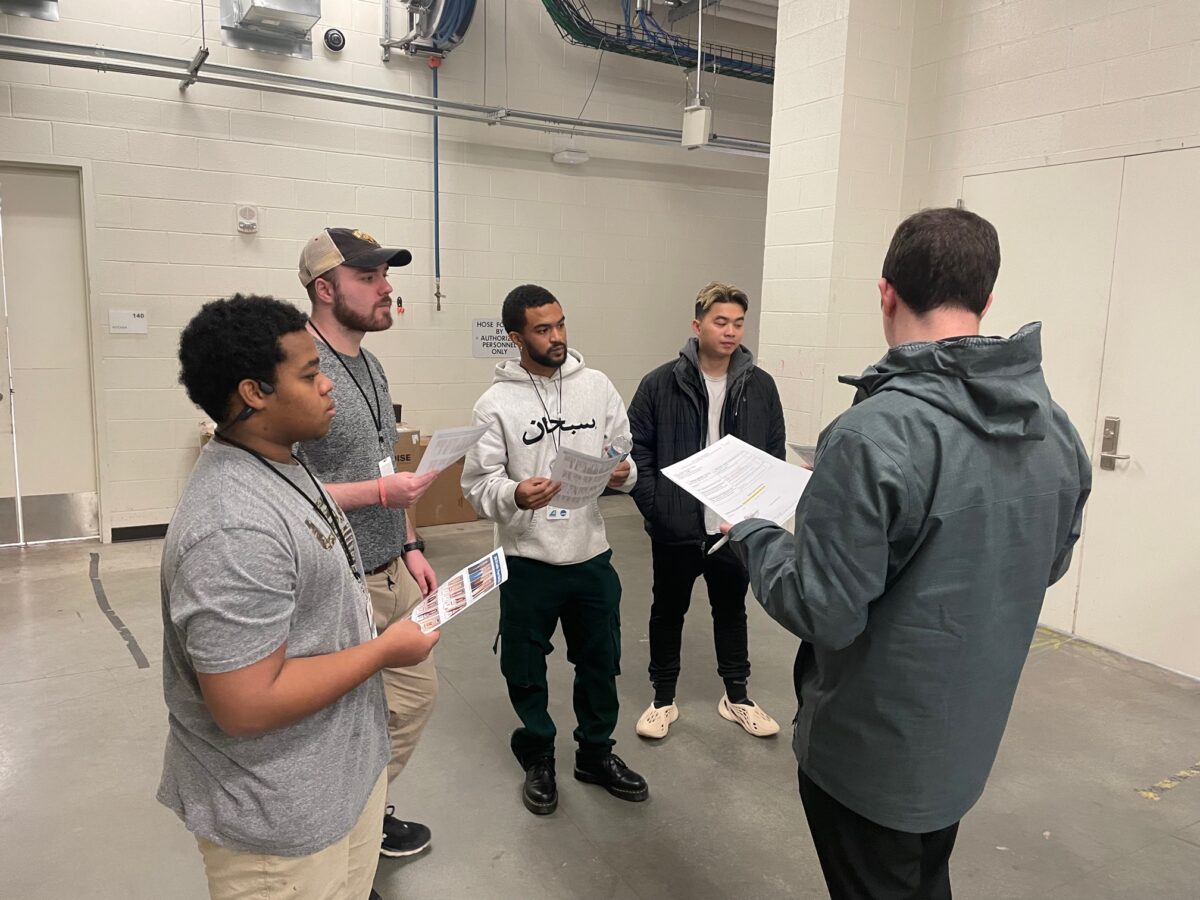 VPC interns, including Austin Hood, center in the white sweatshirt, gather in the production corridor to go over their tasks. Photo courtesy of Eisenberg.
The internship has been invaluable, says Hood. "Eli has been transparent about what it took for him to get where he is. Working alongside him and others has shown me just how much work goes into what you see when you turn on a live sporting event. These experiences, to say the least, have me feeling eager and confident to take on a position anywhere in the production/broadcasting industry."
The America East Conference, which UMBC is a part of, together with its ESPN partnership, is required to broadcast 300 or more events annually. On average, a conference school broadcasts 30 to 40 games annually and the number is expected to increase to 50—so, having students trained and available to help has been and will continue to be crucial.
"Since the onset of both broadcasting relationships—the conference and UMBC, as well as UMBC with VPC—the Retriever broadcasts have set the bar in production value, execution, and storytelling," says Eisenberg.
A significant impact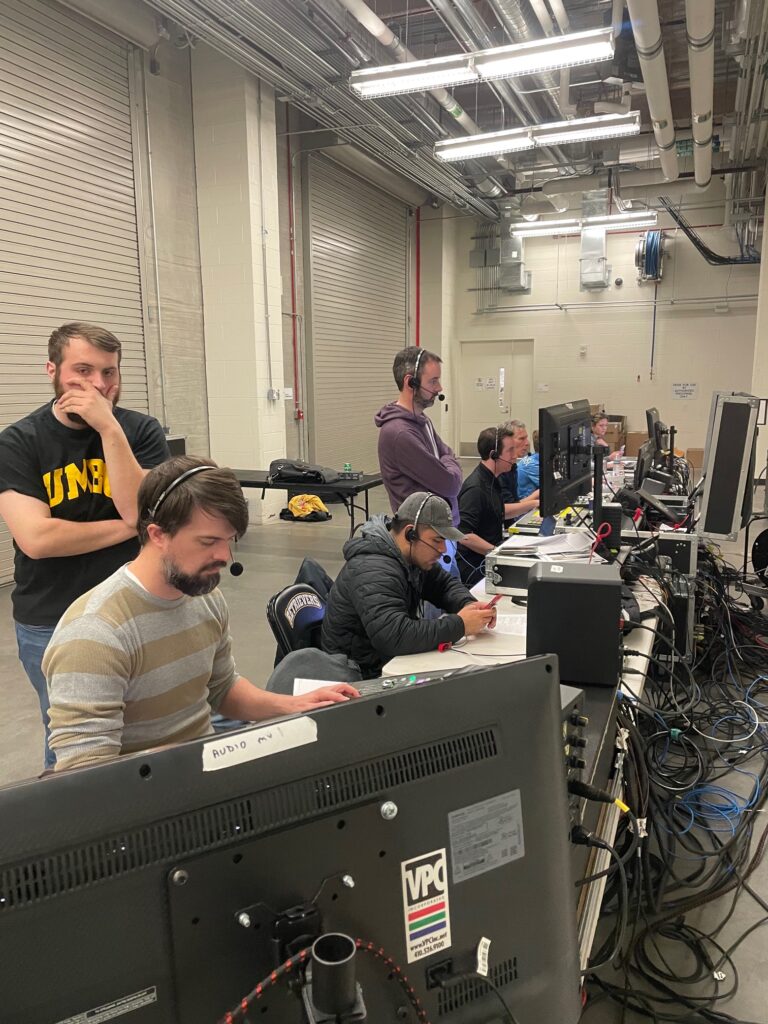 VPC interns work in the production corridor. Photo courtesy of Eisenberg.
Much like how Eisenberg developed his own hybrid curriculum as a UMBC student, he hopes that the school uses the money to establish whatever programs the student-athletes would need, ranging from nutrition to mental health services.
As a result of their gift, the Chesapeake Employers Insurance Arena backstage production corridor and loading dock will be named in recognition and honor of Eisenberg and his wife. The significance of the space is not lost on him.
"It's where VPC trains students to be in sports broadcast," he says with a smile.
By Nikoletta Gjoni '09