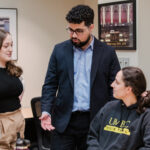 When Natalie Murray '22, biological sciences, Thomas Azari '22, political science, and Lauren Wotring '22, political science, graduated last spring, they didn't expect to be returning to UMBC so soon. These recent alums—all members of the 2021 National Mock Trial Championship team—were making inroads in the next stages of their careers, but didn't hesitate to pick up the phone when the UMBC Mock Trial team called.
Together they took on the leadership of UMBC's B team, guiding the group—composed mostly of first-year students—to the Opening Round Championship Series (ORCS) in March 2023 and saw B team co-captain Fadil Adeite '26, media and communication studies, and Anna Kim '26, biochemistry and psychology, win all-National attorney awards. 
Coming back to pay it forward
Natalie Murray was the first to rejoin the UMBC Mock Trial team as a coach. She was hesitant initially. A full-time veterinary assistant position at the Elkridge Animal Hospital meant long days, so long she sometimes showed up to practice in her scrubs after a 12-hour shift.
When Murray agreed to coach, she envisioned having a minor position, yet she ended the season as the B team's head coach. "Once I started working with them, and I saw how driven and incredible they were, I could not help but throw myself way more into it than I had planned," said Murray.
The students were aware of the coaches' investment. "To see the three coaches come back after leaving and dedicate so much time and effort—and gas money—to the team was inspiring, and it really motivated us as competitors to give even more," said co-captain Adeite.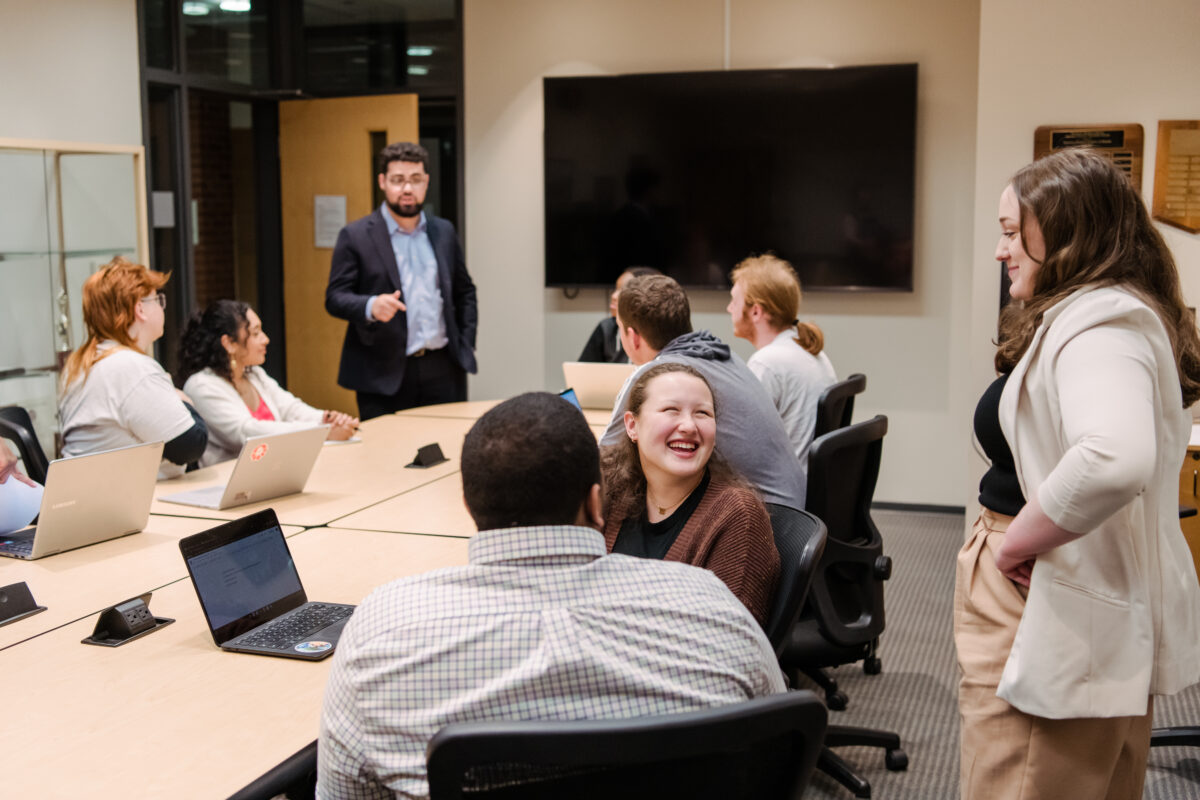 Standing, Azari, left, and Wotring, right, speak with members of the UMBC Mock Trial team. (Marlayna Demond '11/UMBC)
The team became a source of joy for Murray, brightening her stressful days and making the logistics of coordinating coaching worth it. It helped that she could rely on former teammates to share the load.
Thomas Azari navigated his job in the U.S. Department of State's Department of Human Rights and Labor, studying for the LSAT, and applying to law school while coaching. Lauren Wotring also made time to coach the B team while working at a D.C. law firm as an intellectual property legal assistant and prepping for law school.
Wotring said the students made the whole experience so special. "I realized how much the students meant to me and how amazing they are and how willing they were to learn," said Wotring, who realized she wants to keep coaching next year.
Alumni coaching legacy
The Mock Trial team has always had dedicated coaches. The B team trio cites current head coach Ben Garmoe '13, political science,and assistant coach Whitney Wilder as some coaches who made their mock trial experience.
Azari knew he had to return as a coach after the impact his coaches had on him and his Nationals-winning team."If not for Ben, we wouldn't have had any of the success we have now," he said. "I kind of learned from that and was like, 'Ben is doing all this work. I have to too.'"
Garmoe, right, and then-President Freeman Hrabowski show each other their 2021 National Mock Trial Championship rings with members of the UMBC Mock Trial team. (Marlayna Demond '11/UMBC)
Murray, Azari, and Wotring's investment in the students took many forms. Wotring spoke to many about the dangers of perfectionism. Murray ensured they were having fun while being competitive. Azari lent out ties and showed them how to stay positive even after a loss. All three drove students to competitions, helped pay for food, and were always a text away.
The students couldn't have been more thankful. At the end of the season, the alumni coaches received cards from the team with notes from each student. Kim emailed each of them, telling them how they impacted her.
"They taught us how to be better competitors, how to work better as a team, how to get places on time, but mostly how to be confident and proud of ourselves," said Kim.
"Whenever anyone felt down about themselves, their performance, or not understanding, they were right there to lift us up, guide us, and make us all feel heard," said B team co-captain Alysha Carter '26, political science.
Champion volunteers
The trio's willingness to turn around so quickly after graduation and invest their time in the next generation of UMBC Mock Trial competitors means a lot to Garmoe. "Thomas, Natalie, and Lauren are all national champions and highly decorated competitors," said Garmoe. "But even more importantly, they are wonderful people and stellar role models for our young students."
Murray sees a direct correlation between her coaching experience now and the support she received as a Mock Trial participant. Her fond memories of the organization, said Murray, are rooted in the genuine care she felt from her coaches and teammates. "To be part of that equation, and thinking that maybe one day down the line some of these students will do the same thing, they'll graduate and they'll want to coach, has been a really fun thought to have."
By Morgan Casey '22