Three weeks exploring the beautiful, pristine waters of Indonesia to study seagrasses—that was the plan. But before Terry Smith '00, computer science, could get to work, he had another problem to solve. What do you do when half of your research equipment gets stuck in customs? For Smith, that just means it's time to get creative. "I love finding the fun problems," he says. So, he created a camera float using any materials he could get his hands on—PVC pipe, a life ring, and a bit of rope.
Smith is a solutions engineer on the Tidal project in Alphabet's X division, a semi-secret research and development organization founded by Google in 2010. The Tidal project's initial focus is on developing technologies that bring greater clarity to what's going on below the ocean surface, with the goal of preserving ocean life and sustainably providing food for humanity. Recently, Smith worked with the governments of Indonesia and Australia to come up with technology to visualize, analyze, and track the growth of seagrasses, which are particularly effective at absorbing carbon dioxide from shallow waters.
Smith working on a handmade prototype for ocean mapping technology made from PVC pipes. His well-used book of knots is nearby.
"Traditionally, if you wanted to make a map of all of the seagrasses, it would probably take 10 years and 1,000 grad students," explains Smith. "We're trying to come up with technology that'll make that happen a lot faster. So, I go out into the water with some prototype technologies that my team built and run robots over seagrass and then do 3D visualization of the data we capture."
Tidal is just the latest in a long line of exciting projects Smith has gotten to be part of throughout his career, which has seen him travel all over the world. And throughout it all, Smith follows a simple philosophy: "Go see what's happening in your field and make early contact with the real world."
A bird's-eye view of Smith and his team studying seagrass in the islands near Labuan Bajo, Indonesia. Smith is standing, guiding the umbilical cable between the cameras and the computers.
This core belief has guided Smith from UMBC all the way to X—the so-called moonshot factory in California. But this journey from coast to coast was not a linear adventure. Like many UMBC alumni, Smith's story doesn't even begin at UMBC. His story starts a little further south.
Hands-on industry experience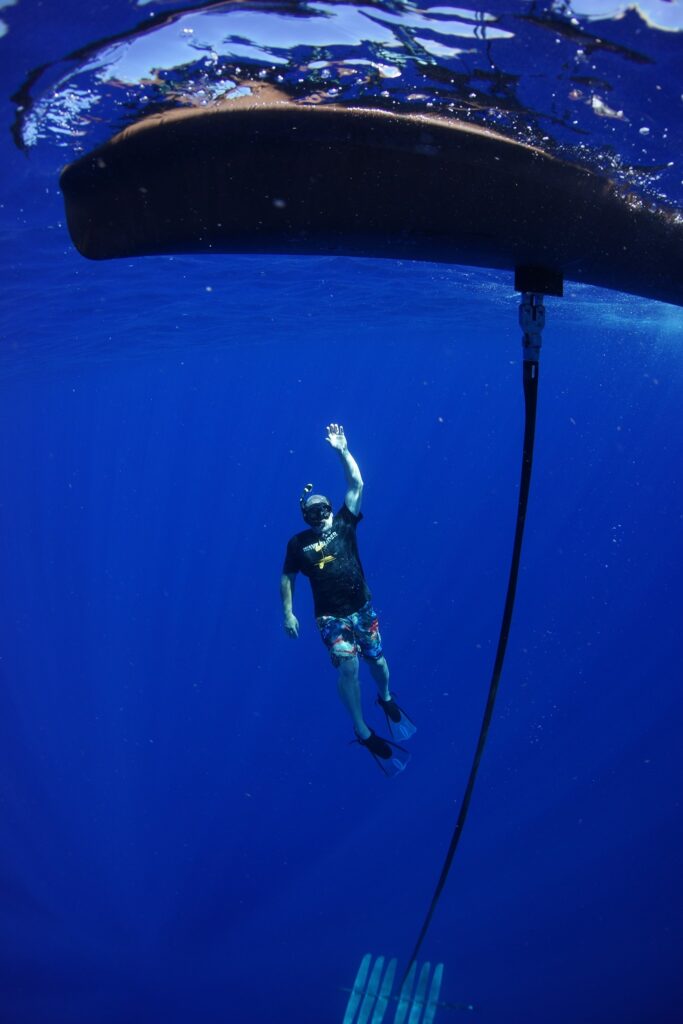 Smith inspecting an autonomous wave glider for Liquid Robotics around 2018.
For three years, Smith studied electrical engineering at the Florida Institute of Technology, but then he pressed pause. Eventually, he transferred to UMBC in 1997 to be closer to his parents. He decided to lean into the tech boom and major in computer science.
"I found a really amazing department," said Smith. "There are so many opportunities at UMBC to work with outside companies. Being able to interact with industry gives you such an advantage."
Smith parlayed all of this experience and his natural charisma into a part-time job while still in school, but not in the way you may think. As a bartender on Main Street, Ellicott City. Smith says one of his regulars asked about his summer plans. "Serving you drinks," said Smith. The regular, a hiring manager at TRW Inc., a defense contractor since acquired by Northrop Grumman, ended up helping Smith find a summer job in the signals processing lab near Fort Meade.
That summer job eventually turned into a part-time job and then, "I left UMBC with a full-time job in hand and a lot of experience," says Smith.
After working at TRW for a few years, Smith moved up to Boston, working at Draper Laboratory and eventually M.I.T. Lincoln Laboratory. But, like any good engineer, Smith continued to wonder what was next. So, he headed out west, eventually landing a job at NASA's Ames Research Center, working on the next generation of air traffic control.
At that point, Smith says, "I had done a lot of work in simulation and I wanted to get back to the real world." He moved on to Liquid Robotics, a Boeing company that works on wave-powered ocean robots to track whale migration using hydrophones or look for oil leaks around oil rigs using hydrocarbon sensors. After seven years there, X and the Tidal project came calling.
X marks the spot
Smith has been at X just shy of two years, working on Tidal to find ways to use Google technology to benefit ocean life.
"We're using the experience we got doing salmon aquaculture to branch out into different areas, like the seagrass experiments in Indonesia" said Smith. "We're looking for ways that AI, ocean robotics, and the other technologies we developed can be used to make human work on the ocean more efficient, sustainable, and better for both people and the ocean."
Staying anchored to UMBC
No matter what he's doing, or what far-flung location he finds himself, Smith has continued to find ways to stay connected with the UMBC community. He jumps at the opportunity to attend events whenever UMBC makes it out to the West Coast—most recently during the San Francisco stop on the 2022 RetriEVER Grateful Tour—and he remains close with his college roommate, Tim Craig '02, computer science, who also relocated to California. "We see each other quite a lot," says Smith. "His kids play with my kids."
Smith and Tim Craig met as college roommates and still keep in touch. Pictured here circa 2002.
Smith is also working with the UMBC Alumni Engagement team to host an event at X for UMBC alumni working in Google-affiliated companies. "We all try to find each other," says Smith of his fellow California-based Retrievers.
"Terry Smith's example provides a road map for other alumni in how to stay engaged with UMBC," says Stacey Sickels, UMBC Associate Vice President for Alumni Engagement and Development. "Terry has shared about job opportunities with the UMBC Career Services Office, his work could have potential research synergies with UMBC faculty, he wants to create a UMBC community within his company, he attends Bay Area alumni events, and Terry gives back with his time and giving."
Up next for Smith, he will be investigating new areas to apply X's machine learning and artificial intelligence technology, prototyping novel solutions, and helping commercialize Tidal's aquaculture platform across the world. "It's going to be a busy couple of years," jokes Smith.