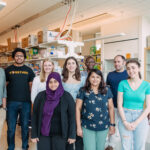 No one wants to receive a cancer diagnosis. Ovarian cancer can be particularly scary, because its vague symptoms make it difficult to detect early—and when caught late, after the cancer has already metastasized into nearby organs, the five-year survival rate of ovarian cancer is less than 30 percent. 
However, if caught early, that number rises sharply to 90 percent, explains Achuth Padmanabhan, assistant professor of biological sciences. Padmanabhan, who received his Ph.D. from UMBC in 2011 and returned as a faculty member in 2019, has made it the mission of his long-term research program to improve these daunting statistics. 
Padmanabhan's research group, which includes graduate, undergraduate, and high school students, is revealing new potential treatment options by expanding understanding of the basic biology of ovarian cancer. Overall, "our goal is to eliminate ovarian cancer mortality," he says.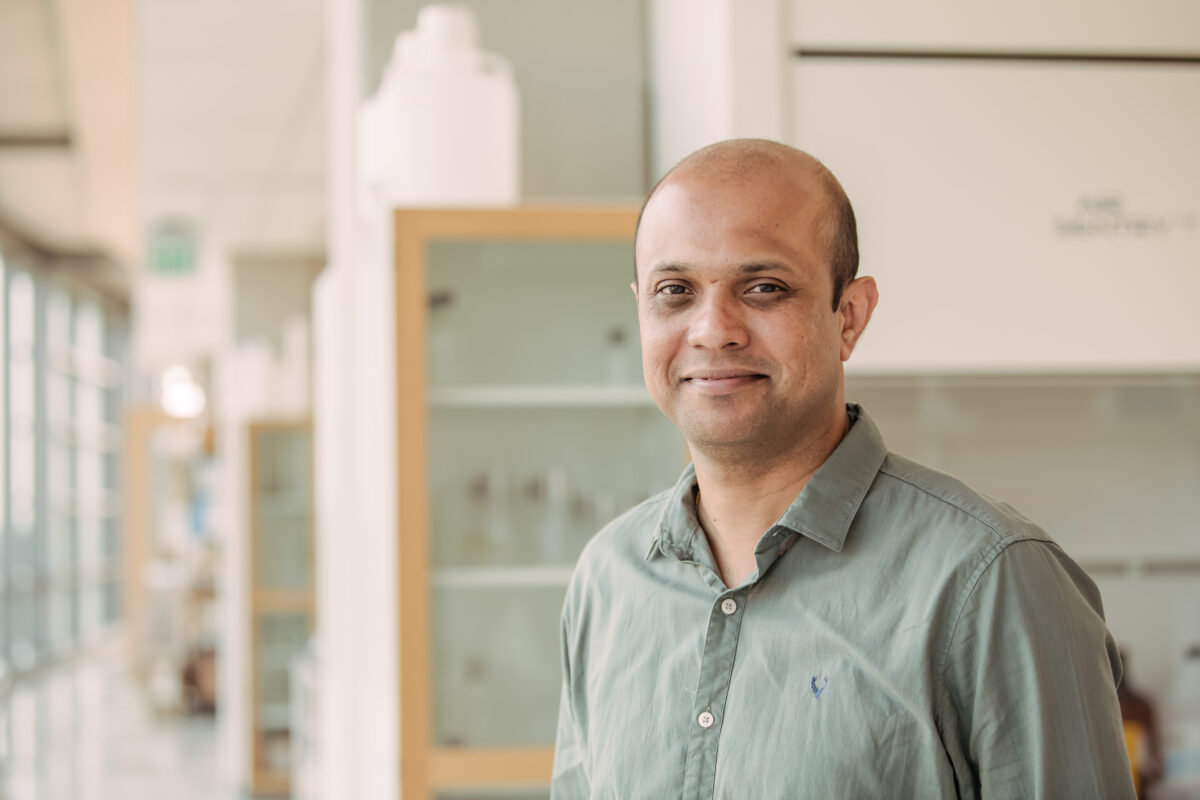 Achuth Padmanabhan in his laboratory. (Image by Marlayna Demond '11/UMBC)
Starting this summer, Padmanabhan will be in an even stronger position to pursue that ambitious goal: He has received a two-year, $387,000 Ovarian Cancer Pilot Award and a four-year, $1.2 million Ovarian Cancer Academy Early-Career Award, both from the U.S. Department of Defense (DoD). In addition to funding, the Academy offers valuable opportunities for mentorship from leading ovarian cancer researchers, including Padmanabhan's mentor le-Ming Shih, professor of gynecology and obstetrics at Johns Hopkins University. Workshops and training sessions with all Academy members also offer networking opportunities and exposure to the latest knowledge and techniques for fighting this life-threatening disease.
Opening doors to new treatment and diagnostic tools
Padmanabhan has already contributed to the understanding of how ovarian cancer progression is regulated, opening new avenues to developing treatments. His lab discovered that a protein called zinc finger protein 217, or ZNF217, is frequently present in unusually high amounts in ovarian cancer tumors and is associated with tumor growth, metastasis, and resistance to chemotherapy. "We believe it is central to driving metastasis," Padmanabhan says.
Early data also suggest high levels of ZNF217 might cause changes in the chemical environment inside a tumor, which impacts how a patient responds to different therapeutics. "If we can reduce ZNF217 in tumor cells, there is the potential to extend the life of the patient and give other therapies a chance to work more effectively," Padmanabhan explains.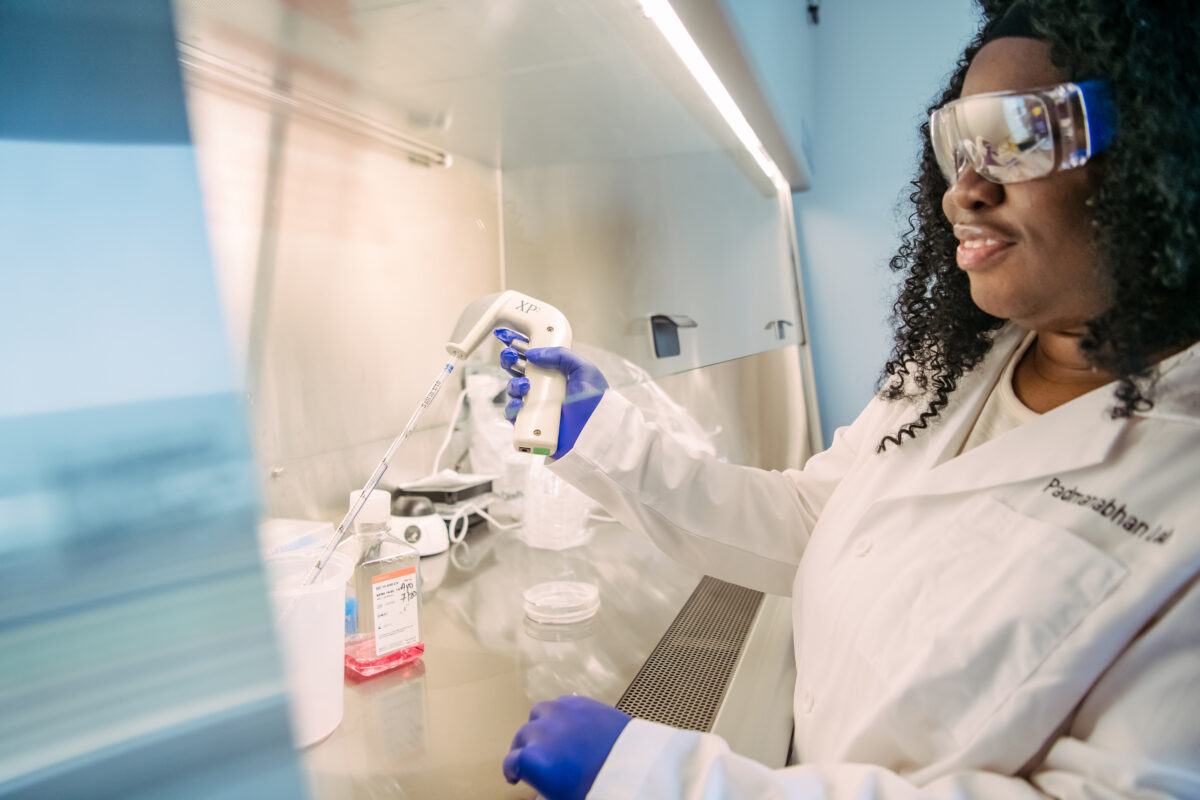 Ayo Ogunsanya, a Ph.D. student in Padmanabhan's lab, works at a cell culture hood. (Image by Marlayna Demond '11/UMBC)
With the new grant, Padmanabhan and his students will further explore the effects of ZNF217 on ovarian cancer progression, treatment resistance, and the environment inside tumors. If the lab can confirm its preliminary data about ZNF217's significant role in ovarian cancer, they will then explore their hypotheses for how to reduce the amount of ZNF217 in cancer cells, thereby reducing its detrimental effects.  
Overall, the work has the potential to significantly increase treatment options and improve outcomes for patients.
Exploring every angle
At the same time, the $387,000 Pilot Award will allow Padmanabhan's team to test different combinations of existing cancer drugs in cell lines and in mice. Some of these drugs target a tumor suppressor protein called p53. In cancer cells, p53 is frequently mutated in such a way that it helps the tumor grow rather than suppressing it. In the most lethal version of ovarian cancer, p53 is mutated more than 96 percent of the time, Padmanabhan explains.
"We think the new drug combinations will more effectively target mutated p53, and because the drugs are already approved for use in cancer patients, effective new combinations could be translated to the clinic more quickly," Padmanabhan says.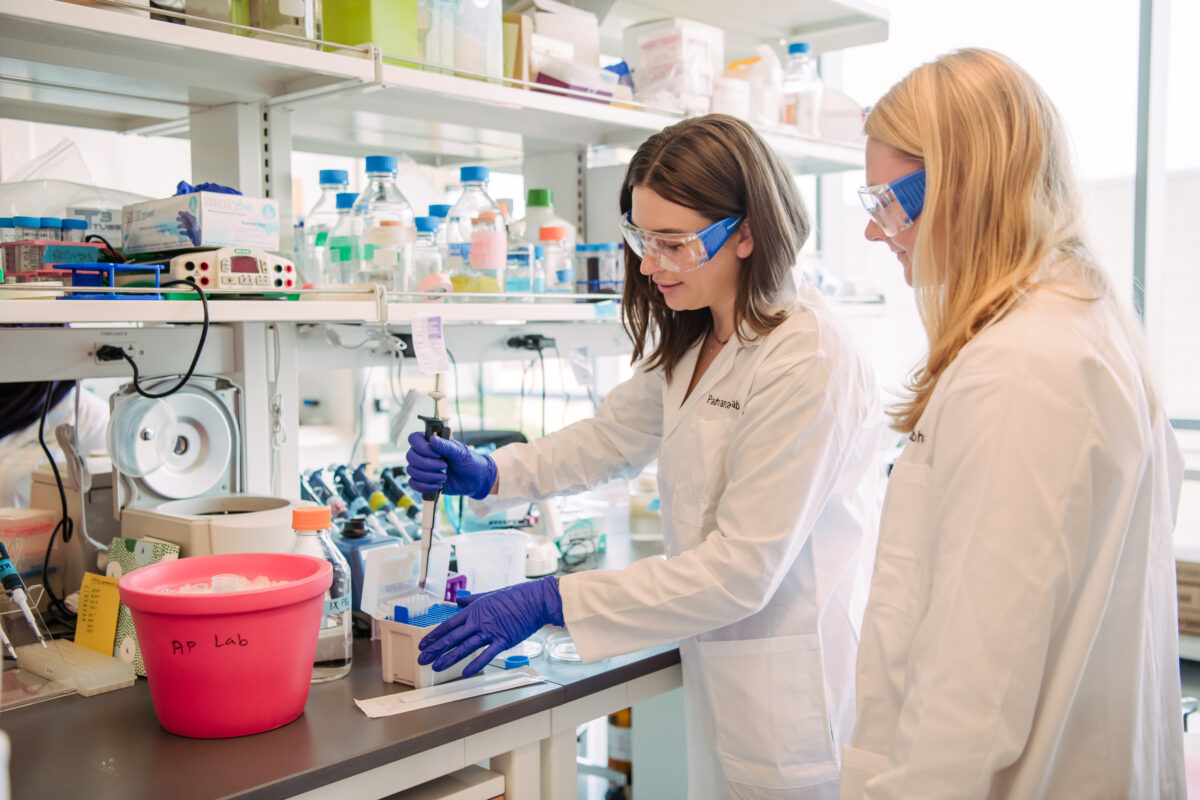 Kathryn Wardrup (left), a fourth-year Ph.D. student with Padmanabhan, was instrumental in collecting data that led to the group's new Academy grant. Here she works with Jessica Hoffman '26, biological sciences in the laboratory. (Image by Marlayna Demond '11/UMBC)
The work for both new grants builds on support Padmanabhan previously received, which includes  internal sources at UMBC. UMBC's Alex Brown Center for Entrepreneurship CENTRE Funding Initiative, the UMBC Technology Catalyst Fund, and the Accelerated Translational Incubator Pilot (a joint grant program between University of Maryland, Baltimore and UMBC), as well as external funders like the Rivkin Foundation and Elsa U. Pardee Foundation, have supported Padmanabhan's work. "All of this support got us to the DoD grant," he says.
It takes a team
Padmanabhan is a strong believer in involving students in research, and his lab's new projects will be no exception. The grant will allow him to hire another postdoctoral fellow, and there are currently several graduate and undergraduate students in the lab who will contribute their energy to this work. Dedicated high school students are also welcome. He gives every lab member an independent project, and several have made key contributions that got the lab to the place it is now.
Kathryn Wardrup, a fourth-year Ph.D. student in Padmanabhan's lab, generated the bulk of the data that led to the Academy grant. Noel Amadu, M.S. '20, applied molecular biology, and Megha Pandya, M.S. '21, applied molecular biology, generated data that led to the DoD Pilot Award. Amadu is in the third-year of his Ph.D., and Pandya is in her first year—although she previously worked with Padmanabhan in the applied molecular biology program and then as a laboratory technician.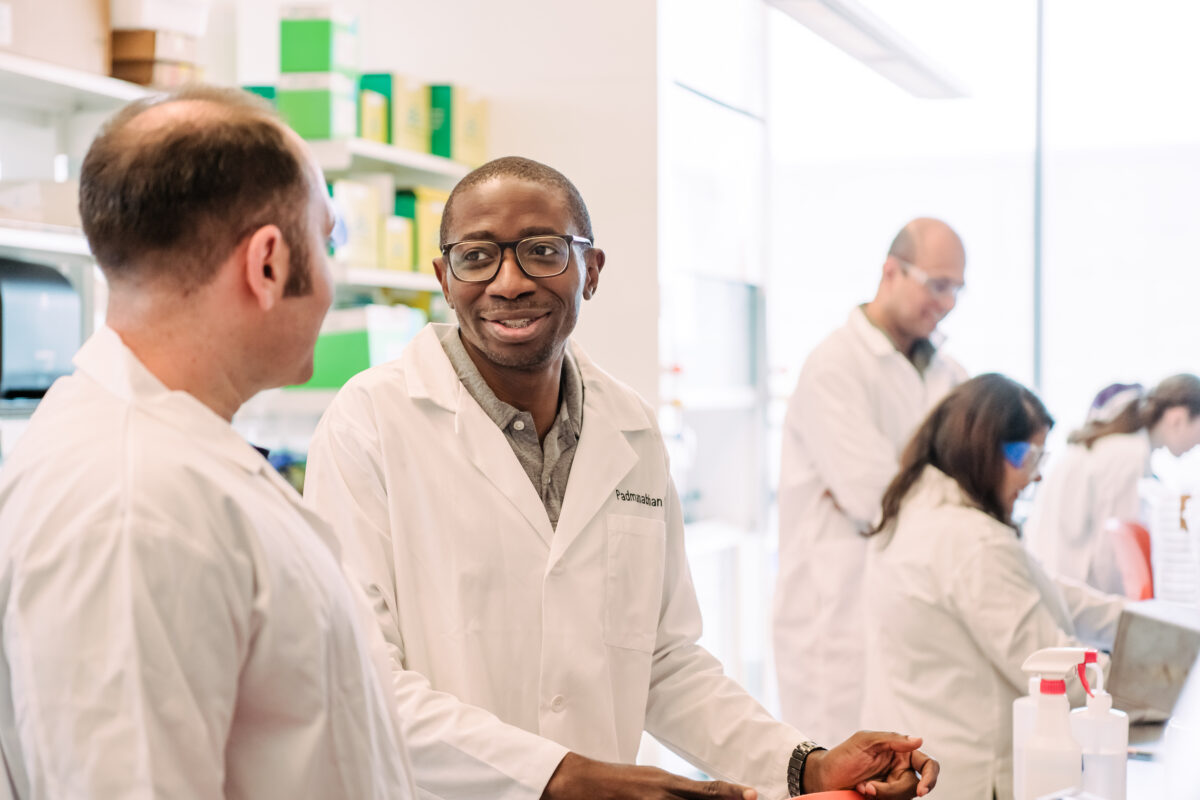 Work by Noel Amadu, center left, and Megha Pandya (right, blue goggles) conducted experiments that led to the Pilot Award. Here Amadu talks with research assistant Joseph Lobianco, and Pandya works at the bench with Padmanabhan. (Image by Marlayna Demond '11/UMBC)
"It's important for students to realize how challenging and rewarding research can be," Padmanabhan says, "and it's most rewarding when you have something you can call yours."
Having a large team will help the group make progress on several scientific questions at once. "All of our previous work is coming together in these new grants," Padmanabhan says. While it is still early days in their line of research, there is high potential for it to translate to clinical trials later on and have a major impact on the future of ovarian cancer treatment—which is Padmanabhan's overarching goal.   
"There's a lot that needs to be understood at the basic science level that will hopefully allow us to translate it someday," Padmanabhan says. "I guess that's every person's dream—you just want to help people."