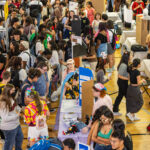 As waves of students swarmed the Retriever Activity Center last week, senior Micah Polsky of the UMBC Crafting Club quietly stood knitting a pale blue merino wool sock with three tiny needles. Behind Polsky, on a presentation board the UMBC Crafters made to lure prospective new club members, was pinned the mate to the sock in progress.
"Knitting is a lot of trial and error and a surprising amount of math…but it can be very relaxing or very stimulating depending on the kinds of projects you make," says Polsky, an environmental science major. Together with club president Emily Bolt (a senior chemical engineering major and avid embroiderer), they talked yarns and technique with students shopping for new clubs and organizations to join at this year's Involvement Fest.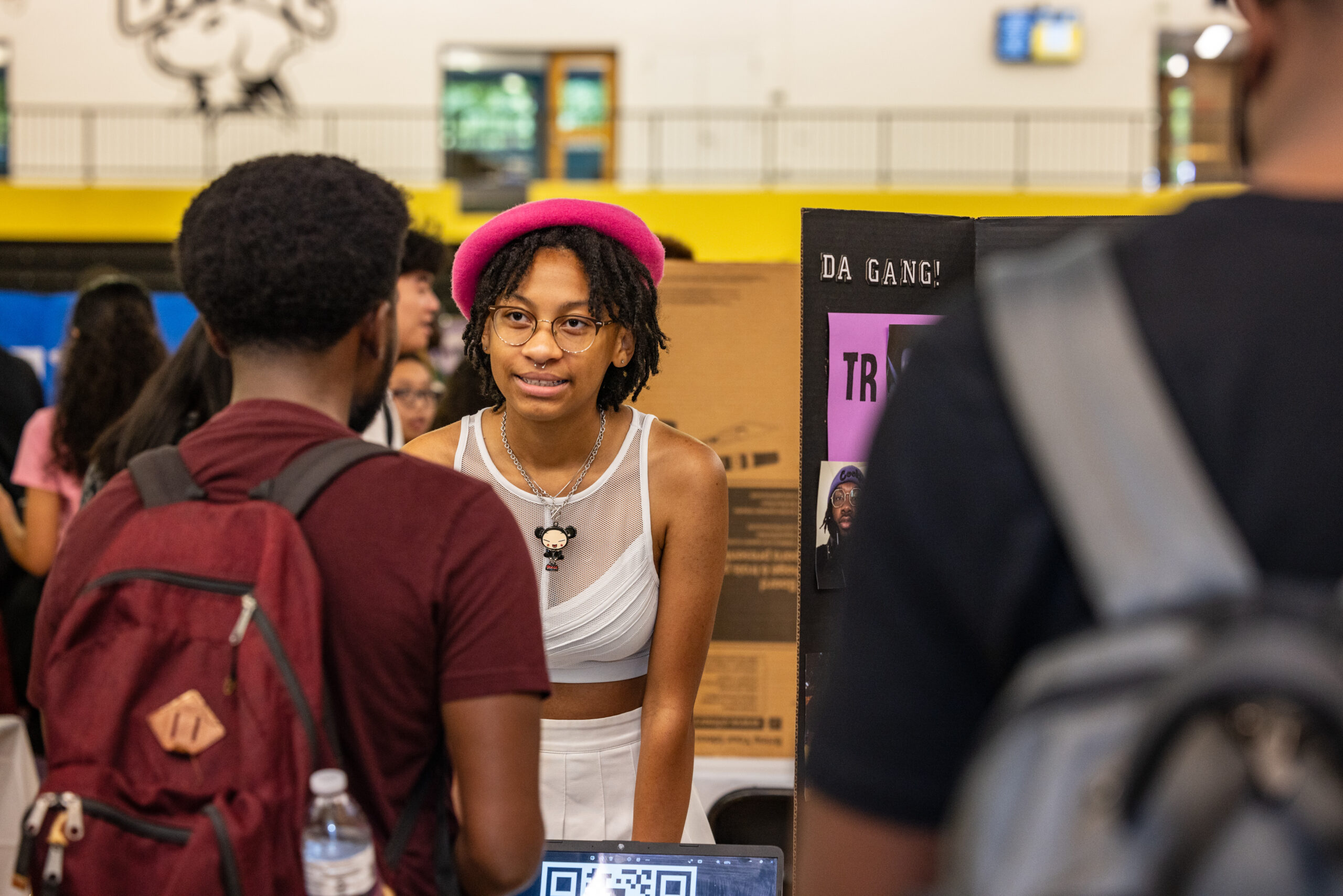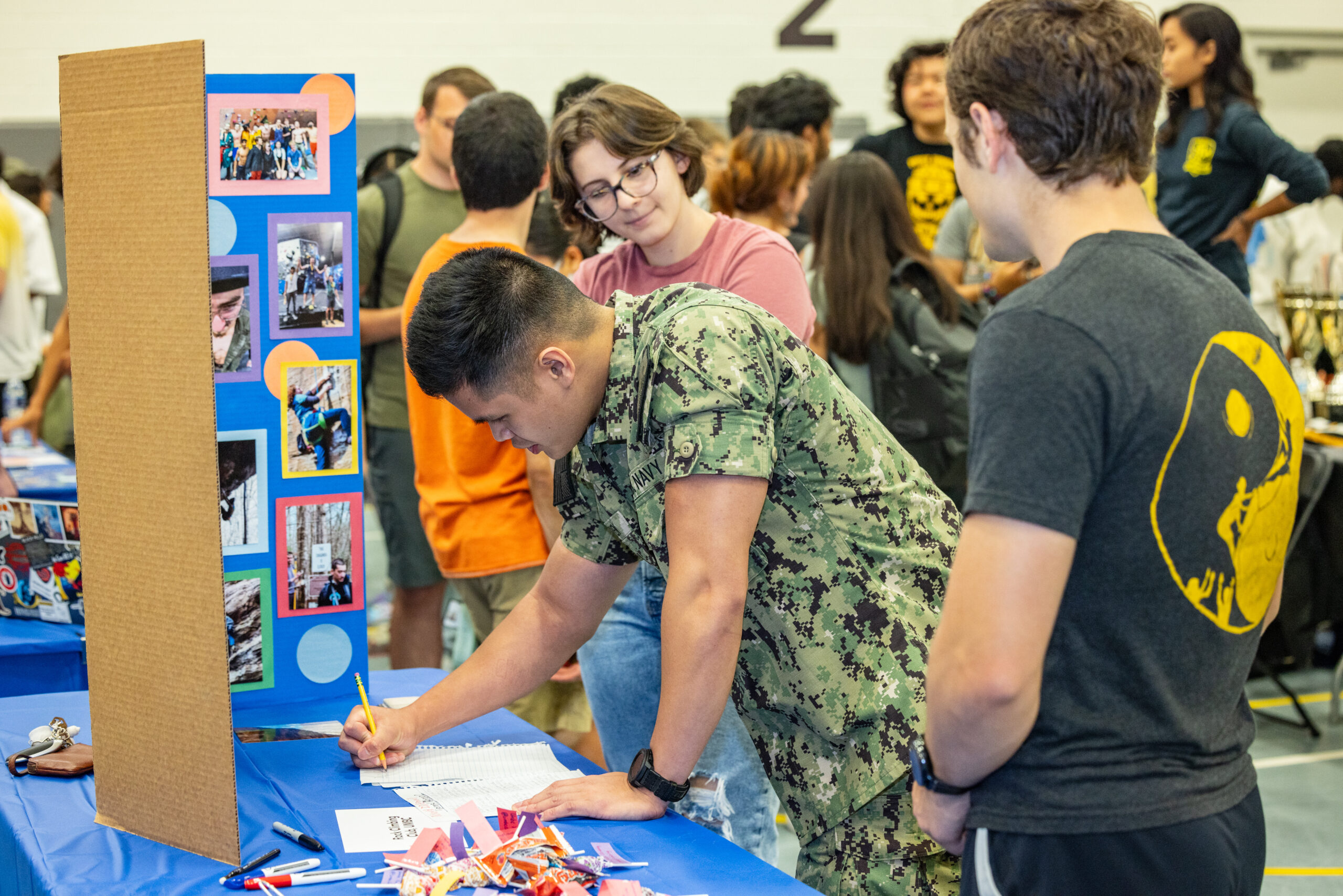 Beyond a meet and greet, and far beyond posters and tchotchke giveaways, iFest is a key moment for students looking to meet new people and try something new. An estimated 2,000 students attended this year's event, according to Tori Ciorra, assistant director for student organizations. With more than 200 UMBC clubs representing everything from career pathways to religion, to service, recreation, sports, and more—not to mention an open door for students to create new orgs of their own—there is something for everyone to enjoy.
"Involvement Fest is an exciting opportunity for new and returning students to join a student organization and find a community where they can foster new relationships and experiences. Each organization is incredibly unique and creates a wonderful opportunity for students to get involved outside of the classroom," said Ciorra, who was pleased to see the crowds of interested students. 
"I am always in awe of the organizations that our students have created, and watching the creative ways they market their organization. Hearing leaders talk about the number of sign-ups they received and their excitement for the year is extremely rewarding and sets a wonderful tone for the rest of the year."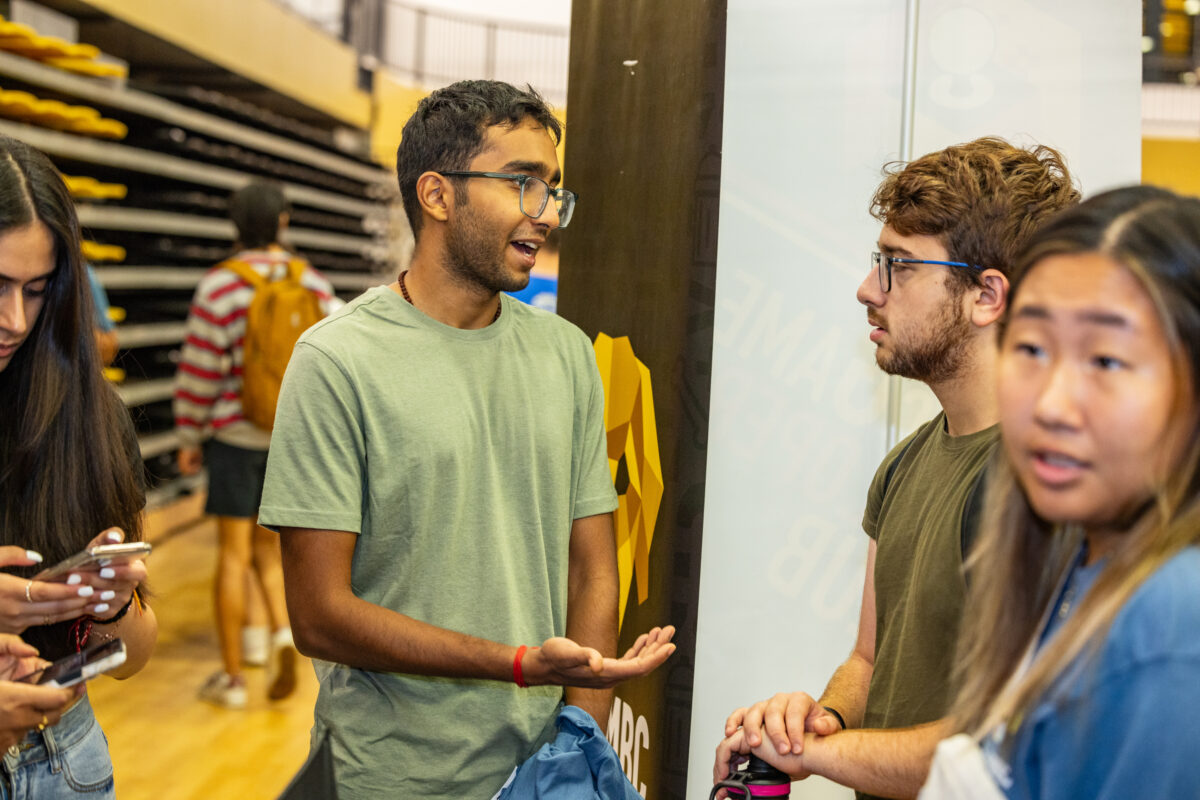 Pranav Vedasendur Senthiluel, a junior computer science student, at left, has been attending Hack UMBC events for the last two years, but signed up to join the club at this year's iFest, "because I actually like hacking. I do a lot of software development and it's a good opportunity to meet people and actually develop something." Also pictured: Ahmad Sayad, center, and Claire Kim.
A smorgasbord of choices
Surveying one of two huge rooms of club displays, first-year computer science student Emma Popoko flipped through the event program to pinpoint tables she especially wanted to visit. 
"Film club could be interesting. And I'm definitely interested in the African Student Association because I'm African…and possibly the National Society of Black Engineers," she said. Her added motivation to be there? "So I don't just stay in my dorm all day. I can interact with people and get a feel for the place and feel like I'm part of the community and not just here for classes."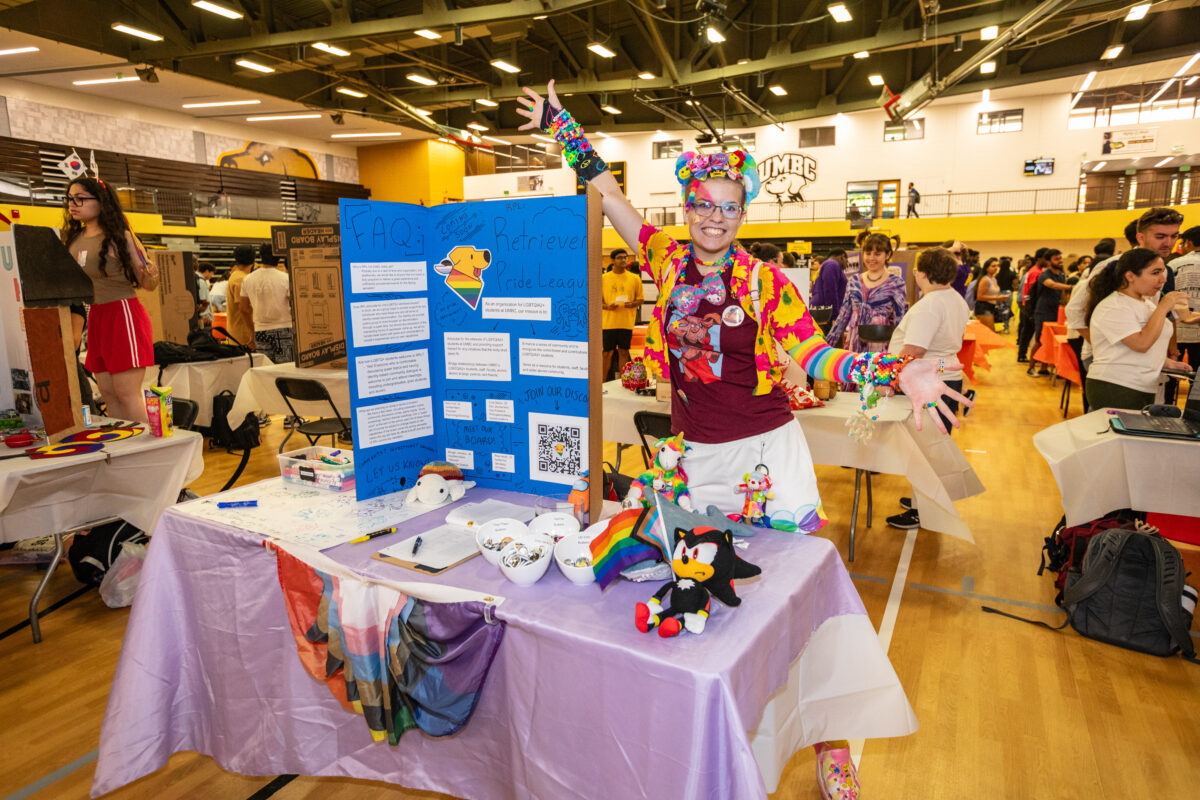 Annie Fowler, a senior history major and education minor, spent iFest sharing information with students about the Retriever Pride League. Fowler, a transfer student, helped re-name the group recently to be more inclusive.  "I love the idea that I can change the world, so being able to have a tangible change on something like a university…it does mean a lot to me," said Fowler.
Sophomore Ayan Chaudry, a biology major, joined a couple of clubs in his first year at UMBC, but came to iFest specifically looking for something new—possibly a pre-med fraternity. Taking part in student organizations—especially as a commuter student—made his first year feel "less lonely."
"I know some people like to just go home and back and forth to school, but I feel like if you stay on campus a bit longer…there's more to it than just studying," he said.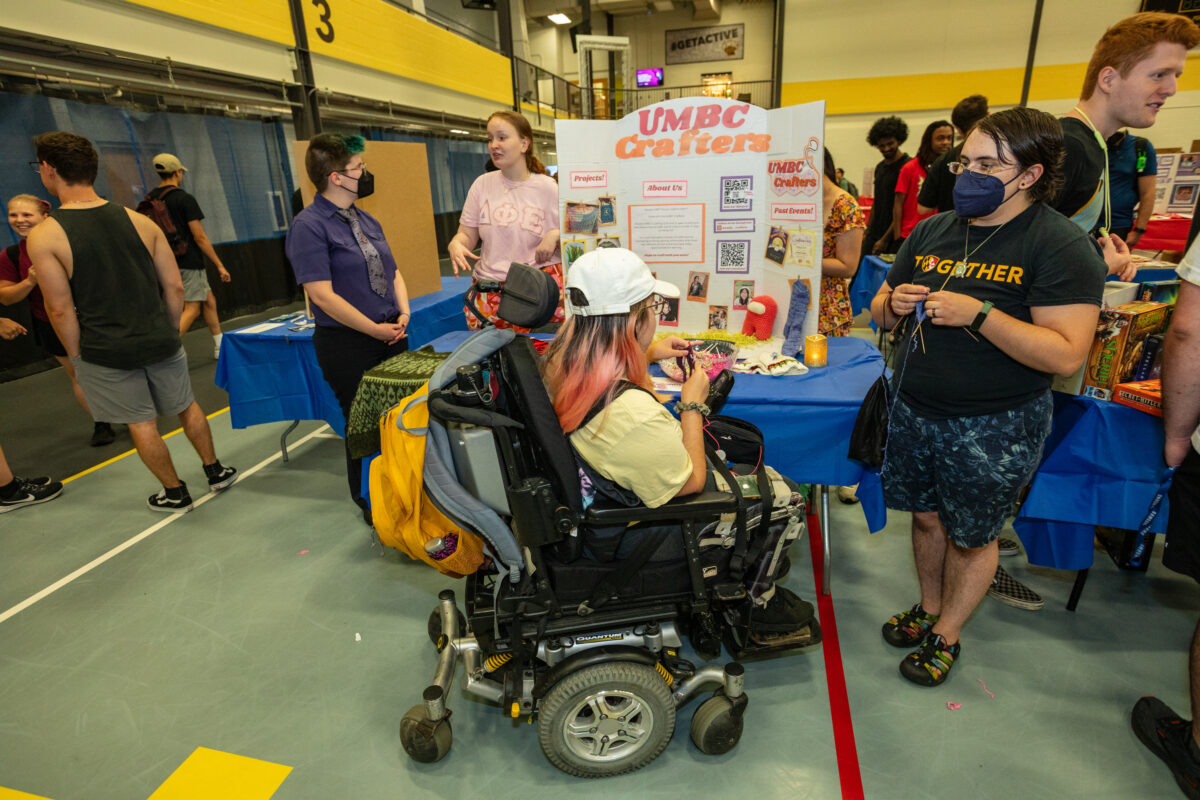 Abby Parke, a senior psychology major, center, visited the UMBC Crafters display, wondering about a green sweater Micah Parke spent a month knitting. "What did you use? It's so soft!" Parke raved.
As folks passed the table for The Garden, a physical gardening space on campus that also grows food for Retriever Essentials and other partners, club president and senior biology/psychology major Eli Gooding handed out lollipops and made a solid case for why getting one's hands dirty—while growing veggies, that is—is such a great form of self-care.
"For me, gardening is really therapeutic and it's how I relieve stress," said Gooding. "It's really good to have a hobby."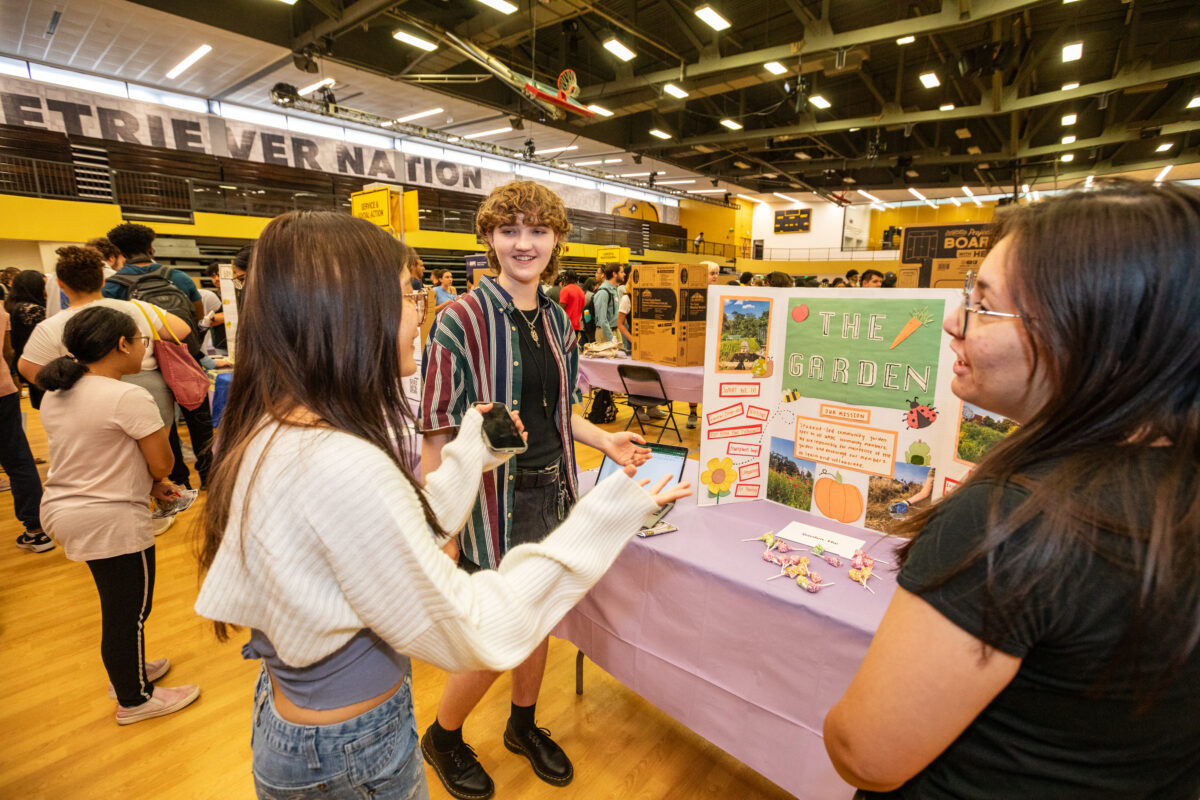 Eli Gooding and Angela Sanchez, president and vice president of The Garden, handed out lollipops and shared their love of growing vegetables. "We've had a lot of interest today," said Gooding. "A lot of new students came in who aren't familiar with where the garden's located. They don't even know we have a garden…so I was really excited to tell them, 'Hey, we have this amazing place on campus!'''