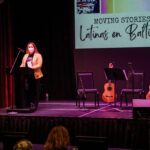 For nearly two decades, UMBC faculty and students have been deeply engaged in story-driven research. The UMBC community's contributions to this humanities-centered scholarship has included documenting the stories of former workers of the historic and now-defunct Sparrows Point steel mill in Baltimore County, and projects such as "A Place Called Poppleton," which chronicles the history and culture of Baltimore City's Poppleton neighborhood.
UMBC's commitment to highlighting storytelling research continued this summer as the university co-hosted the first state-side edition of the 11th International Digital Storytelling Conference—a four-day event showcasing an expansive range of storytelling-focused projects and initiatives. The conference was a collaborative effort in partnership with the Smithsonian Institution, StoryCenter, and Montgomery College, who previously partnered with UMBC on digital storytelling projects.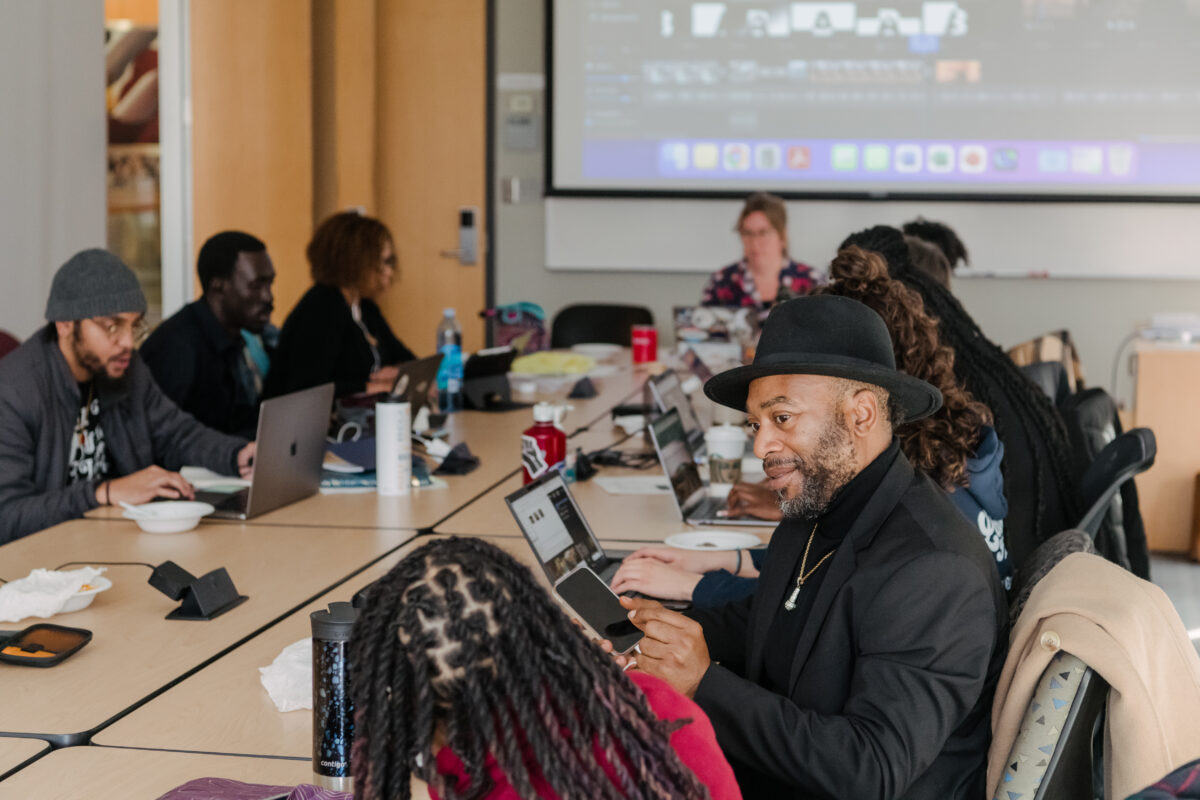 UMBC students learning about digital storytelling. (Marlayna Demond '11/UMBC)
A commitment to community storytelling 
The multi-day conference included workshops, presentations, storytelling tours, and site visits to partner institutions illuminating the impact of digital storytelling. Julissa Gómez Ruvalcaba, M.A. '23, applied sociology, was one of the featured presenters at this year's conference, her work adding to UMBC's ongoing research of Latinx immigrant communities in Baltimore. During a site visit on the first day of the conference to the Creative Alliance, a non-profit art space in Baltimore City, Ruvalcaba discussed her capstone research project that included an ethnographic study of the city's Latinx community. 
Ruvalcaba shared that she felt a sense of "culture shock" when originally moving to Baltimore to study at UMBC. She is from a predominantly Mexican community in Northern California and took note of the drastically smaller Latinx population in Baltimore City, which, according to the 2020 Census, makes up about eight percent of the city's population. 
Julissa Gómez Ruvalcaba discussing her short film "Nest Making" at the Creative Alliance during the 11th International Digital Storytelling Conference. (Marlayna Demond '11/UMBC)
"I became curious about how Latinx people understood their cultural identity and how they expressed themselves while living in a city that is predominately Black and white. That was the starting point to my thesis."
That curiosity culminated in "Nest Making," a short film that Ruvalcaba created documenting the Latinx community living in Highlandtown, a neighborhood in Southeast Baltimore that Ruvalcaba says is often referred to as "Latino Baltimore." During the conference, Ruvalcaba held a screening of the film, which captures Ruvalcaba's year-long research journey of examining how Latinx people are building their homes and communities in Highlandtown as they express parts of their culture and heritage.
"Digital storytelling is a medium that I'm really excited about. I thought about how to make my research accessible to all, including my family who may not understand all of the research jargon," says Ruvalcaba. "Showing your story in a way that's visually engaging, along with audio, captures [many] of the senses, which is something that I want to show people that can't really be shown on paper."
Digital storytelling history at UMBC
Bill Shewbridge '80, history, a professor of practice in media and communication studies, attended a StoryCenter workshop in 2004 and was excited to bring the practice back to UMBC. The university's cultivation of storytelling research grew following a series of several StoryCenter workshops organized in 2006 by UMBC's New Media Studio, the university's multimedia production hub. Faculty and staff learned about digital storytelling as a pedagogical tool and have since brought the practice into the classroom. 
"Over the years, UMBC has become an active participant in a growing international community of the digital storytelling practice through conferences and collaborative projects," explains Shewbridge. "[Bringing] the international conference to our region grew out of discussions had at the 2018 conference in Zakinthos, Greece, so it was in the works for a long time."
In spring 2021 "
A Place Called Poppleton
" debuted to document the history and culture of the Poppleton neighborhood of Southwest Baltimore. UMBC students produced a 
Story Map
 digital walking tour of the neighborhood with a focus on the area's Black history and places lost or endangered due to redevelopment. 
UMBC's Digital Storytelling and Civic Agency in Higher Education working group, which Shewbridge leads, collaborated with Loughborough University in England, Montgomery College, the Smithsonian Office of Educational Technology, and StoryCenter to bring the international conference stateside for the first time. 
"It was a great experience to be able to share our work in the Baltimore region with this very special group of colleagues," says Shewbridge. 
That sentiment was echoed by Charlotte Keniston, MFA '14, intermedia and digital art, associate director of UMBC's Shriver Peaceworker Fellows program. "What's significant about UMBC hosting the conference is that it represents nearly 20 years of digital storytelling work that's been happening here on campus," she noted.  
Charlotte Keniston teaching a digital storytelling class. (Marlayna Demond '11/UMBC)
Keniston, who co-chaired this year's conference, has championed digital storytelling research since she was a student at UMBC: "I have been using digital storytelling, teaching it, and facilitating others in using it since my start at the university. There are hundreds of students who have used it in the classroom, and dozens of faculty who teach it in their curricula as a way to engage students in reflection."
For more information on storytelling research happening at UMBC, review a collection of UMBC's digital storytelling projects here.