PINNED ITEMS
UMBC Hillel is looking for students to serve as Commuter Engagement, Education, Israel, Hillel at Home, and Social Justice interns. A stipend of $300 will be provided for completion of the...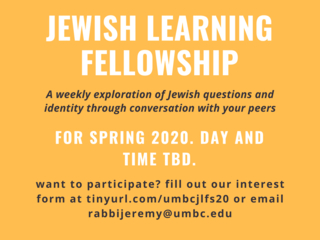 Weekly learning with Hillel for next semester
Jewish Learning Fellowship is back for Spring 2020! Looking to explore Jewish questions and identity through conversation with your peers? JLF is for you! Sign up on our interest form...
LATEST UPDATES