UMBC News on what to see and do at URCAD:
UMBC's annual Undergraduate Research and Creative Achievement Day—known on campus as URCAD—has long been a must-see event. It's a chance for community members to get a glimpse of what students have dedicated hours to exploring and creating throughout the year. This year, many wondered if the event would be in person, as COVID cases dipped, but URCAD XXVI will again be online, for the third year in a row, starting today. Why? Going virtual has boosted access and engagement.
During the pandemic, what was once a day-long in-person event shifted gears. The new online URCAD format that launched in 2020 spanned a full week. The virtual format enables community members to easily browse projects, performances, and creative works of all types. With VoiceThread, student researchers upload poster presentations, performances, and visual artwork, adding commentary and responding to questions from the online audience over a period of days rather than hours.
For each of the past two years, audiences have tuned in from nations around the world at all hours of the day, yielding unprecedented engagement.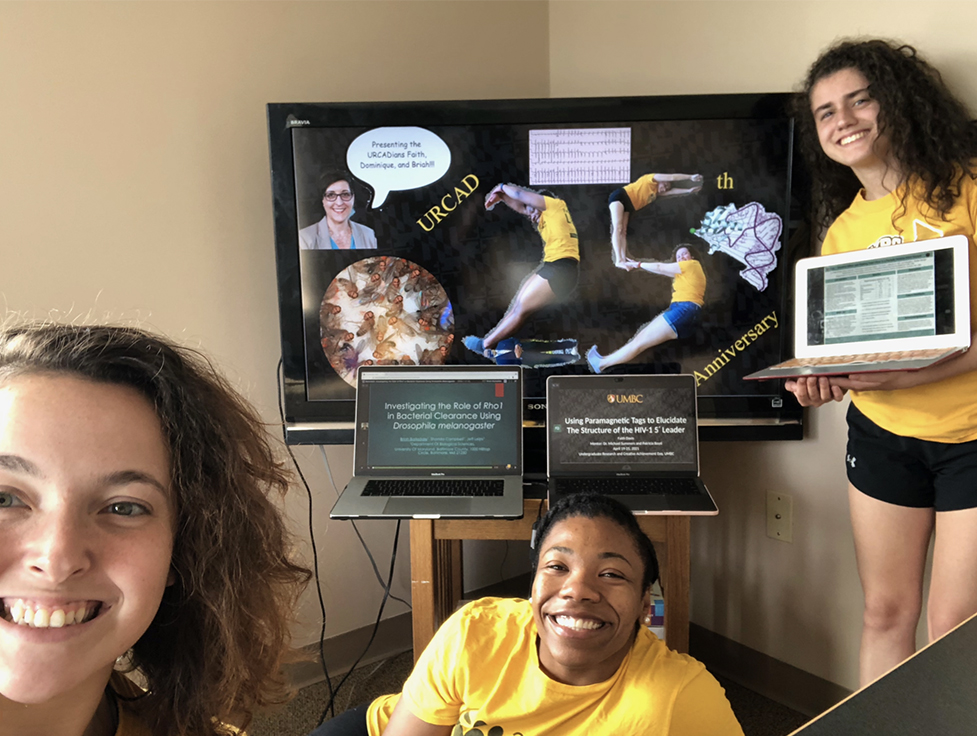 Faith Davis, left, was the winner of the selfie contest with her roommates and their URCAD presentations. Photo provided by April Householder
. This year the event will take place April 18 – 24. Student creativity is on display, not just in the work itself but in how each presenter uses the online format to their advantage. Many share their work in ways that wouldn't be possible at an in-person event with physical posters and more traditional presentations and performances. 
Here are four tips from faculty whose students have participated in URCAD in years past on how to navigate this exciting event.

#1 Set aside more time than you expect. You'll use every minute.
"Because you'll be blown away by the depth and creativity of everyone's projects, give yourself time to fully experience presentations, from start to finish," says Lia Purpura, writer in residence at UMBC. "As when attending any big conference—pace yourself." 
Consider starting by taking the time to explore the full list of URCAD projects, which is available by student name and department. You can search for specific terms that interest you, or peruse "sneak peeks" of highlighted projects.

#2 Post a comment or question—it makes a huge difference.
"Interact with the presenters via VoiceThread. Since this year is virtual, the presentations will be live over several days and presenters will have a chance to answer questions and take comments within the VoiceThread platform," explains Corrie Parks, assistant professor of visual arts.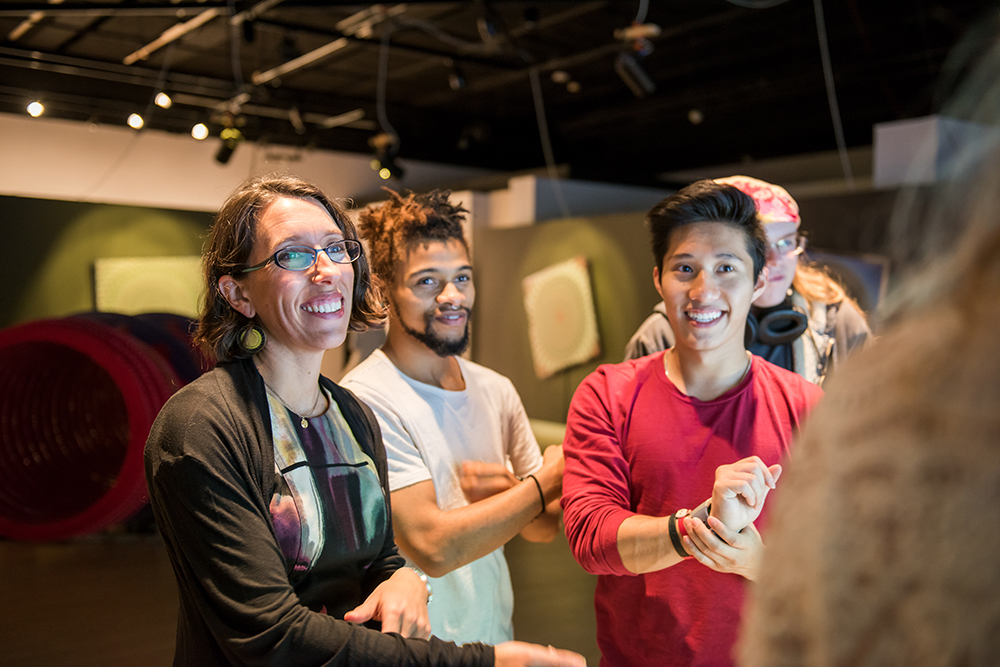 Visual arts Professor Corrie Parks smiles with students at an art exhibit
.Parks' students often share their animations through URCAD. "As a presenter, it's a great encouragement to get a question or comment, because then they know someone is watching their presentation," she shares. Instructions on how to use VoiceThread are available through 
an online visitor guide
. 

#3 Seek out projects on topics that are new to you.
URCAD is a great chance for people interested in the same topic to connect with each other. It's also a wonderful opportunity to explore something that's entirely new. Marc Olano, associate dean of academic programs and learning for UMBC's College of Engineering and Information Technology, says, "Don't forget the creative achievement pieces. There can be a lot of focus on the research side of the Undergraduate Research and Creative Achievement Day, but the artistic work is well worth checking out!" Olano is also director of the game development track in computer science, so it's no surprise when he shares, "I am, of course, partial to the games!"

#4 Always catch the keynote speaker. They offer relatable advice.
"The keynote is with no doubt a highlight of the event. It usually is a perfect combination of inspiring work accomplishments and career advice at the personal and professional level," says Fernando Vonhoff, assistant professor of biological sciences. 
Biological sciences Professor Fernando Vonhoff in the lab with a student. 
"It is encouraging for anyone to hear from people who had to work hard and overcome all kinds of challenges to get where they are now," Vonhoff says. "Most importantly, we get a realistic feeling that we can do it, too."
This year's 
keynote speaker
 is 
Kaitlyn Sadtler
'11, biological sciences, introduced by President 
Freeman Hrabowski
. Sadtler is an Earl Stadtman tenure-track investigator at the National Institute of Biomedical Imaging and Bioengineering, a division of the NIH, and a 
UMBC Alumni Award winner
.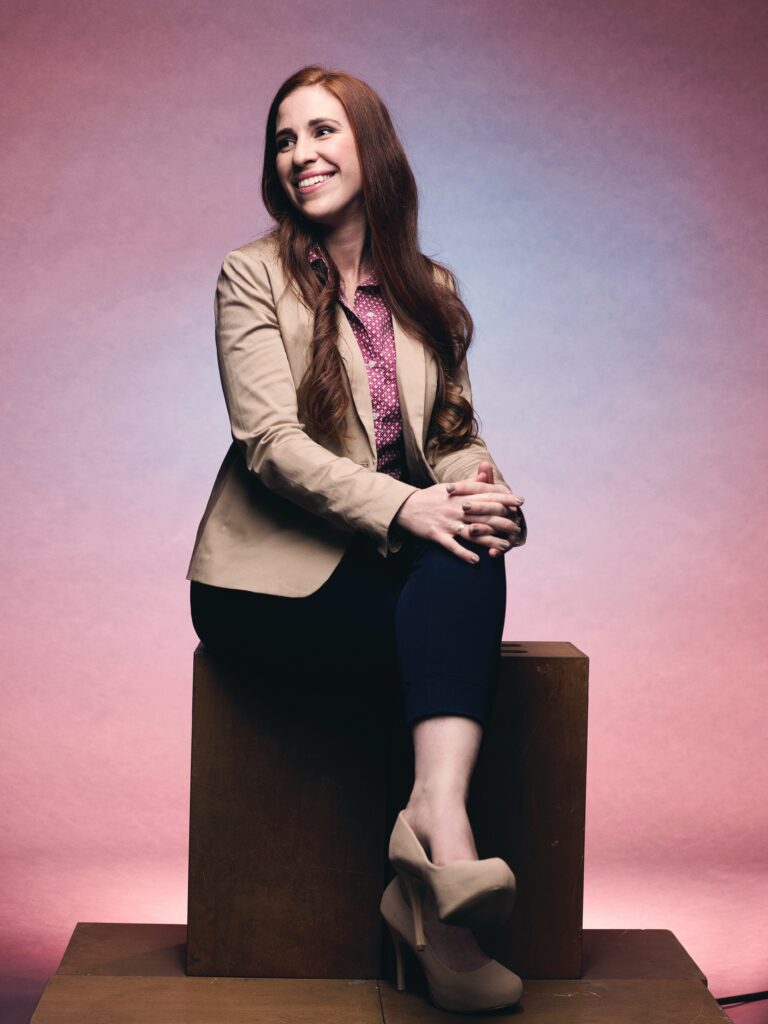 Portrait by Bret Hartman/TED
, 
provided by Kaitlyn Sadtler.
Sadtler will discuss her work studying SARS-CoV-2 infections as well as her path from student to scientist.
Participants and attendees alike are invited to share their URCAD advice, experience, and congratulations to students via #UMBCurcad.
Featured image: An illuminated signboard welcomes people to URCAD. 

All photos by Marlayna Demond '11 for UMBC, unless otherwise noted.