May 8, 2017 by
Sarah Hansen


UMBC's new Interdisciplinary Life Sciences Building (ILSB) is an answer to two questions, says Dean Bill LaCourse, of the College of Natural and Mathematical Sciences (CNMS): "What is UMBC going to be in the future?" and "What are our students going to need in the 21st century?"
The ILSB, scheduled for completion in summer 2019 on the footprint of the old Academic Services Building, will provide 70,000 square feet of flexible research and education space to support interdisciplinary, collaborative efforts in the life sciences. The building will primarily house labs and classes associated with CNMS, but the university also anticipates departments in the College of Arts, Humanities, and Social Sciences (such as geography and environmental systems) and in the College of Engineering and IT (such as chemical, biochemical, and environmental engineering) will utilize the innovative research and teaching facility.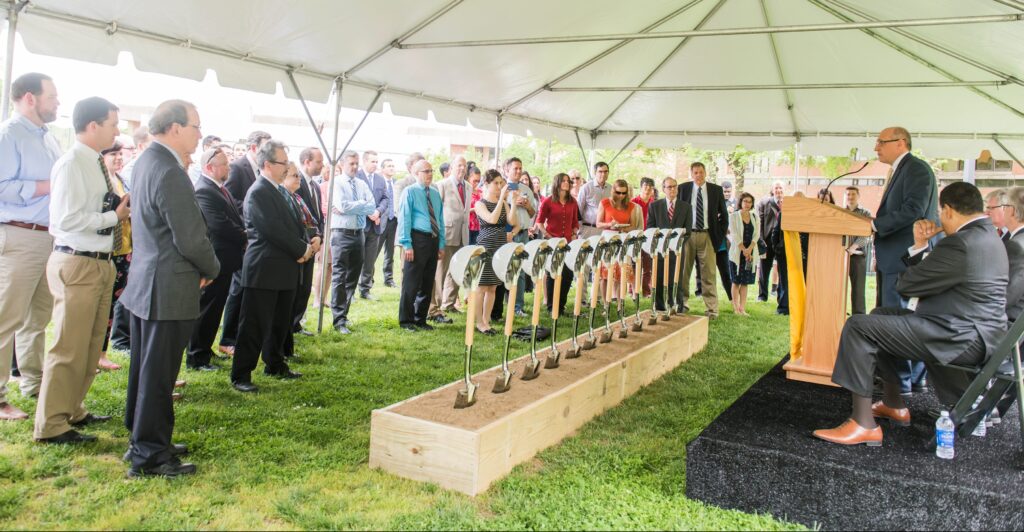 Dean LaCourse addresses the crowd at the groundbreaking ceremony. Photo by Marlayna Demond '11 for UMBC.
Speakers at the informal groundbreaking ceremony, held May 1 on the quad just before it closed for construction, focused on the flexibility of the building. The ILSB will create opportunities for "interdisciplinary research, active learning, and innovation," said LaCourse. "It fits right in with the model of what UMBC is, with our reputation as an agent of change."
Features of the new building include an observation and research lab to study pedagogy, eight active learning classrooms, and four teaching labs, which will all support innovative education for UMBC students. Twelve research labs will each accommodate three faculty members and their students, an environmental systems lab will allow field research on aquatic and other ecosystems, and specialized lab spaces will support activities such as cell culture.
Joe Rexing, director of UMBC design and construction, shared that UMBC has again partnered with the Maryland Public Art Initiative to include an art installation in or around the building, as Thomas Sayre's sculpture Forum appears alongside UMBC's new Performing Arts and Humanities Building.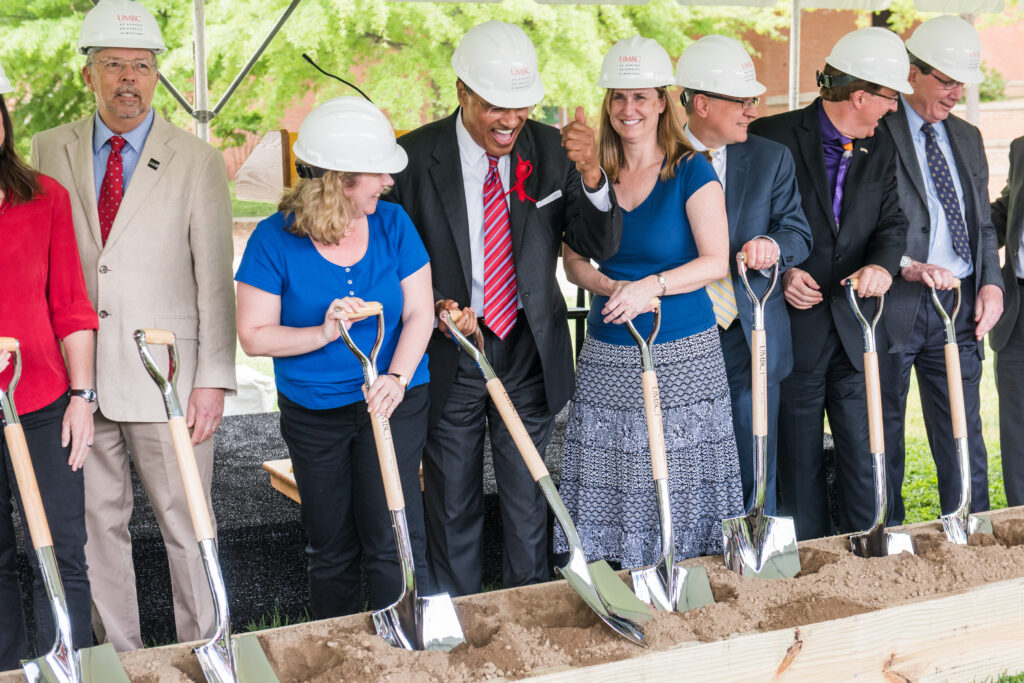 UMBC faculty and administrators celebrate the groundbreaking. From left: Phil Farabaugh, professor and chair of biological sciences; Kathleen Hoffman, professor of mathematics; President Freeman Hrabowski; Julie Ross, dean of the College of Engineering and Information Technology; Bill LaCourse, dean of the College of Natural and Mathematical Sciences; Karl Steiner, vice president for research. Photo by Marlayna Demond '11 for UMBC.
The ILSB seeks to create spaces that encourage the kind of interdisciplinary work that UMBC has increasingly become known for, regionally, nationally, and internationally. "I like to use the word 'convergent.' We're going to take the skills and expertise of our faculty and students and converge on societal problems," says LaCourse. "By bringing people together, we'll be able to do more than if we stayed in our individual silos," he adds. The ILSB "is a symbol of our strength in diversity."
Remarks from LaCourse, Rexing, President Freeman Hrabowski, and Provost Philip Rous also stressed the collaborative nature of the building design process. Faculty, administrators, and facilities management staff all played important roles in determining what kinds of spaces the ILSB would include. "All their decisions were not about what would be best for them as individuals," said LaCourse, "but what would be best for student success, what would be best for the future of UMBC."
President Hrabowski emphasized how the construction of both the Performing Arts and Humanities Building, completed in 2014, and the ILSB "represent the best of collaboration and interdisciplinarity, and also of community." He also spoke to the future impact of the building.
"As we break ground today, I want you to think about the thousands of students and faculty over the next century who'll be coming through this building," Hrabowski said, "but even more, the thousands of lives that will be touched by our graduates and our research. I can't think of a notion more powerful than that."
Learn more about how the ILSB construction process may impact members of the UMBC community and campus visitors.
Banner image: Faculty and administrators "break ground" to celebrate the beginning of construction of the Interdisciplinary Life Sciences Building, slated for completion in summer 2019. Photo by Marlayna Demond '11 for UMBC.