PINNED ITEMS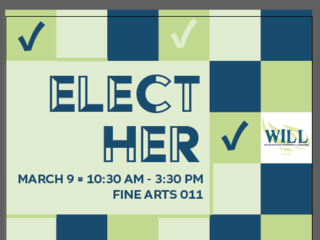 Join us to learn how to organize, run for office, and win!
10:30 AM
·
Fine Arts : 011
Elect Her–Campus Women Win is the only program in the country that encourages and trains college women to run for student government and future political office. A project of Running Start, a...
PDF Document · 866.3 KB
Includes the PowerPoint from JoAnna Gavigan, the printed resources distributed by GWST, and web resources from David Di Maria.
LATEST UPDATES