Special Collections presents our archival project Archives Gold: 50 Objects for UMBC's 50th, a special series showcasing 50 different objects that tell the story of UMBC. This week we present a photograph in The Retriever Weekly from UMBC's Annual Homecoming Bonfire in 2008.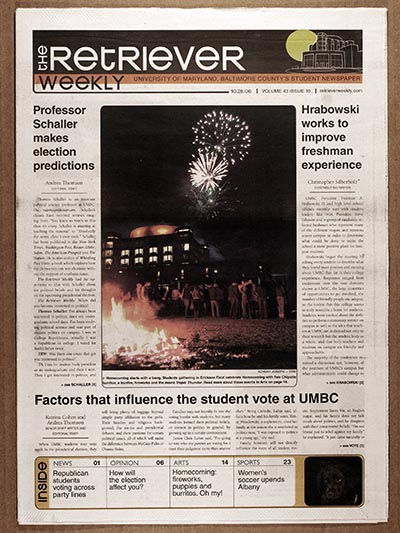 Photograph of Homecoming Bonfire, 2008. 
The Retriever Weekly
, Volume 43, Issue 10, University Archives, Special Collections, University of Maryland, Baltimore County (Baltimore, MD) 
A much newer Homecoming tradition at UMBC is the annual Homecoming Bonfire on Erickson Field. First starting in 2005, the bonfire is an iconic tradition among the Homecoming festivities at UMBC. The idea for a bonfire came from First Year council member Thomas Locastro who gathered support for the event in October 2005. He had the honors of lighting the fire that year, as well as in 2006 and 2007. Since then, the annual bonfire lighting has taken place each year, except for two years when the event had to be canceled due to rain and bad weather. Activities at the bonfires over the years have included fireworks, movie showings, pancake eating contests, and free food.  
Learn More: