PINNED ITEMS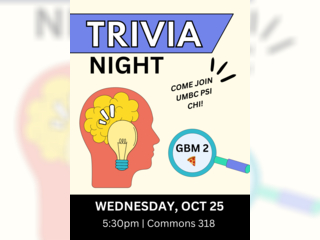 5:30 PM
·
The Commons : 318
A psychology major or minor?  Interested in psychology, trivia, &/or pizza? Come join UMBC Psi Chi for our 2nd General Body Meeting & Trivia Night!  Everyone is welcome, don't have to...
Learn more about Psi Chi!
Join our upcoming information session to learn more about Psi Chi, and to hear all the benefits we offer as an Honors Society! We will be going over general information and announcing future...
Hi everyone, we're so excited to meet all the new people interested in joining Psi Chi this semester :)  Please join our GroupMe & follow us on Instagram @psichiumbc for more updates coming...
LATEST UPDATES