I'm hoping that everyone has purchased their Raekwon tickets for tonight's event. If not, we'll be selling them at the door so bring your friends! The show is going to be great - I doubt you want to miss out.
In addition to our weekly movies, SEB hosts a cinema series that features thought-provoking works and documentaries on interesting topics while providing a forum for discussion. This year, the cinema series has been more successful than ever before and has proved to be a great networking event, connecting students with shared interests and passions. Last month, we showed
Food Inc.
, a really intriguing documentary about the American food industry.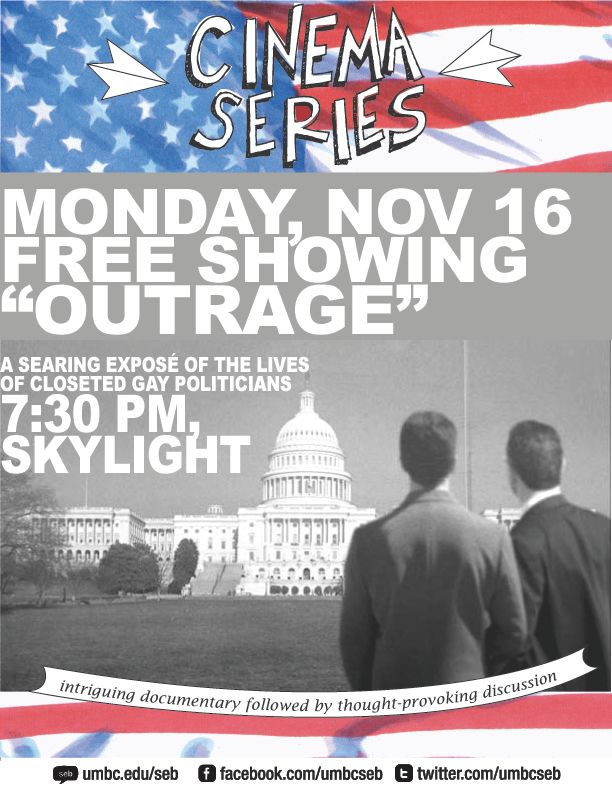 Monday, November 16
, we will be showing
Outrage
, a documentary that puts a spotlight on closeted gay members of Congress that consistently support anti-gay legislation. Obviously, this is quite strange and raises a few questions. Is it ethical for the filmmakers to out these politicians? Is it okay for these politicians to vote the way they do, even though it's not consistent with the way they live their lives? Does this, in a sense, allow these legislators to live above the law?
These questions are all addressed in the film. I've been lucky enough to see most of it and thought that it was very well-done and interesting, to say the least. The subject is definitely controversial, but it's important for this campus to address these topics and share viewpoints.
SO, you are all formally invited to attend this event!
Please come out Monday at 7:30pm in the Skylight Lounge for film and discussion. Check out our website for the many other events offered this week and next week and I hope to see you tonight on the dance floor!