PINNED ITEMS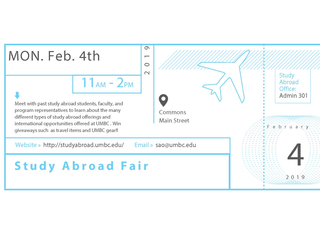 11:00 AM
·
The Commons : Main Street
Meet with past study abroad students, faculty, and program representatives to learn about the many different types of study abroad offerings, scholarship options and international opportunities...
Our office is growing!
Happy December! Before campus dives into finals and the holidays, Education Abroad at UMBC would like to share some exciting new updates and projects with our campus community.  We've Moved!...
LATEST UPDATES