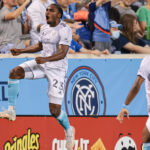 "New England goes back in front 2-1, and it's the center back Jon Bell who gets forward and gets his first MLS goal! …Jon Bell creeps in between, it's a beautiful delivery, and how about that for a header? Fabulous placement…. It's a great goal!"

Even the rival New York City FC commentary team couldn't deny the special nature of former UMBC men's soccer left-back Jon Bell's first professional career goal which aided his New England Revolution side to a nail-biting 3-2 away victory at Red Bull Arena in New Jersey in June 2021. 
A capstone achievement, on just his fifth appearance for his team, it's a moment that millions of soccer players and fans around the world dream of, but will never realize. Bell channeled his Retriever roots to make a name for himself on the highest playing field.
MLS bound, but college first 
Described by UMBC men's soccer head coach Pete Caringi Jr. as "one of the best-attacking collegiate left-backs in the country," Bell, media and communication studies, realized the first part of his lifelong dream of playing professional soccer when he was selected at the 2020 Major League Soccer (MLS) SuperDraft before he even graduated from UMBC.Soon, he would join a new team, enter a new locker room, and have a new set of expectations in front of him.
Fortunately, he already experienced that during his first days at UMBC. "I was just trying to fit in with the guys… knowing that Coach Caringi was really excited and happy to have me on the team helped," says Bell.
"I was an advocate of his through his first year here,"  says Caringi, who has coached at UMBC for more than 30 years. 
A Maryland native, Bell was originally committed to play out of state before complications arose, extinguishing that prospect. Coach Caringi, catching wind of this, knew he wanted Bell's qualities on his roster, which would require only a little convincing at first. 
"In the recruiting process he saw the fact that we were just coming off the Final Four appearance—from a soccer standpoint we'd done really well. Also, I think he knew that pursuing a college degree from UMBC is a really valuable thing…. It's not a hard sell to be honest," says Caringi.
"I remember telling a lot of people here that Jon is going to have the opportunity to play at the next level and it's just a matter of how hard he continues to work at it," Caringi continues. "But he kept working at it and getting better and better, but there were glimpses of a guy who has all the tools to play at the next level in MLS." 
But the nature of college athletics ensured that Bell had challenges beyond soccer, including the expectation to keep up academically. "It was hard, especially at first. When you had exams and papers at the same time, you had to go to practice every day, two and a half hours at a time. So it was just about being responsible, managing your time well, knowing that we couldn't stay up late. You just had to come in ready for class or training the next morning," says Bell. 
Student-athletes across the country face this challenge, but according to Bell, at UMBC, "it's not like what you might see at other colleges where you have someone leaning over your shoulder helping you every time. We weren't guided to our desks and given paper and a pencil—no one did the work for us." Instead, Bell says, UMBC and Athletics gave him and the others motivation to embrace their studies. The academic support for student-athletes shows as the 17 varsity UMBC teams repeatedly increase their average grade point average, topping 3.19 in fall 2019. "Everything that we had to do academically, we did ourselves."
After the fall 2019 semester when Bell was drafted to the MLS, he took a hiatus from school to give professional soccer his full attention, but Bell knows his time at UMBC isn't over. He still plans to finish his degree virtually. 
Getting picked in the MLS SuperDraft 
Much like other professional sports leagues, MLS uses a college draft system, called the MLS SuperDraft when college soccer players are selected by teams in a pick-by-pick format. It's the clearest path for a college soccer player to play at the highest national level. 
But getting selected in the SuperDraft is by no means the same thing as being a MLS player with a professional contract, Caringi explains. "The MLS draft is growing increasingly tougher to end up on the first team. You can get drafted, but to sign for the first team on most of these MLS teams is very difficult." 
"Even in my first year of college, my number one goal was to work really hard to get the opportunity to get drafted into MLS. Each year, my goal was the same, just to build up my portfolio [for that]," says Bell.
When Bell's moment at the SuperDraft arrived, his former head coach was watching the proceedings. "I was really excited," says Caringi."We spoke to the MLS coaches before the SuperDraft, so we knew there was a really good chance of Jon getting drafted. I've been a fan of Jon as a player, as a person, as a student—he was the whole package."
Bell would experience a range of post-draft trials. He was selected in the second round by the San Jose Earthquakes, who ultimately didn't offer him a place on the team. Instead, his rights were traded to the New England Revolution, where he started out playing for their B-team—New England Revolution Ⅱ in the third division United Soccer League One (USL1). But challenges and setbacks are just as welcome as successes to Bell. 
Finding a place on the first team
He never doubted that he would make the first team. "My coaches were telling me that the first team coaches were watching me and for me, hearing that was motivation to continue to push harder," says Bell. "It was just a battle of mental fortitude with myself to continue to pursue even though there were times where things weren't going my way, just keeping that focus and mentality throughout training sessions when I was with the first team for preseason."  
After playing a season with the New England Revolution Ⅱ, Bell's mentality paid off when he signed a contract with the Revolution's first team. 
Playing alongside teammates who have participated at the highest levels of professional soccer has been "a great experience," says Bell. "I can use their work ethic as a blueprint as to what I need to do to play at that level. It's a cool experience to have not only with them but also with [head coach] Bruce Arena who's been in this for a long time and has a long list of accolades and respect in the world of soccer." As Bell adjusted to his new surroundings, he was also getting used to a new position on the field. 
"He started playing center-back which he never played here at UMBC," explains Caringi. "I'm not surprised that he's playing there, I think Jon can play anywhere on the field. I have to give him a lot of credit for transitioning to center-back which isn't easy in general but at that level, it's particularly challenging," he continued.
After a pair of months with the first team, Bell made his debut for the Revolution, where he played the full duration of the match, a few games later, he got his goal. A perfectly placed header that whizzed past the New York City FC goalkeeper.
"It's just a blessing. I can't put it into words because at the moment when you score, that first second you don't know if it really happened or not… It was late in the game at that stage where your legs are tired but scoring that goal refueled me to finish off that game," Bell says, ultimately leading his team to victory.
The future of UMBC Men's Soccer
UMBC's men's soccer program has produced its share of professional soccer players over the years, including five previous MLS SuperDraft picks, but Bell is the only Retriever actively playing in MLS. 
Nevertheless, both Bell, and Caringi see a bright future for the UMBC men's soccer program, suggesting that Bell may have some former teammates joining him in MLS before long. 
"Quantrell Jones had a lot of accolades and a lot of people watching him… His future is bright. If he decides to pursue going pro he has everything in his toolbox to do it," notes Bell on his former teammate who still plays for the Retrievers.
Caringi agrees. "I've been saying that Quantrell is a MLS goalkeeper. When the time comes, Quantrell is going to get drafted, he's going to get his opportunity…. Now it's just a matter of how hard he works at it, and if he does, then we'll be talking about him in a couple of years."
Beyond Jones, Caringi sees several potential stars in the making. "Just like I told Jon when he was a freshman that 'someday you're gonna be a pro.' I'm looking at some of these guys right now and seeing as they continue to develop, one day they're going to have the same opportunity. It goes back to your love, your drive, your determination, but clearly, they can get there…. We're not dry of players who could play at the next level," says Caringi, who cites former Retriever Sam Solomon who recently signed for the Richmond Kickers in the USL, among others. 
Meanwhile, Bell hopes his rise to MLS "opens doors for other people. If I continue to play consistently at this level, not only can it help the coaches bring in new players, but it can help the players that are there now. When pro teams are looking at them, they can look at me as a kid who came from that school, so they know that there are players at UMBC who have the potential to play at the next level."
*****
Header image: Jun 19, 2021; Harrison, New Jersey, USA; New England Revolution defender Jon Bell (23) celebrates his goal against New York City FC during the second half at Red Bull Arena. Vincent Carchietta-USA TODAY Sports.