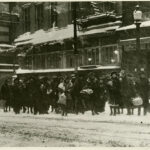 Losing Winter, a new exhibition opening in mid-July at the Maryland Center for History and Culture (MCHC) in Baltimore, examines changes in winter weather patterns through photographs, video, and personal memory.
The brainchild of Lynn Cazabon, professor of art and director of CIRCA, and co-curated for MCHC by UMBC history alumnus Joe Tropea '06, history and M.A. '08, historical studies, the exhibit includes images as varied as a news report by a young Oprah Winfrey, "Snowmageddon" in 2010, icy conditions during the Great Fire of Baltimore in 1904, and the 1899 blizzard.
Although the exhibition doesn't directly address climate change, it's certainly a subtext, said Cazabon, whose interdisciplinary work has often centered on the intersection of environmental and social issues. 
"Things are changing," she said. "What are we doing about it?"
Untitled. Winter Survival Class, Ice Rescue. Tim Ford (?-?) 1986. Gelatin silver print, 10 x 8 inch. Tim Ford photographs, the Photography Collections, University of Maryland, Baltimore County. UARC2015-07-01-0091
Winter Memories
Losing Winter was sparked by Cazabon's own memory of freezing as she ice skated at age 14 in Michigan where she grew up. "That lake, in fact, doesn't reliably freeze anymore," she added. The idea percolated further in 2014 while Cazabon was making a film about women who had moved to the Yukon.
Talking about the weather used to be the quintessential conversation starter, she noted. "Now it's fraught with emotion and worry. The weather is not an innocent topic anymore."
"It forces us to think about the possibility of climate change. Why is our climate changing?" said Tropea, curator of films and photographs at MCHC.
The MCHC show features Maryland memories while a concurrent mounting of the exhibition at VisArts in Rockville will pair recorded reminiscences by area senior citizens with children's artwork inspired by those memories. The VisArts exhibition opens in May.
At MCHC, home movies and weather reports from the 1970s, '80s and '90s will be on display, including a report from Oprah Winfrey, then on the WJZ news staff, interviewing ice skaters at the old Memorial Stadium.
"It's an experience that takes you through the decades," Tropea said.
Snow on Palm Sunday. Park Avenue. A. Aubrey Bodine (1906-1970). March 29, 1942. 5 x 4 inch acetate negative. A. Aubrey Bodine Photo Collection. Baltimore City Life Museum Collection. Maryland Center for History and Culture, B1548-2.
Cazabon said she discovered "little moments of joy" along the way, such as a woman in her 80s recalling street skating in her boots, Baltimore Sun photographer A. Aubrey Bodine's historic photos of Groundhog Day ceremonies, and old weather forecasts.
One of Tropea's favorite pieces is 1928 industrial footage taken at the Holtwood Dam over the Susquehanna River. Ice floes rushing toward the bay caused extensive damage near the shoreline before the dam was built, Tropea said. The film, which will be projected on a large wall, depicts ice floes going over the dam and breaking apart as they fall. 
"Just watching it makes me feel cold," Tropea said.
For the MCHC show, Cazabon and Tropea delved into the archives at MCHC as well as in the Special Collections Department of the Albin O. Kuhn Library with the help of Lindsey Loeper '04, American studies, reference and instruction archivist.
Since Covid-19 restrictions have closed the library to researchers, Loeper collected 35 photos to show the professor and Tropea via video conferencing. 
"There were things I've never seen before," she said, noting that the collection has millions of pieces. Among the items she shared were glass negatives and works by well-known photographers such as Marion E. Warren. The oldest photo featured children throwing snowballs in 1914.
Ice covered ruins of Anderson & Ireland Hardware. Unidentified photographer, February 8, 1904 or after. Photo print, 8.5 x 7 inches. Subject Vertical File. MCHC.
Evolving Exhibit
Cazabon mounted her original Losing Winter exhibition at the National Museum of Contemporary Art in Bucharest, Romania, in 2018. It featured audio memories of past Romanian winters, along with melting ice sculptures by a local artist.
As part of the Losing Winter experience, Cazabon is also working with UMBC's Imaging Research Center on an augmented reality app to display and allow people to experience the winter memories of others. Cazabon received a 2020-21 Saul Zaentz Innovation Fund grant to produce the app. The exhibition at MCHC will include a display of the app playing memories collected from people in Maryland. Cazabon has been working with MCHC Community Engagement Manager Martha Oster-Beal to host virtual workshops during which memories are shared and recorded.
Marty Bass WJZ, circa 1978
The yearlong exhibition will be housed on the second floor of MCHC, in gallery space across from the H. Furlong Baldwin Library. Visiting at the hottest time of year, when the exhibit launches, "you might be dreaming of winter," Cazabon said.
Cazabon said the project keeps evolving. The modular format of her project also makes it adaptable. She invites members of the UMBC community to contact her to participate. She's open to a variety of memories and opinions. 
"The project is designed to evolve with each new site," she said, adding, "I would like it to be a collection that includes people from around the world."

— Mary K. Tilghman '79
"Baltimore Hucksters," Roland Freeman (1936- ), 1970. Gelatin silver print, 14 x 11 inch. Roland Freeman photographs, Special Collections, University of Maryland, Baltimore County, P79-42-004.
* * * * * *
MCHC will host participatory virtual workshops for residents to record their memories on April 29 and May 27. Go towww.mdhistory.org/events for details and registration.
For more information on how to participate in the project, visit https://www.losingwinter.net.
* * * *
Header image: Blizzard of 1922, Saturday afternoon. Unidentified photographer, January 28, 1922. Photo print, 10.25 x 13.5 inches. Municipal Museum Collection. Maryland Center for History and Culture, MC1909.