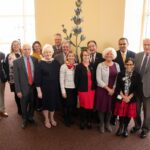 Dana Bradley, dean of UMBC's Erickson School of Aging Studies, has presented President Freeman Hrabowski with a prominent honor from the nation's preeminent organization devoted to research, education, and practice in the field of aging. 
Bradley is incoming chair of the Gerontological Society of America (GSA). The 2020 Administrative Leadership Honor award she presented to Hrabowski is granted through the Academy for Gerontology in Higher Education (AGHE), a section of the GSA. The award recognizes twenty leaders in the field of gerontology across the United States, British Columbia, and Japan. Their outstanding work represents milestones in the history and development of gerontology. 
"The award is about helping an international audience understand the impact that our scientific researchers and educators have in the field of aging," shares Bradley.
She nominated Hrabowski for the award in collaboration with John Schumacher, associate professor of sociology, anthropology, and public health (SAHP), and Leslie Morgan, professor emerita of SAPH. Schumacher is the graduate program director of the gerontology Ph.D. program. The program is jointly offered by UMBC and the University of Maryland, Baltimore (UMB). It is complementary to the Erickson School's bachelor's and master's degrees and certificate programs.
(L to R) Dana Bradley, Amy Berman,John Schumacher, and Nicole Brandt, executive director of the Lamy Center at UMB.
National leadership in aging studies
Bradley's work in the gerontology community has created avenues and networks for scientists, educators, and students to investigate, advocate, research, and innovate in the fields of aging and longevity. This, in turn, has had a positive impact on housing, health services, community wellbeing, communication, and lifelong learning for older adults.
Bradley is a former GSA and AGHE fellow. She has long served as an elected leader within the GSA and Southern Gerontological Society. She was drawn to become dean of UMBC's Erickson School in 2018 because of its focus "on leading and being on the edge through engaged scholarship with endless possibilities." Hrabowski, she says, has cultivated and supported the Erickson School's leadership in the field.
Over the last three years, Bradley has collaborated with Hrabowski, faculty, campus, and community partners to broaden and diversify UMBC's aging services research. Last year she and Hrabowski served on a steering committee that built a partnership between UMBC and UMB to become Maryland's first "age-friendly" universities.
They joined fifty-eight institutions worldwide that make up the Age-Friendly University Global Network, led by Dublin City University in Ireland. The "age-friendly" designation is a commitment to innovate advances in gerontology, health research, and community initiatives to support older adults in higher education.
A model for teaching, learning, and research
"Dr. Hrabowski has been at the forefront of creating and promoting a vision of how we think and talk about aging and longevity," shares Bradley. And the inclusive, forward-looking vision that he and the Erickson School emphasize has had notable impacts, including on the student experience.
At the same time, Hrabowski shares that he sees his AGHE honor as "a reflection of the Erickson School's innovative approach to teaching, learning, and research. I'm so proud of the work being done at the school. It has had great success preparing alumni who are now leaders in the field of aging."
Erickson School alumni likeLauren Mortimer '19, and Malgorzata Bondyra '20, management of aging services, exemplify the innovation that UMBC fosters in their work to reach older adults in creative ways. Mortimer designed a comfort book. It provides tools for people with dementia to soothe themselves during periods of confusion and irritability. Bondyra's internship experience in senior housing inspired her to create a virtual cooking class for the older members of her Polish community senior center.
The Erickson School has become a place where students equip themselves with the skills and knowledge to address issues in longevity care inclusively and holistically, and it continues to grow. The school is now developing a certificate in inclusion and diversity in aging services. Says Bradley, "Dr. Hrabowski inspires me to continue to envision possibilities for what the future of aging services can look like."
Banner image: UMBC and UMB Age-Friendly University steering committee. All images by Matthew D'agostino for UMB.