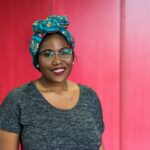 The Association of American Colleges and Universities (AAC&U) has honored UMBC's Ciara Christian with its 2020 K. Patricia Cross Future Leaders Award. Christian, M.A. '18, sociology, is a doctoral student in the language, literacy, and culture program. She is one of just seven graduate students out of 117 applicants from across the country to earn this honor. 
The award honors graduate students who are dedicated to teaching and learning in higher education. It highlights students whose exemplary work shows their commitment to academic and civic responsibility with a focus on equity and inclusion. 
Michele Wolff, director of UMBC's Shriver Center and Christian's mentor, describes her as a clear choice for this award. "She is a scholar and a visionary thinker," says Wolff.
Working with communities, abroad and at home
Christian has long demonstrated a strong commitment to equity and inclusion in her work. Before enrolling at UMBC, she served as a Peace Corps volunteer in Rwanda. During her service, she helped to create curriculum and workshops to train incoming volunteers and Peace Corps staff. The volunteer training practices and materials she established actively addressed issues of diversity, inclusion, and equity.
After Rwanda, Christian joined UMBC as a Shriver Peaceworker Fellow, combining her graduate program with community service leadership and ethical reflection. She also served as a Sondheim Nonprofit Leadership Fellow. In that role, Christian assisted the Baltimore Neighborhood Indicators Alliance with Baltimore Data Day. The day convened over 300 organizations to learn how to best use data to support Baltimore communities.
As a graduate assistant during her master's program, Christian helped to develop the Grand Challenge Scholars Program. She worked with Marie desJardins, former associate dean of the College of Engineering and Information Technology, to launch the program in 2016. 
Supporting major campus initiatives
Deepening her commitment to equity and inclusion work, Christian began to serve as a leader in campus-wide initiatives. She was part of the steering committee that established UMBC as one of ten AAC&U campus centers for Truth, Racial Healing, and Transformation. She continues to work with the Shriver Center on how to better incorporate those principles in the center's work. These insights help them improve their programs, marketing practices, and recruitment.
More recently, Christian collaborated with Michele Wolff and Scott Casper, dean of the College of Arts, Humanities, and Social Sciences, on a landmark project for the university. She served as the graduate assistant who helped develop UMBC's application for the Carnegie Community Engagement Classification. UMBC received this classification from The Carnegie Foundation for the Advancement of Teaching this spring.
"Ciara has shared her perspective, insights, and expertise to enhance the learning of others," says Wolff. "She continues to deepen her understanding, passion, and area of research, which contribute to our community. I've learned—and I know I will continue to learn—so much from her!"
Continuing transformative conversations
Christian was formally acknowledged for her work at the AAC&U conference earlier this year. As she furthers her doctoral studies, she will continue working with Michele Wolff and other campus leaders on new, high-impact projects. Now, Jasmine Lee, director of inclusive excellence,and Christian are helping first-year residential students develop skills for intercultural dialogue. This project will shift to meet student needs during the current distance learning period. 
Whether students are living together on campus or connecting online, "empathetic listening and understanding cultural backgrounds, ideas, and beliefs are key to building relationships," says Christian. "These are the cornerstones of equity and inclusion work."
Banner image: Ciara Christian. Photo by Marlayna Demond '11 for UMBC.