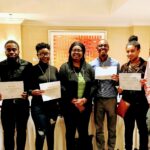 A delegation of UMBC Africana studies students recently joined teams from three continents for the 17th annual International Model African Union (MAU) Conference in Washington D.C., hosted by Howard University. Participants represented the 54 countries on the African continent in the simulation event, discussing economic, social, political, and security issues.
"The MAU is an important experiential learning exercise to study the role, structure, and activities of the African Union," explains Gloria Chuku, professor and chair of the Africana studies, and the delegation's faculty advisor. "As model representatives, students enhance their skills and understanding of global diplomacy and public speaking through simulations."
Gloria Chuku, professor and chair of Africana Studies. Photo by Marlayna Demond '11 for UMBC.
UMBC's team included Damarius Johnson '19, Africana studies; Maurice Cates '21, Mahlet Gebre-Egziabher '21, and Marion Sillah '22, political science; Kemi Biaou '21, biological sciences; and Enzo Walker '20, computer science. The group represented the southwestern island nation of São Tomé and Príncipe.
Johnson served as head delegate and member of the simulation's Committee on Pan Africanism and Continental Unity. In preparation for the event, he led the independent study group in researching the country's history and current status. This advance preparation proved essential for drafting policy proposals to present to parliament during the simulation.
Understanding Africa's core policy issues
Participants started the conference at the African Union (AU) Representational Mission in Georgetown. A panel of scholars of  Africana and African diaspora studies, including professor Chuku, and a member from the African Union Representation Mission led a question and answer session on significant topics discussed by African policymakers today, a half-century after independence. The session included discussion of economic development, youth employment, female genital mutilation (FGM), LGBTQ civil rights, collaboration with countries in the African diaspora, and the emigration of high-skilled African professionals to other continents.
"The world seems small when we stay in one place, but when we travel we come to understand issues beyond our own culture," Silla shares. Silla moved to the U.S. from Sierra Leone four years ago and, during the simulation, she served on the Committee on Democracy, Governance and Human Rights. She says, "Broadening my point of view made me think about where I stand as a woman, a black woman, a Muslim woman, and an immigrant on a global scale."
Simulating the Pan-African Parliament
Over a four day-period, committees presented their proposals during a simulated session of the Pan-African Parliament. They followed parliamentary procedure, led by a student chair, parliamentarian, rapporteur, and vice chair. Committees presented, debated, amended, and adopted, their proposals during the moderated caucus, before moving on to negotiations and proposal revision. They then submitted the revised proposals for a final vote leading to a resolution.
Johnson asks for permission to speak during parliamentary proceedings. Photo courtesy of Chuku.
"I learned that compromise is an integral process of diplomacy," Johnson reflects. "You must listen and engage with fellow delegates in ways that demonstrate the value of their interests and their needs."
In addition to the committee proposals, the event also included a simulated crisis situation, managed through the African Union's Executive Council. This year's crisis was a contested election in the Democratic Republic of Congo, with allegations of voter fraud.
Cates, a member of the Executive Council, helped decide what course the AU would take. "We deliberated on whether to send AU troops and make it an international matter. This meant discussing how to manage refugees," he explained. "It was not a simple process. Governments are often challenged to choose between peace and democracy."
Common vision for a prosperous Africa
The simulation proved to be a pivotal moment of inspiration for the UMBC delegation. They were excited to live out their aspirations as leaders in supporting the development of a stable and prosperous Africa.
Cates hopes to become a lobbyist and Johnson will soon head to a Ph.D. program in history at The Ohio State University. As African American students who see themselves as part of the African diaspora, but have not had an opportunity to travel to Africa, they particularly valued the chance to speak with African representatives who were at the event. "It was a unique opportunity to discuss issues like pan-Africanism and current affairs in African countries with Africans who have an investment in their countries," shares Cates.
Biaou, a member of the simulation's Peace and Security Committee, and Walker, part of the Economic Matters Committee, are immigrants from Benin and Liberia, respectively. "My parents left their engineering and business careers to be in a country that grants me a great deal of privilege," explains Biaou. "The MAU helped confirm my desire to use my professional skills to be part of a thriving Africa."
Both Biaou and Walker aim to eventually return to West Africa to contribute, as professionals, through STEM, business, and education initiatives.
Gebre-Egziabner and Sillah, originally from Ethiopia and Sierra Leone, plan to pursue careers as diplomats focusing on women's issues. "The official African Union is located in my home city of Addis Ababa," says Gebre-Egziabner. "It excited me to think of what I can do when I return."
Sillah, who left Sierra Leone for the United States to avoid FGM, hopes to address FGM and economic issues facing women in Africa. She sees her UMBC experience as giving her a strong foundation for that future work.
"That is something UMBC has done for me. It makes me interact with different people and different ideas every day," Silla says. "Every day is a learning experience."
Banner image: [L to R] Biaou, Walker, Sillah, Chuku, Johnson, Gebre-Egziabher, and Cates holding their certificates of completion. Photo courtesy of Chuku.