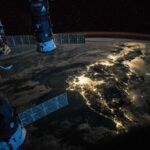 Astronaut Scott Kelly Reads The Right Stuff at the Right Time
The path to success isn't always written in the stars. But, if you're willing to follow inspiration as it appears, you may just find yourself catapulting beyond your wildest dreams.
For astronaut and best-selling author Scott Kelly — who spent a short time as a Retriever in the 1980s — a small but pivotal spark happened on the UMBC campus. As he describes in his 2017 memoir Endurance: A Year in Space, A Lifetime of Discovery, Kelly happened to notice a copy of The Right Stuff in the window of the campus bookstore, then housed in the University Center. Until that point, he felt directionless, he writes.
"I bought the book and I lay on my unmade dorm room bed reading it for the rest of the day, heart pounding, Tom Wolfe's hyperactive, looping sentences ringing in my head," he writes in the book's prologue. "This wasn't just an exciting adventure story. This was something more like a life plan."
Figuring Out Your Direction
The moment changed Kelly's life forever. Years later, Kelly's groundbreaking career includes four space flights and the command of a year-long expedition in the International Space Station. Success didn't happen overnight, though, Kelly explains. You need an incremental plan.
"It was nearly impossible for an 18-year-old me at UMBC to understand the skills required to become an astronaut, but as a test pilot I could imagine the astronaut job, and as a fighter pilot being a test pilot was more realistic," he says. "Back that up to college and I could understand what it would take to be commissioned as an Ensign in the U.S. Navy. Small steps add up to a giant leap. Also keep in mind people aren't going to make your goals happen. You and only you can do that and it takes hard work. There's no easy path."
And don't forget to keep your eyes open. You never know where the spark will hit you.
"Inspiration is critically important," he says. "For me it came from the book The Right Stuff. You need to find yours."
— Jenny O'Grady
Header image: Night Earth observation of Japan taken by Expedition 44 crewmember Scott Kelly, with a Soyuz Spacecraft connected to the Mini Research Module 1 (MRM1), and a Progress Spacecraft visible. Courtesy of NASA.