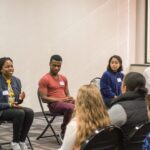 Prospective students tour UMBC on a daily basis, rain or shine, but last week saw a particularly special visit from around 80 fifth graders from Armistead Gardens Elementary School in Baltimore, who came to get a taste of the opportunities available at UMBC and a sense what the college experience could have in store for them.
The Shriver Center at UMBC coordinated the visit, including Michele Wolff, director of The Shriver Center, Lori Hardesty, assistant director of service-learning, K-16 partnerships, Sandra Abbott, curator of collections & outreach for the Center for Art, Design and Visual Culture, Mavis Sanders, professor of education, and Shane McCormick, coordinator of administration, evaluation & operations for the office of academic opportunity programs. Faculty, staff, and students from across the university, gave the students a truly broad sense of what UMBC offers.
"At UMBC, we want youth to feel, think, dream, and know that they can achieve their goals," Hardesty said. "We encourage them because we believe in them, too."
True Grit and members of UMBC's Admissions Team welcomed the students and led enthusiastic cheers to kick off the day. "UMBC is a place that embraces diversity," said Ana María Schwartz Caballero, associate professor of Spanish, second language education, and modern languages, linguistics and intercultural communication (MLLI), during her welcoming remarks. Schwartz Caballero highlighted UMBC's shared community values, including a strong commitment to fostering an inclusive and welcoming environment.
A panel of UMBC students, including Joy Kish '17, biological sciences; Ramses Long '17, biology, Yamani Narayan '18; health administration and public policy; and Jaelyn Bos '17, biological sciences and environmental science, discussed career goals, involvement on campus, and how and when they decided to attend UMBC.
"I was fourteen when I discovered UMBC on a class tour in middle school," shared Long, who plans to become a physician."I was excited to expose a younger generation to UMBC so it can motivate them and show them a pathway to a better life. That was what my tour did for me."
UMBC encourages students to pursue their interests outside of the classroom. The clubs and organizations at UMBC are "opportunities to express yourself," Kish said.  
Faculty and staff across all three UMBC colleges led sessions for the elementary school students. One group learned about chemistry through an interactive demonstration by Bill LaCourse, dean of the College of Natural and Mathematical Sciences, and Josh Wilhide, M.S. '10, chemistry, manager of the Molecular Characterization and Analysis Complex (MCAC) at UMBC. Another group of students visited the Joseph Beuys Sculpture Park, completing a scavenger hunt and creating nature drawings with Abbott. 
Doug Hamby, associate professor of dance, and director of the Linehan Artist Scholars Program, led the third group through the steps of creating a new, improvisational dance. The fourth group explored engineering with Jamie Gurganus, associate director of engineering education initiatives and instructor of mechanical engineering, building structures out of small wooden planks. The students tested their structures with heavy textbooks to see how well they tolerated stress.
Parents were invited to attend a session about resources for planning and preparing for college, led by Sanders, Karen Watkins-Lewis, lecturer in psychology, and Claudia Galindo, associate professor of Teaching and Learning, Policy and Leadership at the University of Maryland, College Park. The Baltimore City Public Schools Office of Family and Community Engagement provided books for the students, and gave turkey dinners to two parents who attended the session.
Bos enjoyed connecting with the students individually, on light topics like favorite animals and more serious issues like how to pay for college. "Bringing fifth graders to campus gives them the opportunity to see themselves at college, and inspires them to see their own education as interesting and meaningful," she said.  
Moving forward, Hardesty plans to welcome greater numbers of K-12 students to campus regularly, to help them envision themselves pursuing a college degree. She also hopes to keep engaging Armistead Gardens Elementary School students as they move through their middle school and high school years, on the path to college.
"Many youth must manage barriers, including others telling them that they 'can't,' a perception that there are not enough resources available, or that they are not aware of others who reached their goals despite their own obstacles," said Hardesty. "It's more critical than ever that all youth have an equal opportunity to dream about what they love, shape how they see themselves in the world, and create their own futures." 
Image: A group of UMBC students answering questions from fifth graders at Armistead Gardens Elementary School. Photo by Marlayna Demond '11 for UMBC.