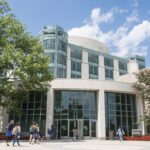 For eighteen students at Baltimore Polytechnic Institute (Poly), the spring semester provided an opportunity to delve into high-level academic research and offered an early glimpse into life as a college student.
The Poly students were part of a new AP class offered by the College Board that is a year-long, research-intensive course. Last fall, the students conducted group research projects, and the second semester was spent working on individual research papers.
The inaugural cohort of Poly AP capstone students spent the last several months working closely with the Honors College and UMBC faculty and graduate students in the College of Arts, Humanities, and Social Sciences (CAHSS) who served as mentors for the students' individual research projects. The students visited campus to receive feedback from faculty on their work, use the resources of the Albin O. Kuhn Library, and present their final projects to their faculty mentors.
"Access to any part of the professorial ranks is difficult for most high school students," shares Josh Headley, chair of the Poly history department. "The fact that the built in gatekeepers of academia were removed, and these students had direct access, with honest critiques of their work, was invaluable."
Christopher Corbett, professor of the practice in the English department, served as a faculty mentor and visited Poly each week throughout the semester.
"This is an excellent opportunity for UMBC to connect with Baltimore in a real way. We need more of those connections," explains Corbett. "I was impressed at how thoughtful and eager the students at Poly were. It's a very friendly place. It was a pleasure to go there. I also had an opportunity to observe the classes in session and they were very engaged."
May Chung, a Ph.D. student in language, literacy, and culture and another faculty mentor, observed the students develop skills and interests over the course of the semester as they grappled with their research questions and had direct access to college-level resources.
"I think this is a really important connection for students who are considering college to talk to and discuss what they are interested in with college educators. And it's also equally valuable for we faculty to listen to what they have to say," she says.
"The academic growth in this first cohort of AP Capstone students has been nothing less than phenomenal," says Headley. "When they began, most of the students had only brief experiences with the academic research process, possibly a term paper that needed three valid sources and citations. As they went along, validating source material, and refining their arguments, their body of literature grew, and they began to recognize the author's voice and tone more rapidly."
The program was a chance to expand research offerings for high school students beyond STEM disciplines, and stimulus material was provided to the students at the beginning of the semester to help them generate research questions based exclusively in the arts and humanities.
"For CAHSS, this collaboration with Poly helps us not only to showcase the wonderful and important work of the university beyond the STEM disciplines, but is also a very clear example of the college's commitment to civic engagement by reaching out and working with our partners in the Baltimore City Public School System," says John Stolle-McAllister, associate dean of the College of Arts, Humanities, and Social Sciences.
"The goal of this program is twofold," adds Simon Stacey, director of the Honors College. "The first is to provide an opportunity for high school students interested in college access to come to campus to work directly with a professor or graduate student on a research project. The second goal is getting Baltimore high school students interested in coming to UMBC."
The hope is for systemic adoption of the program, continuing it into next year to work with additional high school students.
"Partnerships like these allow both parties to increase student access to higher learning that is often fraught with roadblocks and hurdles," says Headley. "When partnerships like these work well, it is always the students who benefit, with their increased academic ownership, and ability to succeed in their post-secondary goals."
Images: (Top) Albin O. Kuhn Library, where students had access to resources for their research projects. Photo by Marlayna Demond '11 for UMBC. Poly AP capstone students before presenting their research at UMBC. Photo by Lisa Bolton.