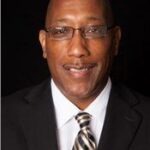 Here at UMBC, we take pride in what our alums accomplish after graduation. Take a moment to see which Retrievers have been on the move and making news!
Last week, Joseph T. Jones '06, social work, was interviewed on "Baltimore's Future," a feature segment on WYPR. Jones talked with host David Warnock about the difficulties ex-offenders face in gaining employment and how one can support the Center for Urban Families.
Jones founded the CFUF in 1999 as a means to strengthen urban communities by helping fathers and families achieve stability and economic success.
You can listen to Jones' interview here.
---
Last week, the Baltimore Business Journal posted a new interview with Gib Mason '95, economics, which focuses on his experiences both as an educator and entrepreneur.
In the interview, Mason, who is the chief operating officer of UMBC Training Centers, shares lessons he learned working as the chief operating officer at Big Bang, a Baltimore sportswear company that popularized foldable wraparound ear warmers. He also discusses his passion for teaching entrepreneurship and the essential role of failure. "Be open to the perspective of the people around you," he advises. "Don't ever believe you have it all figured out."
Click here to read the interview. (subscription required).
---
Last month, Micaela Perez Ferrero '13, political science, published an article on Gazette.Net thanking the teachers that helped shape her own path to becoming an educator.
Ferrero goes on in the article to discuss her frustration with an unequal education system, her work with Teach for America, and her own experiences as a teacher in Baltimore striving to give her students the keys for their academic success.
Click here to read her article.
---
Hadieh Shafie '04 M.F.A., imaging and digital arts, has her first one-person show coming up in New York this spring. Surfaced will be on view from February 26 through April 11 at the Leila Heller Gallery. The exhibition will feature twenty new works from Shafie that both build on her past work as well as explore new territory and mediums. The opening reception will take place on Thursday, February 26, from 6 – 8 pm.
For more information, click here.
Shafie was also named an Outstanding Alumna for 2014 by the Alumni Association and was honored during last year's Alumni Awards. Click here for a brief interview we conducted with her.