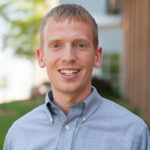 UMBC is always full of hard-working people who aspire to do great things, and the class of 2014 is no exception. Today, we wanted to share with you what some of our recent graduates are planning to do with their Retriever education.
In a mere four years at UMBC, Valedictorian
Travis Bell, psychology and political
science, completed six internships, studied abroad in Chile, and received a mentorship for pursuing a career in public affairs. Along with being the UMBC Club Soccer President and the UMBC Pre-Law Society Founder and Treasurer, Bell was also selected as a finalist for the national Harry S. Truman Scholarship and won both the Outstanding Senior Award in political science and the Louis Cantori Memorial Scholarship. With his recent graduation, he plans to continue his education to earn a J.D. at the UCLA School of Law.
Blossom Tewelde, biochemistry and molecular biology, came in to UMBC as a science major and later found herself excelling in poetry. In the realm of science, the Meyerhoff and Howard Hughes Medical Institute scholar won the Donald Creighton Memorial Scholarship for Outstanding Senior Undergraduate Researcher in Biochemistry.
Tewelde also explored her talents in poetry, was soon published in UMBC's Bartleby, and earned the Malcolm C. Braly Award. She plans to pursue an M.D./Ph.D at the Johns Hopkins School of Medicine.
Melissa Lomax, English literature, brought a lot to the table. While at UMBC, she was president of the Maryland Association of Blind Students and held active membership in the National Federation of the Blind of Maryland. Lomax was also chosen to travel abroad to Damascus as a part of the Open Hands Youth Abilities Summit, where she "worked with Syrian youth on the topic of the United Nations Convention for the Rights of Persons with Disabilities." There, she helped develop the comic Silver Scorpion by Liquid Comic about an empowering superhero who has a disability, which has been featured on NPR and in Time Magazine. Lomax now plans to be the Youth Services Coordinator for the Blind Industries and Services of Maryland.