Alright, true believers- I'm sure you all remember our last entry about Special Collection's super-secret assortment of superheroes. Since then, you've seen the Thor movie. You knew you absolutely had to wait through the Captain America credits to find out more about the new Avengers movie. You might have even sat through the Conan the Barbarian remake (brave soul). And now you're yearning for more. Plus, your eyes are getting crossed again with a new batch of journal articles. So let's talk comics! In particular, let's talk about Marvel's eye-patched wonder, Nick Fury!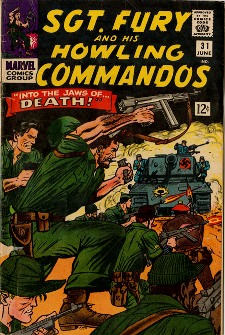 Made ubiquitous by Samuel L. Jackson, the character of Nick Fury first came into his own as the title character in Sgt. Fury and His Howling Commandos, the leader of an elite multi-ethnic, multi-racial WWII fighting unit. Fun fact: it's a bit hard to tell the resemblance here, but Fury's Commandos play a key role in Captain America: the First Avenger as the team that helps the Cap'n take on Red Skull. We've got several issues of the Sgt. Fury books, well worth checking out for their Kirbyesque art (we'll explain that another time) and non-stop action.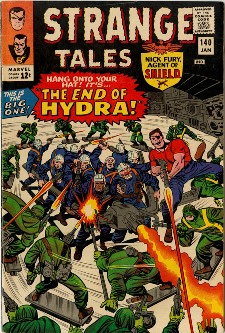 Fury went on to bigger and better things as the first agent of S.H.I.E.L.D., a secret agency set up to counter all those evil secret agencies that were floating around in the 60's. Starting with Strange Tales, and later moving to his own Nick Fury, Agent of S.H.I.E.L.D. , we see Fury change from a rough and tumble soldier of fortune to a super slick, super spy and finally to a super-soldier, always taking on seemingly insurmountable enemies and emerging victorious. As with the original series, these books feature some great art (especially the 15 issue run of Nick Fury, Agent of S.H.I.E.L.D.), as well as lots! of! unnecessary! exclamations!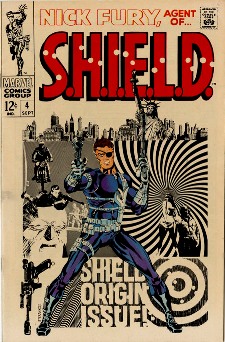 So come in for a visit, comics fans! Special Collections will be open from 1 until 4 pm Monday, Tuesday, Wednesday and Friday all the way through finals, and until 7 pm on Thursdays. During the winter, we'll be open by appointment only. To find our superhero lair, enter the Library Gallery and walk straight back- you'll see our doors on the right. Secret identities will be protected with all due care. Please note that Batmobile parking is limited.
To browse all of the comics available at Special Collections, enter "comic books" in the "Collection" field in the following search; or put in more specific search terms to find the exact comic you're looking for: http://umbc.pastperfect-online.com/37467cgi/mweb.exe?request=advform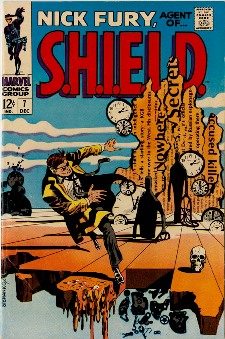 Written by Steve Ammidown, Special Collections Student Assistant
Images shown are from the following issues:
Sgt. Fury and His Howling Commandos. Marvel Comics Group v.1:no.31 (Jun 1966)
Strange Tales. Marvel Comics Group v.1:no.140 (Jan 1966)
Nick Fury, Agent of S.H.I.E.L.D. Marvel Comics Group v.1:no.4 (Sep 1968)
Nick Fury, Agent of S.H.I.E.L.D. Marvel Comics Group v.1:no.7 (Dec 1968)