Special Collections has a new music collection available for you to come and explore! Whether you're a musician-in-training or simply a lover of the classics, you now have access to an impressive collection of noted concert violinist and conductor Robert Gerle's personal, marked scores. At UMBC, Gerle is perhaps best known for beginning the orchestral program here and remaining its conductor for nearly two decades. In addition to conducting the UMBC Orchestra, Gerle also taught at the Peabody Institute in Baltimore, The Catholic University of America in Washington, DC, and the Mannes College of Music in New York.
In 1972, when the first concert was planned, UMBC's music major was actually in jeopardy of being removed from the school by the Maryland Council on Higher Education. The council cited that there were other, similar programs offered by nearby University of Maryland institutions and therefore did not need to be repeated. Despite this threat, the UMBC Orchestra's inaugural concert remained slated to take place on December 11, 1972. To read all of the details, be sure to check out the Retriever article in our Digital Collections (hint: take a look at pages 1 and 5)! Scores from several of the pieces played at this concert can be found in the collection, including Richard Wagner's "Overture to Die Meistersinger," Wagner's only comic opera.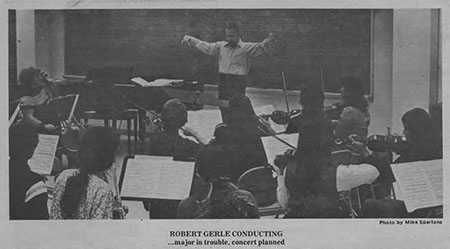 Robert Gerle was born in 1924 to Jewish Hungarian parents. According to a New York Times article [1] published in 1958, during World War II Gerle and 26 other Hungarian Jews were caught and arrested by a group of Soviet soldiers while they were hiding in the crawl space above a music professor's house. The Soviet soldiers suspected them of being snipers. As Gerle was brought before the firing squad, the officer in charge noticed his violin case and demanded that he play a work by Tschaikovsky. A student of the Franz Liszt Academy of Music and the Hungarian National Conservatory of Music, Gerle's technique impressed the officer. He was convinced that Gerle was a musician, not a soldier. Gerle's technique, which would be coined as "flawless" later in his career, supposedly saved not only his life, but the lives of the 26 other individuals with him.
When the war ended, Gerle began to play concert engagements in both New York and London, becoming best known for his performances of Back's Chaconne for solo violin and Heinrich Biber's violin sonatas. He and his wife, Marilyn Neely - also a UMBC professor - even won an Emmy for the video presentation of the complete Beethoven violin and piano sonatas.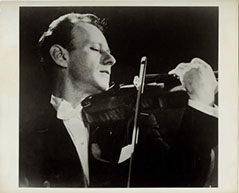 The Gerle collection was transferred from College Park last year. It contains a wide variety of musical scores and compositions, ranging from full orchestral pieces to solo violin pieces. The collection contains not only classics such as Beethoven's 9th Symphony and Vivaldi's Four Seasons, but also a host of lesser known treasures to explore. My personal favorite is Vivaldi's Violin-Konzert, Ops. 3, No. 6. This score, just one of Gerle's many personal marked scores, is available for you to come in and take a look at. Check out our finding aid for more information!
[1] MEYER BERGER. "About New York." New York Times (1923-Current File), Oct 20, 1958. http://search.proquest.com/docview/114511079?accountid=14577.
This post was written by Special Collections Graduate Assistant Jessi Deane. Thank you, Jessi!