This post was written by Special Collections student assistant Jen Wachtel. Thank you, Jen!
The Retriever Weekly, our university's proud student newspaper, began publishing as UMBC News in 1966. Special Collections and the University Archives maintain the print copies of all issues of the Retriever, and a large section of the issues (1966-1981 and 2002 to the present) are available online in UMBC's Digital Collections. With monetary support from UMBC's Office of Institutional Advancement, students and staff have been preparing to send the remaining issues to Creekside Digital, a digitization vendor located a short drive away in Glen Arm, MD. This project is a part of the Lyrasis Digitization Collaborative.
I conducted an inventory of the issues of the Retriever dating from January 1983 to May 1997, totaling over four hundred newspapers. Along the way, I found insights into some of UMBC's hot-button topics of the 1980s and 1990s, including contentious construction projects and students' demands for increased parking spaces (ed. note - complaining about parking is a long-standing UMBC tradition!). I particularly enjoyed following the timeline of the university administration, including the appointment of one Freeman A. Hrabowski III to Vice Provost at UMBC and his later position as Interim President for a "full academic year and possibly longer." Of course, no inventory of The Retriever would be complete without the satirical Deceiver. Published annually on the week of April 1st, the Deceiver  featured such choice headlines as "Giant Terrapin attacks UMBC" (referring to College Park's mascot) and "SCHPORTZ" (1993).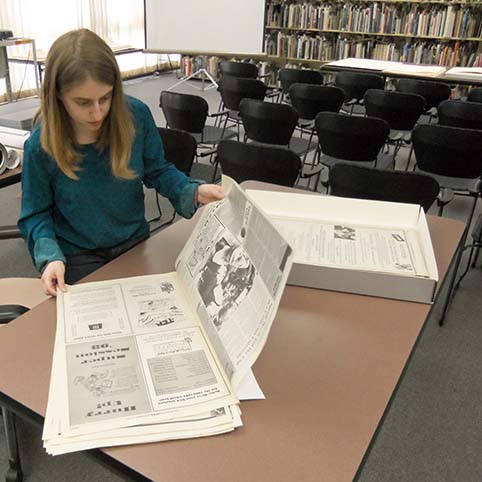 Jen Wachtel working in Special Collections.
I also noticed some strange anomalies in The Retriever's numbering system. From miswritten Roman numerals (XXVIV for 29 and IXX for 24) to a startling continuity error, the Retriever always had special surprises in store. The most bizarre circumstance was that in the academic year 1995-96, the Retriever accidentally published two separate versions of Volume 31 – one for fall, and one for spring, before continuing with Volumes 32 and 33 in 1996-97. This means that since spring 1996, every volume of The Retriever has been one number short!
Special Collections is located on the first floor of the library behind the gallery. We are open Monday through Friday from 1-4pm, on Thursdays from 1-8pm, and by appointment.