This post was written by Special Collections Graduate Assistant Nichole Zang. Thank you, Nichole!
UMBC Special Collections is pleased to announce that the Office of Institutional Advancement records are now open to researchers! This collection contains newspaper clippings, press releases, Office of Arts and Management publications, and information on UMBC faculty and departments from the 1960s through 2009. This collection is useful tool for any researcher looking into the university's exciting past.
The first series of the collection is composed of about forty years of newspaper clippings relating to UMBC. The many clippings in these files share parallels for what we may see around campus today. In August of 1975, for example, construction on the Library Pond began as a flood control dam, creating a scene not unlike the one students walk past on their way to class every day. Come see what other exciting news stories were written about UMBC over the past 50 years!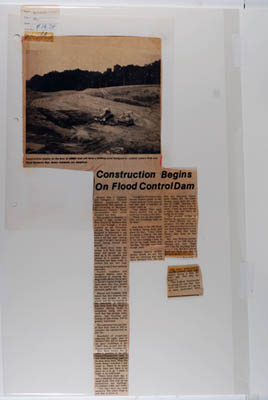 For anyone looking for the university's statements on university events between 1963 and 1991, this is also the collection to choose! Series II of the collection contains press releases from those years, arranged by date. The Office of University Relations created the releases for the media in order to inform them of commencements, awards ceremonies, campus events, and other university news. One of these releases describes the festivities of the Fine Arts Building's open house in November 1975. The newly constructed building was intended to house the visual and performing arts concentrations, as well as art exhibits and performances.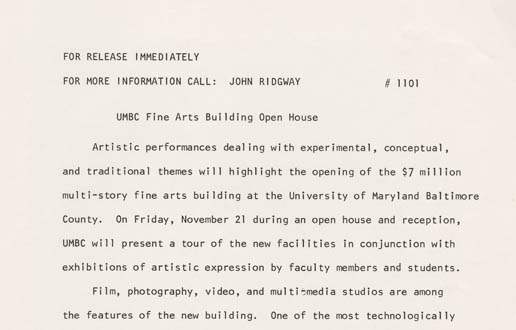 Are you interested in past UMBC art, dance, or gallery events? The Office of Arts Management series of the collection includes publications and photographs printed for advertisement of various shows throughout campus, including Shakespeare on Wheels, theatre and dance performances.
The collections also consists a select number of records regarding university faculty, departments, and other campus events from the mid-1970s to late-2000s. Topics of these files include the proposed UMBC and UMB merger, commencement ceremonies, faculty member CVs and correspondence, and the education department.
A finding aid is available on the Special Collections website.