Special Collections continues our archival project Archives Gold: 50 Objects for UMBC's 50th, a special series showcasing 50 different objects that tell the story of UMBC. This week we present a photograph from our collection of Baltimore Sun photographs that shows UMBC students protesting the proposed closing of the UMBC campus in 1981.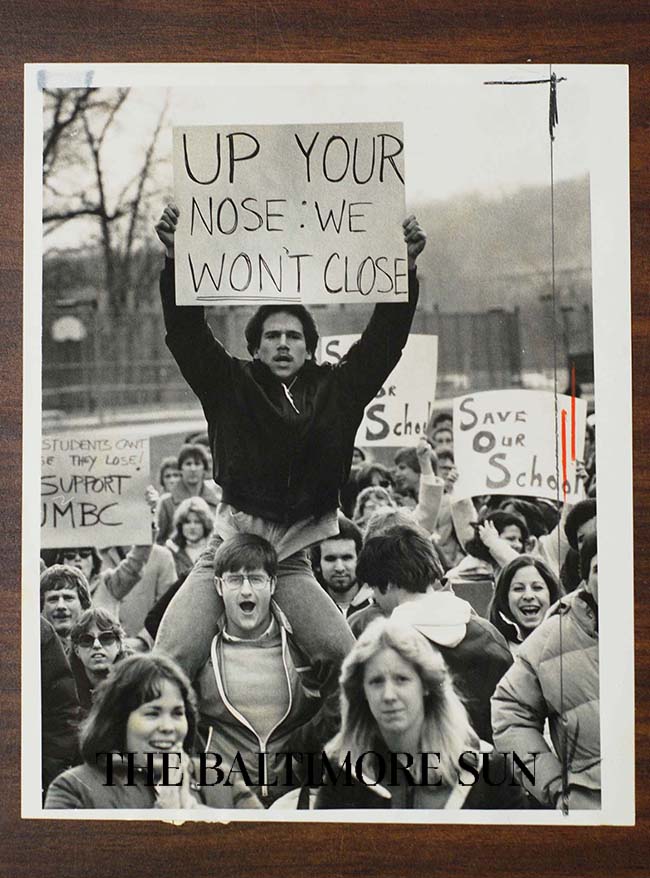 Photograph of UMBC Student Protesters, March 1, 1981. Baltimore Sun Photographs, P2014-01-0073, University Archives, Special Collections, University of Maryland, Baltimore County (Baltimore, MD) 
Student activism and protest has been a part of the UMBC campus since it was first opened in 1966. The photograph above shows a specific student protest in 1981 in response to a proposal from the State Board of Higher Education to close down the UMBC campus and turn it into an industrial park. Students quickly rallied behind the school. 
SGA president Scott Rifkin said at the time, 
"Somebody is serious about this proposal, and if we aren't, we could be at the University of Baltimore next year!" -The UMBC Retriever, Volume 15, Number 19, p. 1. 
However, the University of Maryland System President at the time John Toll and UMBC Chancellor John Dorsey both denied that the State Board of Higher Education was seriously considering closing down the UMBC campus. Regardless, the rumors prompted over one thousand students to gather on the Quad in March of 1981 and show their unified support for the university.